GP hits milestone in 3G rollout
The operator launches 10,000th 3G site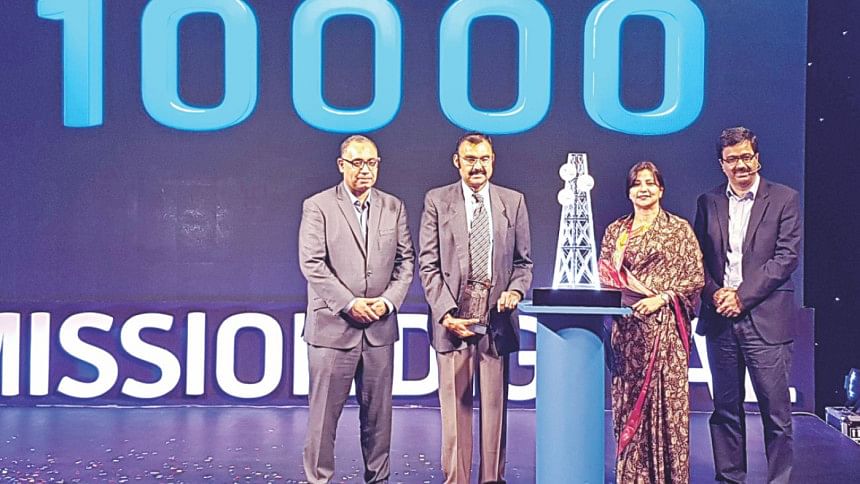 Grameenphone yesterday launched its 10,000th 3G enabled base transceiver station (BTS) at Moheshkhali in Cox's Bazar as part of its effort to upgrade network.
The upgrade has helped the country's biggest telecom network to bring in around 90 percent of the population under 3G coverage.
State Minister for Telecom Tarana Halim launched the 3G site while Grameenphone CEO Rajeev Sethi announced the milestone in network upgrade, at a programme at Pan Pacific Sonargaon Hotel in Dhaka.
Grameenphone officials said this is the fastest rollout of 3G network in the region in terms of population coverage.
Banglalink, the second largest operator, has around 6,000 3G BTSs while Robi has 4,300, Airtel 2,400 and Teletalk 1,500.
Grameenphone said this expansion will not only connect people across the country with the fastest mobile data, but will also enable the government and other organisations to deliver digital services more effectively.
The market leader has more than 12,000 BTSs and its next target is to cover the rest of the country within a short time, said Sethi.
Tarana thanked Grameenphone for its achievement, which, she believes, will help realise the vision of a Digital Bangladesh.
"It is a big achievement. But at the same time, the operators have to ensure services for every person," said Tarana.
She urged the operator to invest more in network upgrade. "By the end of this year, the government will offer 4G licence and spectrum neutrality."
The Grameenphone CEO told The Daily Star that they invested Tk 1,800 crore in 2015 and the figure will be higher in 2016.
After getting the 3G licence in 2013, Grameenphone took an aggressive 3G rollout plan and had covered all 64 districts in six months. The operator aims to acquire five crore data customers by 2018, Sethi said, adding that 36 percent of its 5.73 crore active customers are using data now.
Grameenphone Chief Technology Officer Medhat El Husseiny also spoke.