GP announces record profit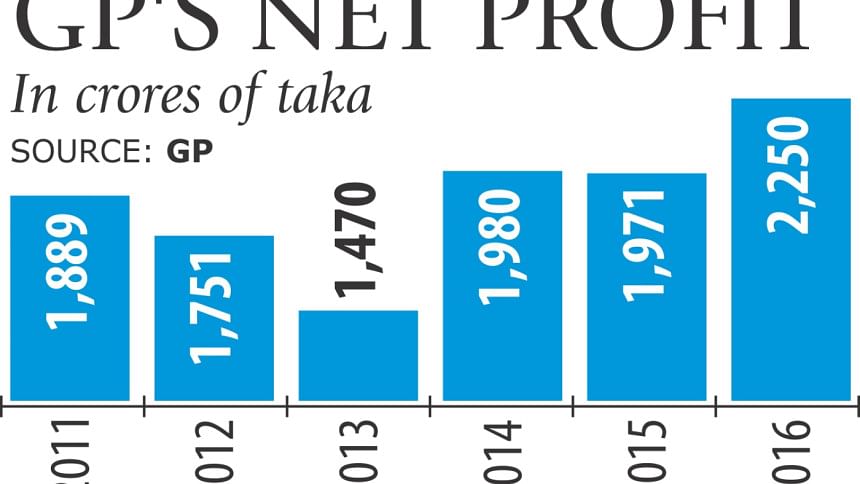 Grameenphone logged in the highest profit in its 19-year history last year thanks to healthy growth in internet subscription and a reduction in operational expenditure.
The country's leading mobile phone operator recorded Tk 2,250 crore in net profit in 2016, up 14.16 percent from the previous year.
"For Grameenphone, 2016 has been a solid year with encouraging all-round business performance," said Petter Furberg, the operator's chief executive officer.
Data revenue continued its growth momentum along with the voice, he said disclosing the annual financial results at a press briefing in Dhaka yesterday.
Grameenphone's data revenue soared 69.7 percent year-on-year to Tk 1,442.45 crore in 2016. The user base expanded 56.1 percent.
Typically, voice revenue declines when data revenue increases, but this time Grameenphone experienced growth in both sectors. Its voice revenue grew 5.1 percent.
The operator ended 2016 with 5.8 crore active connections, up 2.2 percent from a year earlier.
Biometric verification might be a factor behind the growth, though other operators recorded a decline in their subscriber base.
Its gross revenue recorded 9.6 percent growth last year, reaching Tk 11,490, which is also the highest in its history.
"It has been a wholly satisfying year for us," said Dilip Pal, chief financial officer of Grameenphone.
The operator will try to leverage the growth opportunities over the next couple of years.
"We believe the potential growth and operating efficiencies will help us drive future profitability for the company," Pal said.
The operator's earnings per share stood at Tk 16.68, down from Tk 17.34 in 2015. Grameenphone also announced 90 percent cash dividends for the July-December period to take the total dividend to 175 percent for the year.
In 2015, Grameenphone gave 140 percent cash dividends.
Grameenphone invested Tk 2,110 crore during the year to expand its coverage of both 3G and 2G networks, enhance capacity for catering to higher volumes of data and voice as well as enhance IT infrastructure. It also rolled out 90 percent of sites with 3G capability.
The country's lone-listed mobile phone operator, Grameenphone paid Tk 5,860 crore to the national exchequer, making it the largest contributor during the year.
On the Dhaka Stock Exchange yesterday, each Grameenphone share traded between Tk 302.3 and Tk 300, before closing at Tk 301.6.
Sponsors hold 90 percent stakes in Grameenphone, while institutional investors own 5.19 percent, foreign investors 2.4 percent and retail investors 2.41 percent.