Go digital for growth
Analysts focus on prospects of online marketing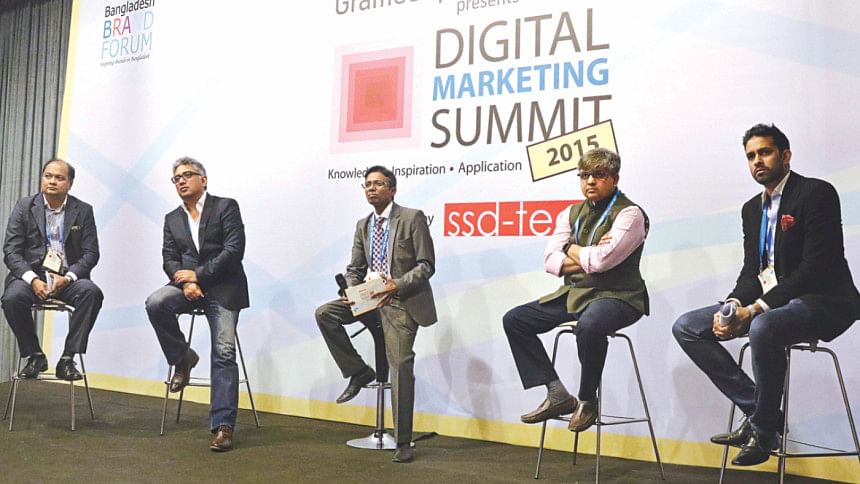 Businesses should embrace digital platforms as they offer immense opportunities to create and grow and also allow them to connect effectively with their users, analysts said yesterday. 
Bangladesh has bright prospects in digital marketing as most of its population is very young, adaptable and tech-savvy, said Shariful Islam, founder of Bangladesh Brand Forum.
Islam's comment came at the second Digital Marketing Summit at GP House in Dhaka.  At the event, analysts from home and abroad shared knowledge on online marketing.
Speakers said apps makers should focus on developing solutions that solve the local problems in order to stay relevant and drive the growth of digital platforms.
The localisation of apps is important, said Mahbubul Matin, president of Systems Solutions and Development Technologies, while moderating a session.
The apps must be relevant to users, according to Matin. "If you do not know your target users, your app will not work."
Technology companies do not know everything about business, while businesses do not know everything about technology. 
"So, they need to work together to utilise their strength for the benefit of their users as well as their respective companies," he said.
Carrie Chen, digital distribution manager of Telenor Digital, shared her experience in app marketing.
She gave some key information: 60 percent of the apps that are available on leading digital distribution platforms have never been downloaded; 14 percent of the installed apps were used only once; 95 percent have abandoned the installed apps just after a month. Less than 1 percent of the apps are profitable, she said. So, apps have to be developed keeping in mind that they can retain users, according to Chen.
Lakshmipathy Bhat, vice-president for corporate communications of Robosoft Technologies, an India-based developer of mobile apps and games, however, do not support wholesale digitalisation of services. "We need it where customers are there."
He said digital does not mean creating an app; it is all about impacting the lives of people, especially those living in rural areas.
Giving an example, Bhat said the government of India is making an effort to digitise contents in schools. "So, the approach has to be top-down here."
Aftab Mahmud Khurshid, chief marketing officer of Super Star Group Ltd, said the term "digital" needs to be marketed, as many businesses do not know what digital means. "It's time to raise awareness about the benefits of going digital."
He also said service providers have a huge amount of data that is being produced every day. "But they are mostly unstructured. We do not know how to use them and for whom."
Infrastructure, policy and governance have to be in place to take digital services to remote areas, Khurshid said. And for that, the smartphone prices have to be as low as possible.  One participant called for cutting internet prices further in order to make faster connection more affordable to the poor.
In response, Yasir Azman, chief marketing officer of Grameenphone, said the prices of mobile internet have gone down 60 percent in the last nine months.
"We are giving 3G at the price of 2G. If the prices of bandwidth go down further, we will be able to bring down the prices of internet package accordingly."
Another participant said the regulatory barriers have to be removed to turn the country into truly a digital economy.
Again, Azman said telecommunication companies should be given approval to go for mobile financial services so people can get them conveniently.  "There are some developments on the issue. We need to understand it if we talk about Digital Bangladesh. Looking at the consumers, banks and telecom companies need to come together."
Another participant called for including academia in the digital ecosystem.
"It is important to create a bridge between the academia and the businesses. We are far from academia," said Matin of Systems Solutions & Development Technologies (SSD-TECH). 
A number of participants also raised the issue of the recent blocking of Facebook and other social media, saying the shutdown impacted the businesses a lot as firms and companies could not reach out to their users and vice versa. Azman said Digital Bangladesh has to be a concerted effort in participation of all stakeholders and telecom companies cannot do it overnight.
Riyad SA Husain, chief executive of Magnito Digital, said there is a lot of talent around but they are not being able to scale up on their own. Telecom companies can come forward and play a role as they have technology, experience, data and the user base to affect the lives of people, he said.
In another session, Mohammad Muntasir Hossain, head of digital services of Grameenphone, said currently all companies in Bangladesh use global platforms for digital marketing. It needs to change.
"If we have alternative platforms it will be give us a mileage."
Grameenphone has already launched a platform named WowBox in April this year, which has been downloaded 20 lakh times since. Every day, two lakh visitors use the service for different information, he said.
Bangladesh Brand Forum organised the event in association with Grameenphone, SSD-TECH, Symphony, Daffodil University, The Daily Star, Ekattor TV, Maverick and WebAble Digital. More than 350 marketing professionals attended the programme. About 250 students from 11 universities participated in the interactive session.