Green logistics: the ultimate future in world economy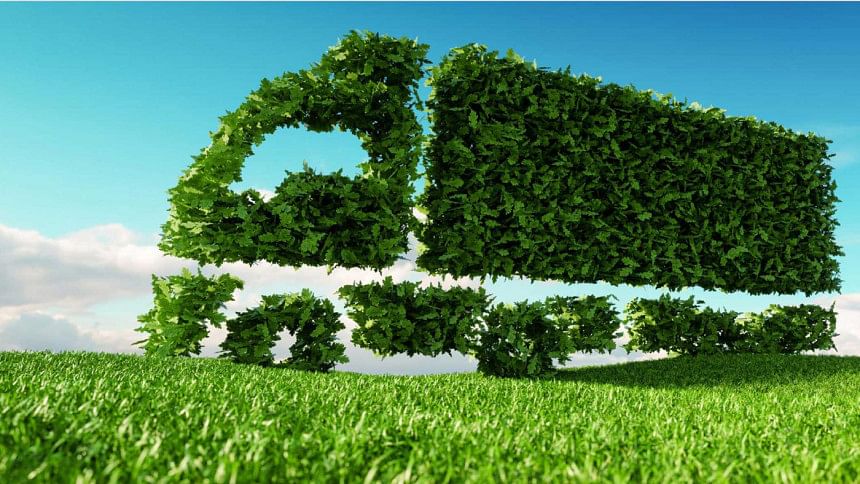 An eco-friendly transport system is inevitable in the ever-changing world where carbon emission is leading to global warming. It is the responsibility of the world leaders to get united and reach a sustainable agreement to limit carbon emissions and reduce global warming.
Transport manufacturers and users also must play a significant role in reducing carbon emissions and making transportation an environment-friendly business to run the wheel of the global economy.
UNDERSTANDING GREEN LOGISTICS
Green logistics ideals of encompassing energy-saving measures, complying with environmental regulations and coping with rising supply costs by adopting effective technologies, are becoming major issues in the world's logistics arena. This green or eco-friendly logistics in the worldwide supply chain lets a country or a company evolve new technologies and devise policies aiming to cut carbon emissions, making business sustainable and establishing strategic advantages over the competition.
The logistics industry needs to make a measurable and sustainable policy to minimise the environmental impact on transportation, warehousing, and other logistics activities.
The concept is not new.
Various elements in the research work focus on taking steps to reduce carbon dioxide emissions and use alternative energy sources widely.
They underlined the need to invest in vehicle designing and transport infrastructure that can withstand the adverse effects of climate change.
Green logistics aims to find a balance between ecology and economy. Green transportation is effective in taking measures to become competitive amid rising supply costs. Transport is considered green when it supports environmental sustainability, emits low carbon, is economical and is socially acceptable. In a nutshell, green logistics could be termed as 'Environment-Friendly Transport System'.
WHY WORLD FOCUSING ON GREEN LOGISTICS
There are compelling reasons why green logistics is gaining ground. Green logistics policies represent a strategic advantage over the competition. Not only do they revalue the brand and set it apart, but they also prepare a company for the future, which inevitably must be sustainable.
The transport sector is a major source of greenhouse gas emissions worldwide, creating direct and harmful effects on the environment and other indirect effects.
Existing logistics systems affect the environment in various ways. For example, aviation emissions vary based on the length of the flight. In road transportation, cars, buses, and rails do have different types of emissions.
Emissions from ships have much more significant environmental effects. Many ships go internationally from port to port for long sails that contribute to air and water pollution during their voyages. In this scenario, the world think tank is devising policies to reduce these emissions from ships by using evolving green technologies to introduce green logistics globally.
HOW ADVANCED COUNTRIES ARE SHIFTING TO GREEN LOGISTICS
Governments around the world are adopting various measures to combat rising global warming, including reducing emissions and using green energy and advanced technologies. Large companies want to reduce the disproportionate share of oil consumption and cut greenhouse gas emissions by adopting fuel efficiency and devising emissions-control technologies.
Several of the world's leading logistics companies are now incorporating this issue into their business strategies. They are adjusting their objectives to make a difference in the existing transportation systems.
It also applies to their partnership with their customers and service providers. They encourage and assist their customers in implementing measures that promote environmental sustainability.
Global logistics firms are laying out environmental policies with the help of their environment team, global product heads, and green teams all over the world to put in place steps to reduce carbon gases. Corporate organisations analyse their customers' supply chains and recommend sustainable strategies such as modal changes, supply chain speed optimisation, warehouse space optimisation, freight consolidation, and data-driven decision making.
Green freight programmes promote these technologies and practices across the freight sector to help cut costs, track carbon – emissions and benefit the environment.
The advanced logistics companies hope to improve the real-world energy efficiency and environmental performance of freight systems through the projects, which will focus on technology and its effects on supply chain operations. They maintain a close eye on policies that enhance regulatory efficiency, market-based initiatives, and budgetary measures.
They are working together on several action plans aimed at developing and aligning green freight programmes around the world while also reducing short-lived climate pollutants like black carbon.
The action plan has received support from over 50 organisations and governments, creating a platform for global and regional cooperation. Furthermore, global retailers have pledged to use ocean freight services only powered by zero-carbon marine fuels.
RECOMMENDATIONS FOR BANGLADESH
Bangladesh's government is prioritising climate change in its policymaking to take measures to cut carbon emissions and effectively confront any disaster caused by global warming.
Air and water pollution are high in urban areas. Adopting green logistics systems is a way that can help the country control pollution by imposing and devising rules and policies.
Existing ports, inland container terminals, depots, and a variety of other facilities could be brought under an integrated service system under which ships will travel fewer, shorter routes and use environmentally friendly logistics systems to ensure green growth in the country by creating jobs, reducing environmental pollution, ensuring sustainable resource use, proper waste management, and introducing renewable energy-powered vehicles.
Waterways and railways are still underutilised though these are environment friendly and can reduce the dependency on transportation by road and logistics costs.
Bangladesh has a better opportunity to use river transportation for domestic supply chain management, thus saving costs and supporting the environment. The government should expedite the river dredging process and protect the rivers from filling up.
Besides, the authorities must build a sufficient number of modern river ports supported by adequate technology and required facilities.
A supply chain requires all of its parts to function smoothly all the time. Failures are not isolated to one segment, nor can they be fixed with a simple increase in prices or fees, or by some rapid changes in techniques. Any temporary or short-term initiatives to overcome these challenges are not going to resolve the current bottleneck. We need a comprehensive overhaul of the entire landside operations.
The writer is a logistician and president of the AmCham in Bangladesh