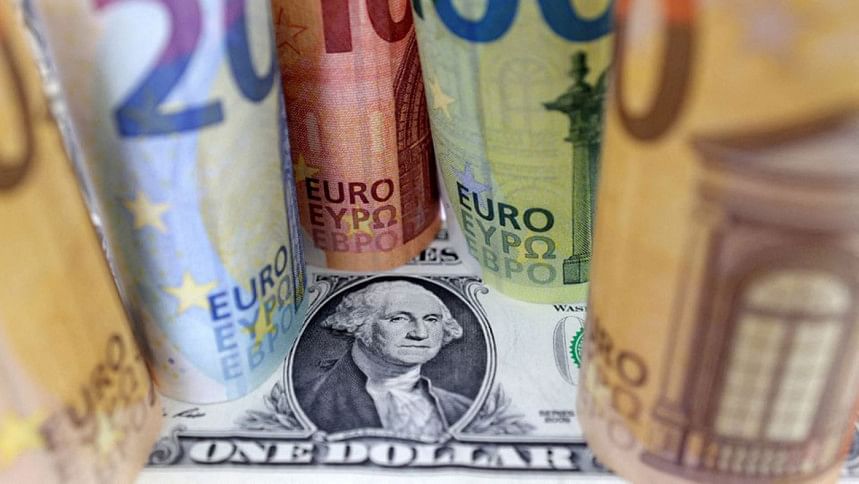 The euro hit a nine-month peak against the dollar on Monday as comments on European interest rates signalling additional jumbo rate rises contrasted with market pricing for a less aggressive Federal Reserve.
The euro reached as high as $1.0927, breaking the recent peak of $1.08875, to trade at its highest level since April last year.
It was aided by European Central Bank (ECB) governing council member Klaas Knot, who said interest rates would rise by 50 basis points in both February and March and continue climbing in the months after.
A Reuters survey of analysts also favoured a hike of 50 basis points in March and an eventual top of 3.25 per cent from the current rate of 2 per cent.
The euro is also being supported by an easing of recession fears amid a fall in natural gas prices, according to Rabobank head of currency strategy Jane Foley.
"The growth in confidence in the economic outlook, or at least the removal of a lot of the pessimism, is part of the euro story," Foley said.
"Layered on top of that, it looks as if the ECB are going to carry on hiking interest rates fairly aggressively," Foley added.
In contrast, futures have priced out almost any chance the Fed could move by 50 basis points next month and have steadily lowered the likely peak for rates to 4.75 per cent to 5.0 per cent, from the current 4.25 per cent to 4.50 per cent.
Investors also have around 50 basis points of US rate cuts priced in for the second half of the year, reflecting softer data on inflation, consumer spending and housing.
Flash surveys in January economic activity due this week is forecast to show more improvement in Europe, in part thanks to falling energy costs, than in the United States.
"The US has lost its global growth leadership position if most recent PMI surveys are to be believed," said Ray Attrill, head of FX strategy at NAB.
"Additionally, US inflation is seen falling further and faster than the Fed's own projections," he added. "Under this scenario, the USD has scope to fall much further this year."
Much the same argument goes for sterling, with markets fully pricing in a 25 bp rate rise next week, and around a 70 per cent chance of another 50 bp hike. The pound rose as high as $1.24475 to its highest level in seven months. It was last up 0.1 per cent at $1.2414.
The dollar was thus 0.2 per cent weaker against a basket of currencies including the euro and pound, at 101.73 and just a whisker away from its eight-month trough of 101.510.
The dollar has at least managed to steady on the yen after the Bank of Japan (BOJ) defied market pressure to reverse its ultra-easy bond control policy.
Analysts assume the BOJ will stand the line until at least the next policy meeting in March, though one hurdle will be the expected naming of a new BOJ governor in February.
For now, the dollar was holding up 0.2 per cent at 129.875 yen, following last week's wild gyrations between 127.22 and 131.58.
The Canadian dollar was a touch firmer at $1.3354 per US dollar, ahead of the Bank of Canada interest rate decision on Wednesday, with markets expecting a quarter-point rise to 4.5 per cent.