German minister praises Bangladeshi apparel maker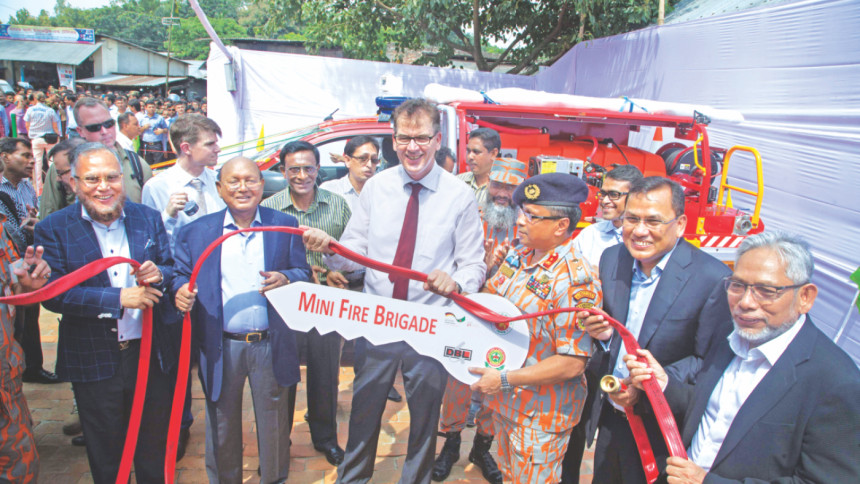 A German minister yesterday expressed satisfaction over compliance by DBL Group, a major garment exporter of Bangladesh.
"I am impressed by the standards that DBL has set," said Gerd Müller, German federal minister for economic cooperation and development, at the DBL factory premises in Gazipur.
The company has high social and ecological standards and it mainly produces garment items for German customers, Müller said.
"I appreciate what DBL has done in regards to the community clinic, a shop for basic commodities at fair prices inside the factory for the workers and a mini fire station." He called upon all factories to emulate DBL.
Müller, along with Bangladesh's Commerce Minister Tofail Ahmed, visited the factories of DBL Group in Gazipur to inaugurate the mini fire brigade, which will fight any fire incident in the factories located within a one kilometer radius.
MA Jabbar, managing director of DBL Group, said the mini fire brigade will work under a public-private partnership; the German international cooperation agency GIZ and the Bangladesh government have participated in the initiative.
An agreement has also been signed, under which GIZ will give three mini fire fighting vehicles and technical support. The DBL Group will allocate lands, buildings for office and other purposes, operation costs and 50 percent of the fire fighters, Jabbar said.
Bangladesh Fire Service and Civil Defence will assign 15 skilled fire fighters to this brigade and they will also train other fire fighters, he added.
The fire brigade would be capable of fighting fire incidents for the first hour of the incident, and even enter narrow roads to access any fire, he said.  "Such an initiative can save the garment sector billions of dollars from fire incidents. The mini fire brigade can also be launched in other areas where garment factories are densely located," said Jabbar, who employs 20,450 workers in his 14 garment and accessories units.
The group exported apparel products worth $320 million in fiscal 2014-15 and the exports will cross the $500 million mark at the end of the current fiscal year, according to Jabbar. "We are expanding our operations as we have a lot of work orders from the international retailers."
Germany is currently a top destination of Bangladeshi garment products, with almost all of its major retailers like Hugo Boss, Adidas, Olymp, KiK, Lidl, s.Oliver and Gerry Webber now sourcing from Bangladesh. 
Bangladesh exported garments worth $4.33 billion in fiscal 2014-15, which was $4.38 billion in fiscal 2013-14, according to the Export Promotion Bureau.
The commerce minister of Bangladesh said compliance in almost all the garment factories improved after inspections by two international agencies -- Accord and Alliance.
The agencies completed inspections of fire, structural and electrical safety standards in more than 3,400 factories after the Rana Plaza building collapse in April 2013, said Ahmed. "But they found faults in only 32 factories."