Garment exports to US will not be hurt by Trans-Pacific agreement: economist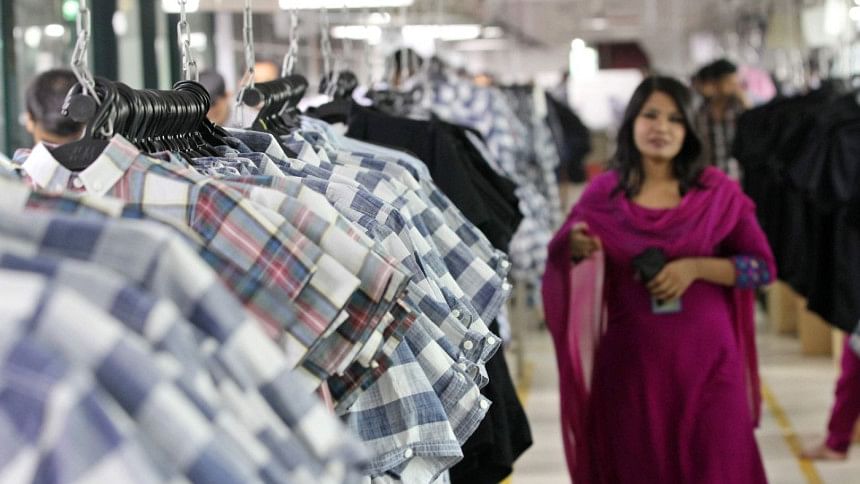 Bangladesh's garment exports to American market will not be affected by the proposed Trans-Pacific Partnership, a mega trade deal involving the US and 11 other Pacific Rim nations including Vietnam, its main competitor in apparel trade, an economist said.
The reason being the country is performing well now even after paying a higher duty than Vietnam to the American market, said Ahsan H Mansur, executive director of Policy Research Institute, a private think tank.
At present, Bangladesh pays 15.62 percent duty for its garment exports to the US, whereas Vietnam pays 8.38 percent. If the TPP is signed, Vietnam's garment items will enjoy duty-free access to the US market.
Originally a trade pact envisaged by Brunei, Chile, New Zealand and Singapore, the TPP was transformed in 2008 when the US expressed its interest.
Since then, the TPP has expanded to 12 members, bringing in Australia, Canada, Malaysia, Mexico, Peru and Vietnam. Most significantly, in 2013, Japan -- often considered a free-trade laggard -- surprised many by entering the talks.
The TPP is called a partnership because the negotiation goes beyond lowering traditional trade barriers, such as tariffs and quotas, and is expected to include rules on regulatory policies (such as competition law).
These 12 nations are also expected to agree upon rules on the conduct of state-owned enterprises, which sometimes receive subsidies from governments or give subsidies to others -- both of which can allow for undercutting of rivals.
Among the proposed TPP nations, only Vietnam is a major garment exporter and the other countries are strong in other products, Mansur said.
And Vietnam is performing well in the US market due to preferential tariff rates it gets on its export of garment items, he added.
Currently, Bangladesh is the sixth-largest garment exporter to the US market and Vietnam is the third largest.
Garment and textile exports to the US from Vietnam increased 12.64 percent year-on-year to $3.47 billion between January and April, according to data from the US Department of Commerce.
Bangladesh's exports grew 7.24 percent to $1.90 billion in that time.
But what is worrying is that Vietnam will receive a lot of foreign investment if the TPP is signed, as the US and the other signatories of the deal are richer and are interested to expand their operations beyond their national borders, Mansur said. To counter that, Bangladesh should also allow foreign direct investment in the garment sector, the PRI executive director added.
Atiqul Islam, president of Bangladesh Garment Manufacturers and Exporters Association, differed from Mansur. He said the country will lose its market share in the US to Vietnam if the TPP is signed.
"We will be affected seriously as Vietnam will get a lot of work orders for having duty benefits."
Bangladesh stands to lose $101.6 million of business a year if the TPP is signed, said a study last year by the University of Zhejiang's School of Economics and Management in China.