Garment exports to EU rise 4pc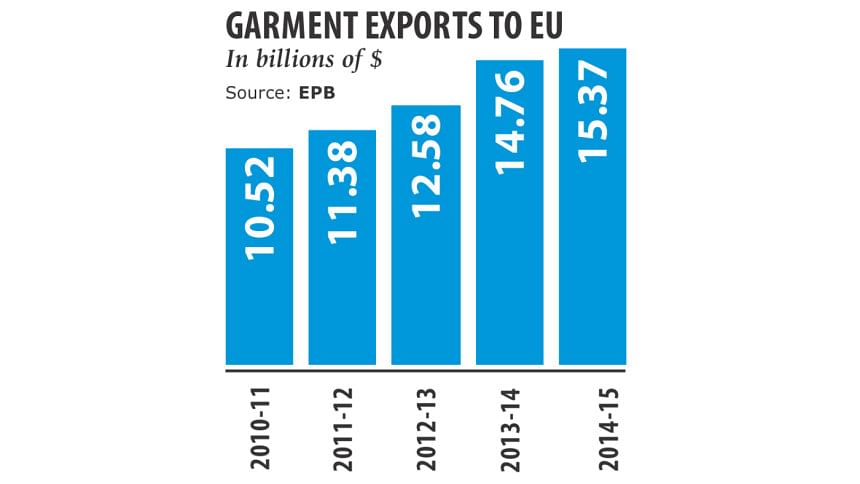 Garment shipments to the European Union, the country's single largest export destination, increased 4.11 percent year-on-year to $15.37 billion last fiscal year.
At present, the 28-nation economic union accounts for 60.28 percent of the country's garment exports a year.
In Europe, Germany was the prime destination, as in previous years, accounting for $4.33 billion of the $15.37 billion exports receipts.
The UK came in next, importing $2.9 billion of garment items from Bangladesh, followed by Spain at $1.62 billion, France at $1.61 billion and Italy at $1.24 billion.
Bangladesh could have grabbed a bigger share of the EU's 165 billion-euro garment market if there had been no political crisis in the first three months of 2015, said Atiqul Islam, president of Bangladesh Garment Manufacturers and Exporters Association.
"The response from the EU markets is still very strong," he said, adding that the positive reports from the Accord and Alliance on the state of the country's garment factories reassured the European retailers.
After the EU, the US is the second most important export destination for Bangladesh, accounting for 20.71 percent of the total garment exports.
In fiscal 2014-15, Bangladesh exported garment items worth $5.29 billion to the US, registering 2.85 percent growth over the previous fiscal year, according to data from the Export Promotion Bureau.
To sustain the garment export growth, the country needs to address the spiralling of production costs and bank interest rates, the inadequate infrastructure and the continued appreciation of the taka against the dollar and the euro, Islam said.