Garment exports to China up 26pc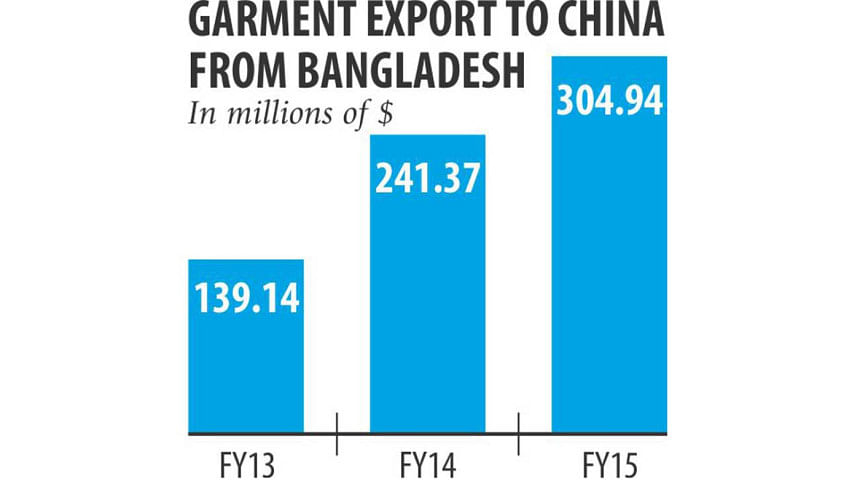 Garment exports to China rose 26 percent year-on-year to $304.24 million in fiscal 2014-15 as demand for low-priced basic clothes is still high among middle-income customers.
About $141.8 million came from knitwear exports and $163.14 million from woven items, according to data from the Export Promotion Bureau. Bangladesh's total garment exports to China in fiscal 2013-14 were $241.37 million.
International and domestic retailers in China have been favouring Bangladesh as a sourcing destination to take advantage of a duty waiver enjoyed by 4,721 Bangladeshi products, most of which are garment items, since April 2011. 
Demand for affordable Bangladeshi sweaters and other knit items, T-shirts and white woven shirts is quite high in China. Both Chinese companies and international retailers such as Walmart, Tesco and Metro are buying products from Bangladesh, industry insiders say.
Because of the duty-benefit and low production cost in Bangladesh, Chinese consumers can save up to 15 percent if garments are bought from Bangladesh.
China, the largest apparel supplier in the world, shifted its focus to high-end clothing and sophisticated technological items, making way for Bangladesh to export low-priced products, said Shahidullah Azim, vice-president of Bangladesh Garment Manufacturers and Exporters Association.
"China has become a big market for us and our garment exports to the country could cross the $1 billion mark soon," Azim added.
"China's domestic apparel market is worth $178 billion a year. If we can grab even 1 percent of that, it will translate to about $18 billion exports in a year to China alone," he said. Local garment makers will participate in the Shanghai international trade fair in October to explore the Chinese market further, Azim said. 
"Bangladesh is still a very strong player in making basic garment items, the demand for which is high among middle-income customers."
Bangladesh's presence in the Japanese market has also grown as garment exports to Japan crossed $652.55 million last fiscal year, from below $100 million five years ago.