Franchise business has great prospect in Bangladesh
FranGlobal organises international expo on franchising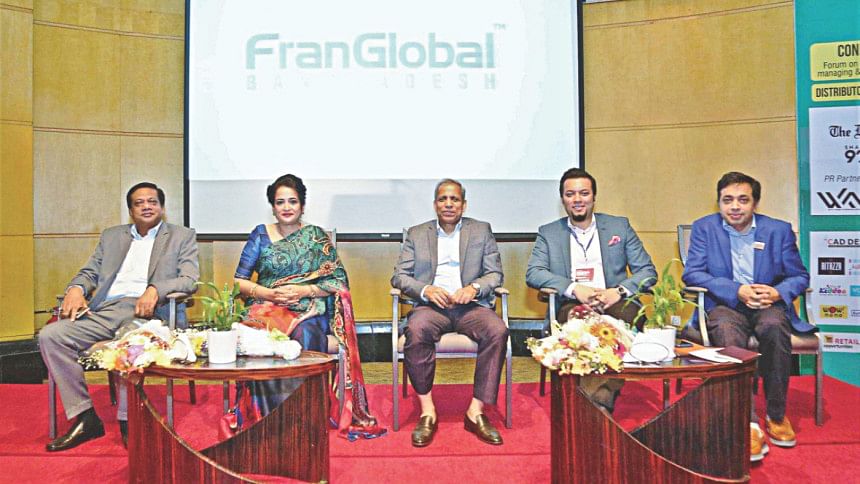 Franglobal, an Indian franchise consultancy firm, intends to bring more than 50 brands to Bangladesh within the next two years along with investment of $39 million and 2,500 new jobs, as the country's solid economic growth continues to attract global attention.
For that end, the company yesterday organised a daylong exposition, which was attended by more than 50 brands from 12 countries, including the US, the UK, Italy, South Africa, Australia, Malaysia, Thailand and India.
The exposition was FranGlobal's first official event in the country after setting up shop here.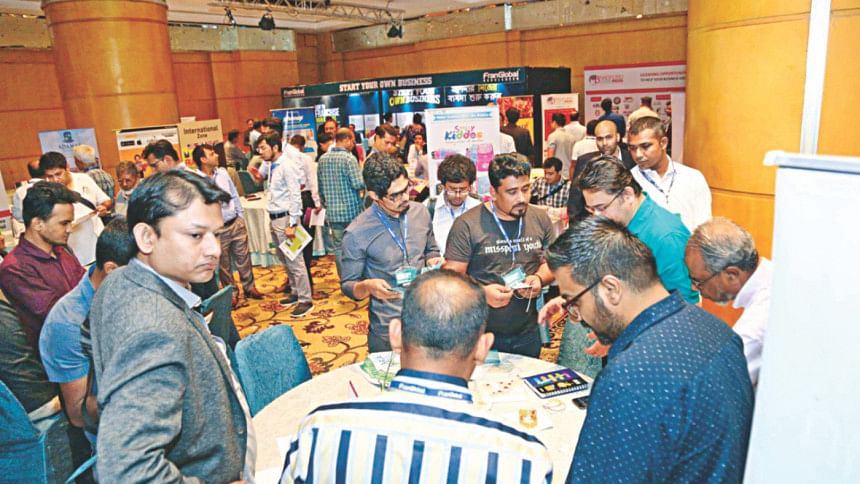 Speaking at the event, Gaurav Marya, chairman of FranGlobal, said foreign franchisees in Bangladesh are doing very well.
"So, we believe this is the opportune time for FranGlobal to enter the Bangladesh market -- we are positive about the country."
Bangladesh holds tremendous growth potential to global brands as there is a huge local market.
Every third dollar is spent on a franchise in the US, he said. "The same will happen in Bangladesh and it is going to happen very fast."
Marya conducted a session where he discussed the best ways to expand business through franchising and partnering with global brands.
He went on to cite a PricewaterhouseCoopers study that stated that Bangladesh is poised to be among the top three fastest growing economies of the world by 2030.
The country is home to thousands of businesses and has emerged as one of the largest concentrations of multinational companies in South Asia, according to the study.
"The franchise market will grow faster in Bangladesh than in India. I would not be surprised if Bangladesh's franchise industry stands at about $6 billion to $7 billion within six to seven years," Marya said.
In Bangladesh, the biggest impact of the business model would be seen in the education, healthcare and fitness sectors.
The noted franchise expert said his firm would organise four events every year to provide a platform for both local and foreign brands so that they can expand.
He went on to praise the official procedures for setting up a business in Bangladesh.
"I was told that getting licence in Bangladesh is very tough. But this is not the reality. I did not face any challenges in obtaining the permissions and setting up an office," he added.
One of the brands that FranGlobal might be bringing to Bangladesh is UClean, India's first organised chain of laundry and home cleaning stores.
"Every neighbourhood of Bangladesh offers tremendous growth opportunity," said Arunabh Sinha, founder and chief executive of UClean.
The company is keenly looking at Bangladesh because the consumption pattern is similar to India's, he added.
The local office of FranGlobal has appointed 16 people to run its operations in the country.
Talking about the operations, Raiyan Zaman, marketing lead of FranGlobal Advisors Pvt. Ltd, said franchising is a new idea in Bangladesh.
But already 30 local brands have contacted the local office to get a better understanding of the business concept.
The participating companies at the event include: STC Wallpaper, Rubix 108, Voylla, Spark Minda, Jetking, Gold's Gym, Regus, Café Udupi Ruchi, and Bradford License India.
"The participating companies are all bullish about the Bangladesh market," Zaman said.
The exposition, held at The Westin Dhaka, showcased the participants' franchise opportunities along with the knowledge-sharing sessions by a number of local and international experts from food and beverage to retail, e-commerce and education sectors.
Shafiul Islam Mohiuddin, president of the Federation of Bangladesh Chambers of Commerce and Industry; Mirza Nurul Ghani Shovon, president of the National Association of Small and Cottage Industries of Bangladesh; Selima Ahmad, president of Bangladesh Women Chamber of Commerce and Industry, and Rasheed Mymunul Islam, deputy managing director of Monno Group, were present.
FranGlobal plays a vital role in representing local investors and partnering with diverse global companies for the entry and expansion in different topographies and has six international offices in different countries, according to Marya.
The franchise consulting firm has offices in Canada, the UK, Singapore and Greece, among others.