Female employees on the decline
BIDS survey finds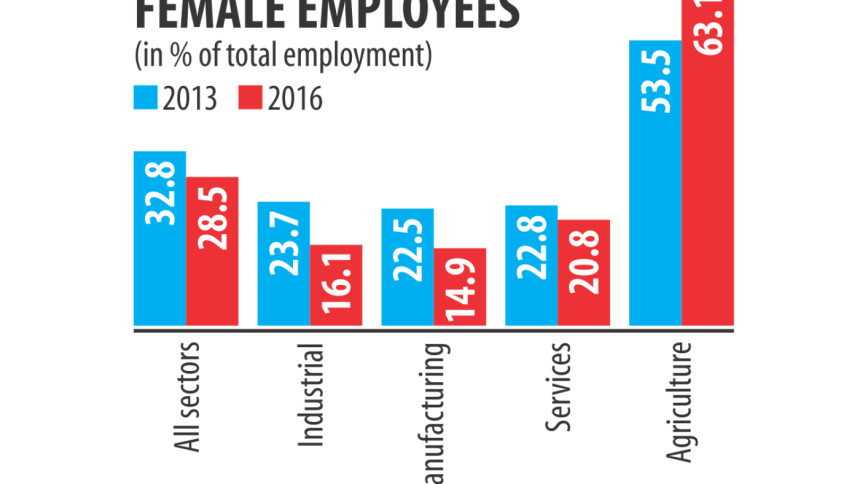 The number of female employees fell 13.10 percent to 5.07 million in Bangladesh last year compared to 2013 mainly because of closure of subcontracting businesses in the garment sector, according to a new survey.
The study of the Bangladesh Institute of Development Studies (BIDS) showed there were 5.51 million female employees in 2013.
Four years ago, 32.8 percent females were employed but their number declined to 28.5 percent in 2016, according to the survey, which was presented at the BIDS Research Almanac 2017 at the Lakeshore Hotel in Dhaka yesterday.
One of the major factors behind the declining trend of women employment was the closure of subcontracting in the garment sector after the Rana Plaza building collapse in April 2013, said Md Iqbal Hossain, research associate of the BIDS.
Other reasons are withdrawal of temporary jobs, especially in urban areas, with the rise of family income. For example, a female worker willing to work at a lower grade in a factory quits when the income of the increases, Hossain said.
Another reason is the withdrawal of female workers from part-time jobs for different reasons, including shifting of factories or starting of their own businesses, he said.
However, the number of female workers will rise in the country in the near future, especially in some specialised sectors such as garment, leather and leather goods, ICT, pharmaceuticals and toys as these are growing industries, Hossain said.
"The government should introduce training centres following UCEP model so that an adequate number of skilled workers can be supplied to the growing industrial sectors."
UCEP trainings are sector-specific and can be applied to jobs directly, benefiting both employees and employers, Hossain said after presenting his paper on "labour supply and its changes during 2006 to 2016: focus on gender and regional difference". Citing data from the Bangladesh Bureau of Statistics, Hossain said employment of female workers in the agricultural sector increased to 63.1 percent in 2016 from 53.5 percent in 2013.
Employment of female workers in the industrial sector decreased to 16.1 percent in 2016 from 23.7 percent in 2013, while it declined to 14.9 percent from 22.5 percent in 2013 in the manufacturing sector.
Division-wise, the biggest rise in the labour force participation by female workers was noticed in Khulna division.
In 2016, the participation of female in jobs in Khulna was 42.2 percent from 26.9 percent previously.
In Rajshahi, the participation rate was 49.8 percent last year from 34.1 percent previously while in Barisal the participation rate declined to 29.8 percent from 30.9 percent in 2013.
Similarly, in Chittagong the participation rate declined to 34 percent from 36.4 percent during the period. The female's participation in jobs in Sylhet has been decreasing gradually since 2006.
In another paper titled "transition between informal and formal employment", researcher Minhaj Mahmud said 30 percent of those leaving private jobs move to self-employment.
Transitions from private employment to casual work are more common among those with lower level of education whereas transitions to employment are more common among prime aged workers and among those retaining the same employment benefits.
Speaking as a panel discussant, Simeen Mahmud, who teaches at Brac University, said sexual harassment at workplaces is so common that it has become a major barrier to female's participation in jobs.
Rizwanul Islam, former special adviser for the employment sector at the International Labour Organisation, moderated the session.