Exports of processed food on the rise
Nine companies ship products mostly to Middle Eastern, African nations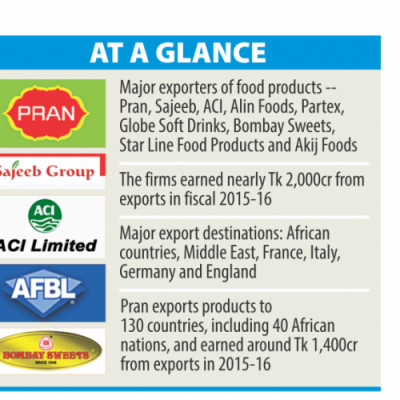 The demand for processed and packaged food from Bangladesh is fast growing in Africa and the Middle East, home to millions of migrant workers, industry operators said.
At least nine companies are exporting their food products -- confectionaries and beverages -- to different Middle Eastern and African nations, and some European countries such as France, Italy, Germany and the UK.
The companies are: Pran, Sajeeb, ACI, Alin Foods, Partex, Globe Soft Drinks, Bombay Sweets, Star Line Food Products and Akij Foods.
Altogether, the companies earned nearly Tk 2,000 crore from exports in fiscal 2015-16. Pran alone accounted for three-fourths of the sum: Tk 1,400 crore.
Sajeeb Group's export growth was 40 to 50 percent per year over the last 10 years, according to its Chairman and Managing Director MA Hashem.
Currently, Sajeeb ships to around 50 countries and one-fourth of its total income comes from exports.
Pran exports to 130 countries, including 40 African countries, all Middle-Eastern countries, India, Malaysia, Australia, the UK, France, Italy, Canada and the US.
"We are getting new export orders from new markets regularly. Our overseas consumers are happy to see the improvement in our products," said Mizanur Rahman, chief of export at Pran.
Pran develops its products keeping in mind that a costly product may not sell well in the African markets, he said.
The company also participates in over 40 food fairs across the world every year, from where they not only book new buyers but also learn from other countries' products, Rahman added.
Bombay Sweets, one of the oldest food companies in Bangladesh, is also gearing up to make foray into the export market in a big way, said its Director Salim S Jivani.
Presently, Bombay Sweets exports to some Middle Eastern countries and the US.
Last month, the company got over a dozen export inquiries from different African markets.
"The problem is that African countries do not want to buy our quality products at premium prices. They want to buy products at cheaper price, no matter what the quality is."
Bombay Sweets's factory has recently been inspected by the USFDA, the food authority of the US, according to Jivani.
"They were happy to see our factory and the quality of the products. Once we get the certification, we will be able to export in the American market," he added.
Rahimul Islam Bhuiyan, head of export of Globe Soft Drinks, said they are exporting to 35 countries, including Malaysia, Singapore, the Maldives and the Middle Eastern countries.
Globe raked in about Tk 150 crore from exports last year, he said.
Export of ACI Consumer Brands, a concern of ACI, is also growing fast.
"We aim to double our exports to Tk 30 crore this year from a year ago," said Mukir Uddin Ahmed Dipu, deputy general manager (export) of ACI Consumer Brands.