Stop soybean meal export
Feed millers urge govt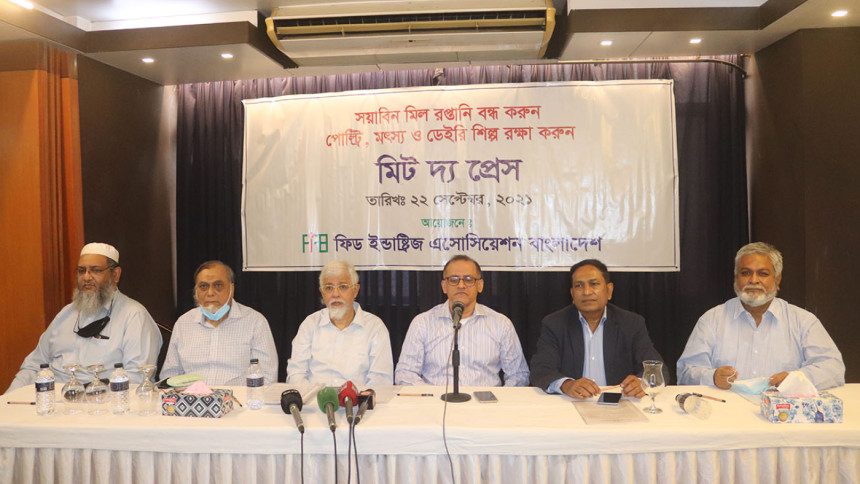 Feed millers have called upon the government to stop exports of soybean meal, a major ingredient of poultry, fish, and cattle feed, for the sake of the local livestock industry.
They made this call yesterday at a press conference organised by Feed Industries Association Bangladesh (FIAB) as the government recently decided to export soybean meal, which accounts for 25-35 per cent of animal feed.
The millers said soon after the government decided to export soybean meal, local producers increased their prices by Tk 10-12 to Tk 53-55 per kilogramme.
This put the livestock industry, particularly farmers who have been reeling from the Covid-19 fallout, into a deep crisis, they added.
According to FIAB, the price of soybean meal increased by 41.18 per cent in the past one year.
Similarly, the average price of all other ingredients, including maize and fish meal, increased by 34.22 per cent at the same time.
Feed millers alleged that producers have also created an artificial crisis in the market by reducing the supply of soybean meal, affecting the production of many feed mills.
Besides, the increased costs have led to the closure of many small firms.
At least 50 feed producing mills out of a total of 350 have already been shut, they said, adding that the industry has not faced such a crisis in the last 30 years.
About 20 lakh tonnes of soybean meal is required to produce the roughly 50 lakh tonnes of feed needed in the country each year.
Of this, around 80 per cent of the soybean meal is procured by local companies while the rest is imported.
The feed millers said livestock farmers are deeply concerned about soybean meal exports as they are already facing huge losses amid the increased production cost.
Livestock farmers have to spend 75 per cent of their total production cost to procure feed, according to FIAB.
The association also alleged that only three to four soybean oil-producing companies recently started exporting soybean meal, a by-product of soybean oil processing, to India for extra profit.
FIAB leaders said if this export is not stopped, the price of livestock products will go beyond the purchasing capacity of consumers.
The fisheries, agriculture and food ministries had recommended as much to the commerce ministry but were ignored, they added.
However, Biswajit Saha, director for corporate and regulatory affairs at City Group, one of the top soybean meal producers in the country, said soybean meal producers crush about 54 lakh tonnes of the feed ingredient against a local demand of around 21 lakh tonnes per year.
"So if imports are stopped, where will we sell this additional 33 lakh tonnes of soybean meal," he asked.
Saha went on to say that they are now selling soybean meal at about Tk 52 per kilogramme in the country while they are exporting the ingredient at Tk 57 per kilogramme.
FIAB President Ahtesham B Shahjahan, General Secretary Md Ahsanuzzaman, Member Masiur Rahman, and others also spoke at the event.