High import duty hinders furniture export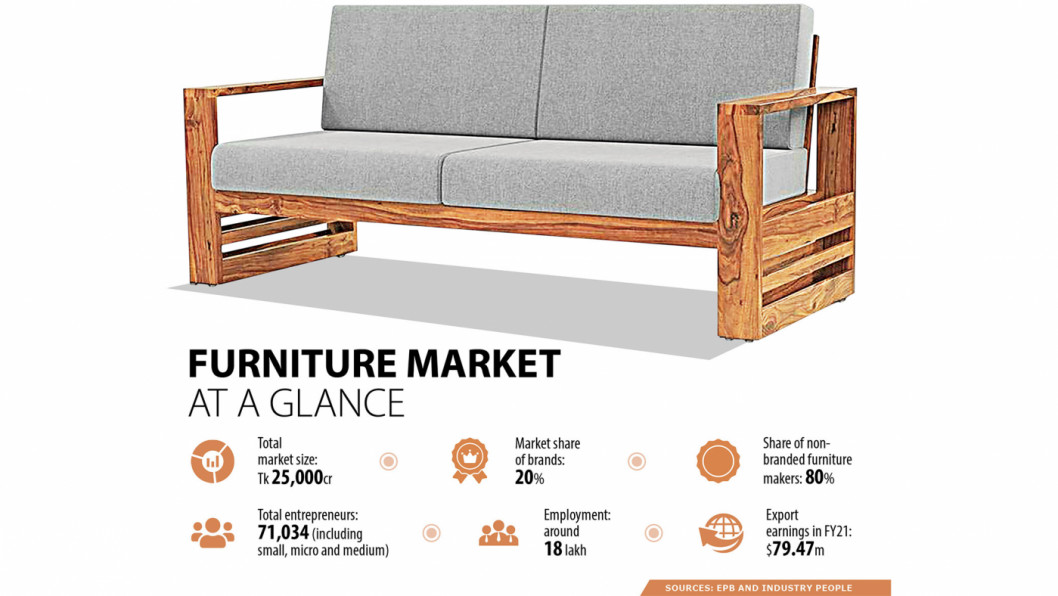 High import duties on raw materials are dampening price competitiveness of Bangladesh's furniture industry, a major drawback to tapping into international markets.
Though manufacturers have been into exporting furniture for the past decade or so, the annual sales figure is yet to cross $100 million, a scenario warranting consideration since the government is already trying to diversify the export basket.
Bangladesh earned $79.47 million from furniture exports last fiscal year and $90 million in fiscal year 2019-20, according to the Export Promotion Bureau (EPB).
According to the EPB, Bangladesh's furniture exports have increased by about 267 per cent in the last decade.
"Import duty is the main barrier to increasing furniture exports from Bangladesh as the sector is quite dependent on imported raw materials," said Selim H Rahman, chairman and managing director of Hatil Furniture, a leading exporter.
"We the furniture manufacturers have to import most of the raw materials including wood, lacquer and all hardware," he said.
"The import duty of raw materials, including value added tax and advance income tax, is anywhere from 37 per cent to 89.32 per cent," he noted.
According to him, there was no scope to avail bonded warehouse facility as the sector was not 100 per cent export oriented.
The government provides a 15 per cent cash incentive on furniture export, but unless export duty reductions and bonded warehouse facilities came about, it can come to little effect in increasing shipments.
Rahman said Hatil has been able to enter markets in the US, Canada, Australia, Saudi Arabia, Kuwait, United Arab Emirates, Thailand, Egypt, Russia, Bhutan and India.
The company has 22 outlets in neighbouring India and two in Bhutan.
According to Rahman, the local furniture industry has achieved significant growth during the last 10 years.
He attributes this to rising reliability offered by furniture brands or the organised segment of manufacturing in line with growing spending capacity of consumers.
Most furniture makers in Bangladesh fall in the unorganised category, running small-scale operations and offering by-hand craftsmanship of custom designs and fits, he said.
Industry insiders believe the combined annual sale of home and office furniture by both the organised and unorganised sectors was currently at around Tk 25,000 crore.
In contrast, it was only Tk 6,700 crore in 2012 according to a European Union report.
AHM Ahsan, vice chairman and chief executive officer of the EPB, said as per the export policy there was no scope to provide bonded warehouse facility to the furniture industry as it was not an export-oriented industry.
However, he said the government was providing the cash incentive and organising trade shows abroad to establish brands and build up an image.
Acknowledging challenges of the furniture industry in enhancing exports, he said the manufacturers were also less inclined towards it as the domestic market was huge.
For this reason, the manufacturers focus on growing their shares in the domestic market instead of the international market.
Kamruzzaman Kamal, marketing director at Pran-RFL Group, which exports products under its Regal Furniture brand, said Bangladesh has the potential to increase export of furniture, particularly to India, thanks to innovative designs and product quality.
However, he said, furniture brands in Bangladesh were dependent on import of raw materials, including wood and all accessories.
According to him, the high import duties push up prices of finished products.
For this reason, companies face acute competition in the export market, Kamal said.
Besides, furniture is a bulk item requiring high transportation costs, which was a barrier to increasing exports in the global market, he said.
Kamal also said Bangladeshi brands were yet to become familiar in the global market, which was resulting in the slow growth of exports.