Garment exports to US on the rise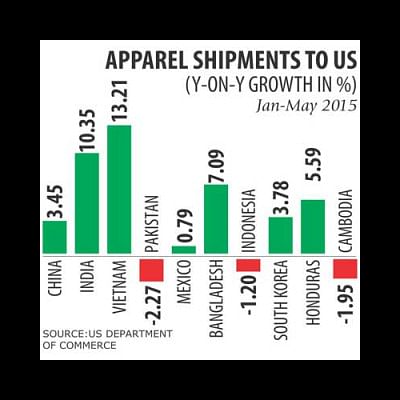 Garment exports to the US, the country's single largest export destination, rose 7.09 percent year-on-year in the January-May period on the back of a rebound in the American economy.
Bangladesh exported $2.32 billion worth of garment products to the US in the first five months of the year, according to data from the US Department of Commerce.
The development will assuage the nerves of many, as garment exports to the US experienced negative growth almost all throughout 2014 as a repercussion of the Rana Plaza building collapse.
Garment exports to the US declined 3.17 percent year-on-year to $4.64 billion during the January-November period of last year.
But from March this year, it started picking up due to the retailers' reinstatement of confidence in Bangladeshi garment.
"The retailers' confidence in us have started to return as we are carrying out a lot of positive transformations in the garment sector after the Rana Plaza building collapse," said Atiqul Islam, president of BGMEA.
Moreover, Bangladesh has been receiving the work orders shifted out of China, he said.
Positive notes by the two foreign inspection agencies -- Accord and Alliance -- after the preliminary inspection also helped, Islam added.
The rise in garment imports from Bangladesh is part of a greater trend: the US imported garment items worth $42.6 billion, up 4.02 percent year-on-year. Bangladesh ranked sixth among the top 10 garment exporters to the US during the period, with China coming first.
India came in the second position, Vietnam third, Pakistan fourth and Mexico fifth, according to the data. Indonesia came in seventh, followed by Korea and Honduras and Cambodia.      
Bangladesh exports about $5.6 billion worth of goods to the US a year, 95 percent of which are garment items.