Exports bounce back in May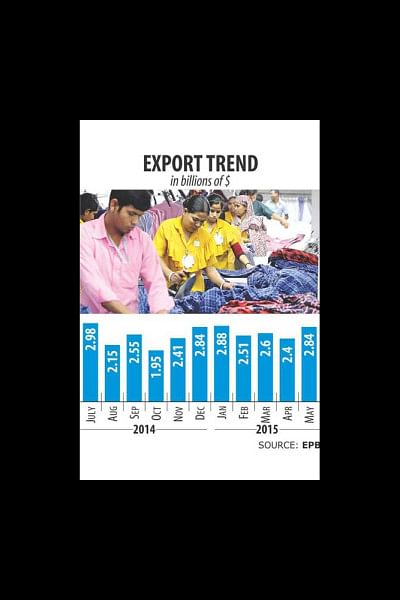 Exports bounced back in May after a dip in April, raking in $2.84 billion, up 4.44 percent from a year earlier.
"Our exports could have been more," said Atiqul Islam, president of Bangladesh Garment Manufacturers and Exporters Association, the apex body of the garment sector that typically accounts for 80 percent of the export earnings.
Garment products fetched $2.35 billion in May, up 6.33 percent year-on-year.
Going forward, the steep decline of major currencies like the US dollar, euro, Canadian dollar and Russian ruble is a cause of concern for the sector, Islam said. "Our earnings are eroding as a result."
Meanwhile, May's earnings missed the monthly target by $270 million, according to data from the Export Promotion Bureau.
The latest data takes export receipts between July and May to $28.14 billion, which, although an increase of 2.79 percent year-on-year, misses the target by $1.8 billion.
The political turmoil from January through to April hampered business prospects this year, exporters said.
Some $5.05 billion has to be earned this month to meet fiscal 2014-15's export target, highly improbable seeing that monthly takings always hover around the $2 billion-mark.