Eskayef focuses on courage, ethics at annual conference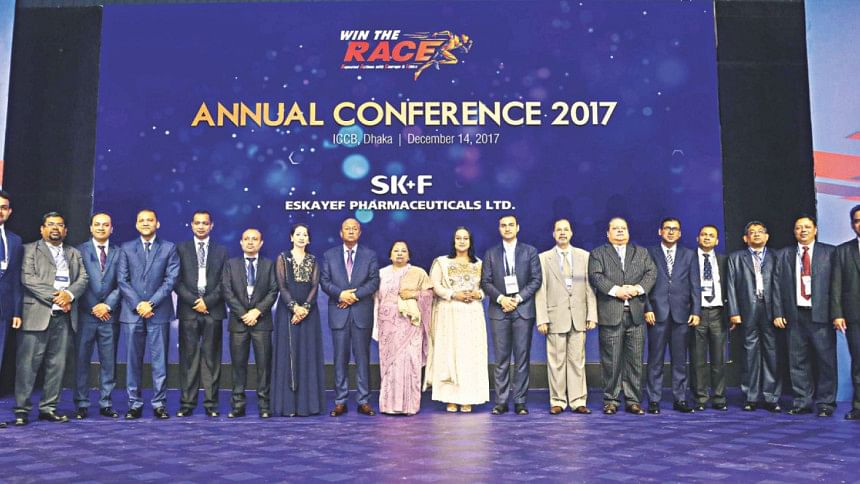 Eskayef Pharmaceuticals organised its annual conference for 2017 with the theme "Win the race through repeated actions with courage and ethics" in the capital's International Convention City Bashundhara on December 14.
At the programme, the company's Chairman Latifur Rahman along with Managing Director and CEO Simeen Hossain awarded the top performers of Eskayef and Transcom Distribution Company.
"We have to continue our spirit of work with courage and ethics and give our best to have the best outcome," said Rahman, who is also the chairman and CEO of Transcom Group.
In her speech, Simeen Hossain said, "Our achievements are a positive reflection of our colleagues, truly the best talents who continue to infuse energy and passion. This team will surely drive the company to leave its footprints in Bangladesh and beyond."
Urging all to utilise their full potential, she gave an update on the humanitarian projects undertaken by the Latifur & Shahnaz Rahman Foundation.
The event's theme drew inspiration from Latifur Rahman's grandson Faraaz Ayaaz Hossain. The 20-year-old had refused to leave his friends behind during the July 1 terror attack at Holey Artisan Bakery in Dhaka and was eventually killed by the militants.
Faraaz's elder brother Zaraif Hossain commemorated the sacrifice and spoke of how it motivated the 4,000-strong team of Eskayef, one of Bangladesh's top pharmaceutical companies.
He also highlighted initiatives undertaken through Faraaz Hossain Foundation, which intends to spread Faraaz's values of courage, friendship and humanity to change the lives of the less fortunate, inspire courage in times of crisis and build the country's future leaders.
Eskayef's directors, including Shahnaz Rahman, Atiqur Rahman, Arshad Waliur Rahman and Shahzreh Huq, were present along with distinguished guests from other Transcom companies and Eskayef's business partners from different countries.