Stocks snap six days of gains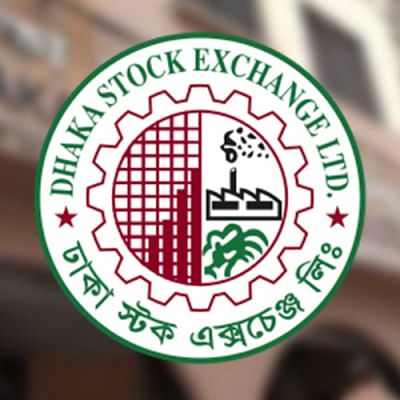 Most shares on the Dhaka and Chittagong stock exchanges ended in the red yesterday, prompting the key indices of the bourses to slide after clocking gains for six days. 
The DSEX, the benchmark index of the Dhaka Stock Exchange, lost 35 points, or 0.56 per cent, to close at 6,280.
The DS30, the blue-chip index, dropped 0.96 per cent to 2,243, and the DSES, the shariah-based index, shed 0.58 per cent to 1,379.
Turnover, one of the important indicators of the market, fell more than 23 per cent to Tk 1,133 crore.
Of the securities, 71 advanced, 215 declined, and 94 did not show any price movement.
The Dhaka stocks broke a gaining streak as cautious investors booked some profit on quick-gaining issues, said International Leasing Securities Ltd, a brokerage house, in its daily market review. 
Some investors increased their participation as well since they got back their confidence on the macro-economic stability, it said.
Among the sectors, services rose 1.5 per cent, financial institutions were up 0.9 per cent, and textile added 0.4 per cent. On the other hand, jute stocks shed 2.1 per cent and travel stocks were down 1.8 per cent.
The investors' activity was mostly centred on textile and pharmaceuticals.
Among the individual stocks, Union Capital Ltd was the most successful stock on the day, advancing 10 per cent.
Metro Spinning gained 9.97 per cent, Prime Finance & Investment rose 8.8 per cent, and International Leasing & Financial Services won 7.69 per cent. Other major gainers included Sinobangla Industries, Central Pharmaceuticals, and IPDC Finance.
Jute Spinners declined the most, giving up 9.7 per cent. Samata Leather Complex, ICB AMCL Second Mutual Fund, Fareast Islami Life Insurance, Acme Pesticides, Bangladesh Industrial Finance Company, and Kay & Que (Bangladesh) were among the major losers.
Orion Pharma was the most-traded stock on the day, with its scrips worth Tk 77 crore changing hands. Bangladesh Export Import Company, IPDC Finance, Maksons Spinning Mills, Metro Spinning, and Orion Infusion also witnessed significant turnover.
The Caspi, the all-share price index of the bourse in the port city of Chattogram, slipped 66 points, or 0.36 per cent, to close at 18,503.
Turnover dipped 34 per cent to Tk 28 crore.
Losers outnumbered gainers with 75 stocks advancing, 137 retreating, and 75 remaining unchanged.