Stocks fall for seventh day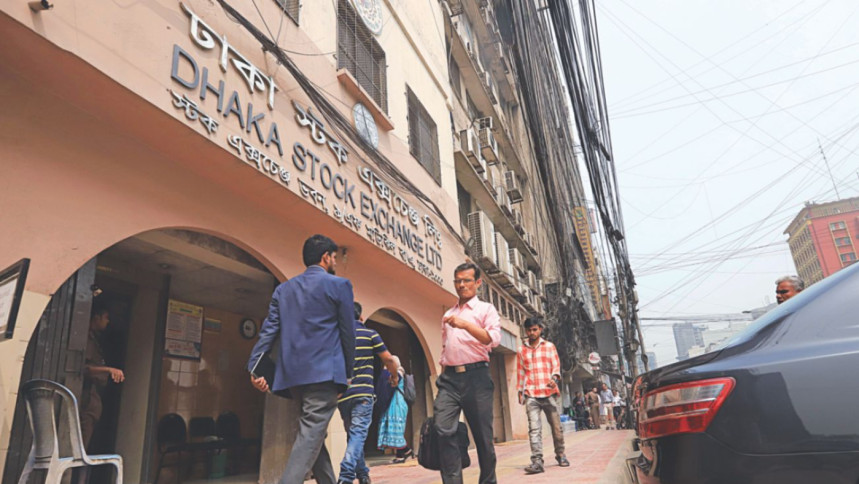 Stocks in Bangladesh tumbled for the seventh straight day today, causing concerns among the general investors.
The DSEX, the benchmark index of the Dhaka Stock Exchange (DSE), slid 51 points, or 0.81 per cent, to 6,258 at the end of the day.
With that, the index dropped to nine months' lowest position as it was 6,208 on July 12. In the last seven days, the index plunged by 440 points.
Besides, the turnover of DSE fell to Tk 668 crore which was Tk 762 crore on the previous day.
At the DSE, 67 stocks advanced, 263 declined and 50 remained unchanged.
Meanwhile, both the DS30, blue-chip index, and DSES, Shariah based index, lost 19 points and 8 points respectively.
S Alam Cold Rolled Still Mills topped the gainers' list with about a 10 per cent rise. Bangladesh National Insurance, First Finance, C&A Textiles, and Emerald Oil also saw major gains.
Prime Finance First Mutual Fund One shed the most with a 5 per cent drop. Paper Processing, ACI Formulations, Bangas Ltd, and RD Food were among the heavy losers.
Beximco Ltd became the most traded stock with shares worth Tk 53 crore changing hands followed by Islami Bank, Shinepukur Ceramics, JMI Hospital and Bangladesh Shipping Corporation.
The Chittagong Stock Exchange (CSE) also fell today. The CASPI, the main index of the CSE, went down 103 points, or 0.72 per cent, to close the day at 18,439.
Of the 288 stocks traded, 54 rose, 208 fell, and 26 did not see any price movement.