Stocks fall for second day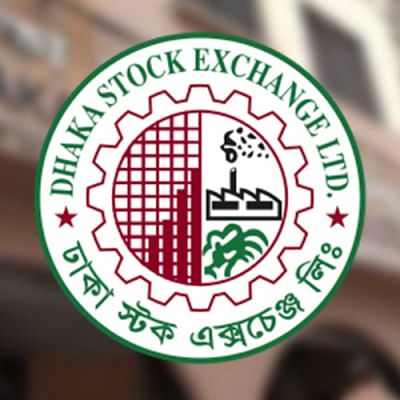 The Dhaka and Chattogram stock exchanges fell for the second straight day yesterday as investors worried about persisting economic uncertainty took profits.   
The DSEX, the benchmark index of the Dhaka Stock Exchange (DSE), closed at 6,528, down 10 points, or 0.15 per cent.
The DS30, the index that consists of blue-chip companies, slipped 0.7 per cent to 2,356, while the DSES, the shariah-based index, was down 0.18 per cent at 1,429.
Turnover fell nearly 20 per cent to Tk 1,360 crore. 
Of the securities, 124 won, 115 retreated, and 139 did not find any buyer.
The premier bourse passed another down session as shaky investors kept their selling spree in major stocks to book profits following recent market surges, said International Leasing Securities Ltd, a brokerage house, in its daily market review. 
Among the sectors, travel stocks appreciated 3 per cent, paper shares were up 1.3 per cent, and IT scrips rose 0.9 per cent.
The service sector lost 1.4 per cent, the ceramic sector fell 0.9 per cent, and the pharmaceuticals sector declined 0.7 per cent.
Investors' activity was mostly centred on pharmaceuticals and engineering stocks, which represented 22.1 per cent and 8.5 per cent of the turnover respectively, according to the brokerage house. 
Among the individual stocks, Bangladesh Export Import Company was the most-traded security on the day, accounting for 14.5 per cent of the turnover as its scrips worth Tk 197 crore were transacted.
Orion Pharma, Bangladesh Shipping Corporation, JMI Hospital Requisite Manufacturing, Nahee Aluminum Composite Panel, and LafargeHolcim Bangladesh were among the stocks that saw significant gains.
JMI Hospital Requisite Manufacturing topped the gainers' list, advancing 9.97 per cent.
S Alam Cold Rolled Steels, Bangladesh Welding Electrodes, and Union Capital, rose more than 9 per cent, while Fareast Islami Life Insurance and Bangladesh Monospool Paper Manufacturing were up more than 8 per cent.
Sonargaon Textiles suffered the highest correction, sliding 9 per cent. Orion Pharma and Eastern Housing gave up more than 4 per cent and Shinepukur Ceramics, Yeakin Polymer, and Sunlife Insurance Company declined more than 3 per cent.
The Caspi, the all-share price index of the Chattogram Stock Exchange, lost 61 points, or 0.31 per cent to end at 19,198.
Of the issues that traded on the bourse in the port city, 110 advanced, 81 declined, and 100 did not show any price movement.
Turnover dropped more than 34 per cent to Tk 27 crore.