Indices go up though stocks are bleeding
Turnover below Tk 200cr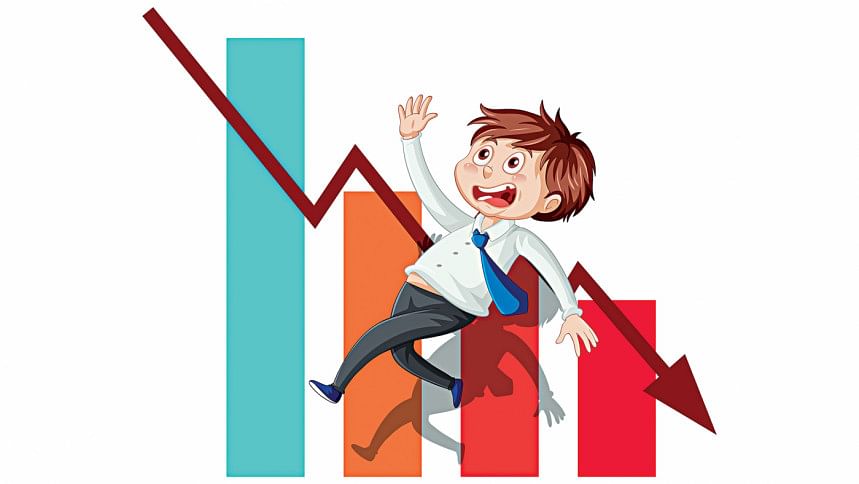 Major indices of the stock market in Bangladesh saw an uptick yesterday even though most shares bled while turnover remains below Tk 200 crore as stocks are not allowed to drop by more than 1 per cent but can rise by up to 10 per cent in a day, according to experts.
The DSEX, the benchmark index of the Dhaka Stock Exchange (DSE), rose 7 points, or 0.11 per cent, to end the day at 6,185 points.
The DS30, the blue-chip index, rose 0.03 per cent to 2,192 points while the DSES, the index that represents shariah-based companies, advanced 0.08 per cent to 1,352.
Turnover, an important indicator of the market's liquidity, increased 35 per cent to Tk 198 crore while it was Tk 145 crore the previous day.
Among the traded companies, 44 advanced, 119 declined and 169 remained the same.
A stock market analyst said some shares are rising to a large extent as most of them are not allowed to fall by more than 1 per cent.
The Bangladesh Securities and Exchange Commission (BSEC) lifted floor price from 169 companies last month but set the circuit breaker in a way such that stock prices would not be allowed to drop by more than 1 per cent based on the previous day's closing price.
However, the limit for a single-day rise remains unchanged at 10 per cent.
So, the rise of the indices is not showing the real picture of the market, he added.
Islami Commercial Insurance posted the highest appreciation, rising 9.73 per cent. Bashundhara Paper Mills surged 4.76 per cent and Aamra Networks advanced 4.56 per cent.
Orion Infusion suffered the sharpest fall, sliding 7.49 per cent. Queen South Textile Mills also dropped by more than 5 per cent.
Orion Infusion was the most traded stock on the day with shares worth Tk 25 crore being transacted. Intraco Refueling Station, Monno Ceramic Industries, Bashundhara Paper Mills, and Orion Phrama also saw significant transactions.
The stock markets inched up after a volatile trading session. Bargain hunters cautiously showed buying interest on sector-specific stocks at lucrative prices as the DSEX hit a four-and-half month low till the previous session to reach 6,178 points, International Leasing Securities said in its daily market review.
The market started with a downward movement that turned upwards after the first hour trading session. Although turnover increased by 35.8 per cent compared to the previous session, it still fell below the Tk 200 crore mark.
Jittery investors are following a "wait and see" approach as there are rumors that the floor price will be lifted for all, it added.
Among the sectors, IT rose 1.9 per cent, service advanced 1.4 per cent and paper increased 1.4 per cent while jute fell 1 per cent and general insurance edged down 0.1 per cent.
Investor activity was mostly centered on the pharmaceuticals (31.1 per cent), engineering (9 per cent) and IT (8.9 per cent) sectors.
The Caspi, the all-share price index of the CSE, fell 12 points, or 0.06 per cent, to end the day at 18,271.
Of the securities traded, 29 advanced, 39 declined, and 102 did not show any price movement.