COVID-19 FALLOUT
Wholesale, retail sectors yet to fully recover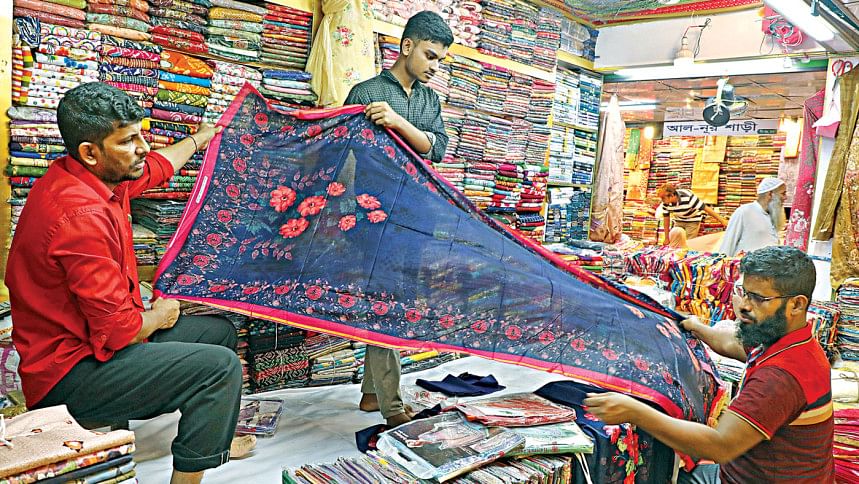 Wholesale and retail establishments that saw their business crippled by Covid-19 may have enjoyed some recovery alongside the return to economic normalcy but the ongoing Russia-Ukraine war now threatens to offset their gains amid global inflationary pressure.
Around 65 to 75 per cent of all wholesale and retail traders in the country suffered from poor business due to a lack of customers, economic crisis and complications of Covid-19 during the height of the pandemic in 2020, according to a government survey.
Of the total 40.49 lakh retail trade establishments, 26.06 per cent endured a lack of customers while 13.39 per cent witnessed a downturn for the economic crisis and 26.04 per cent were directly impacted by the pandemic.
The lack of customers stemmed from restrictions on public movement while the economic crisis refers to increased input costs resulting from the pandemic. Meanwhile, the fallouts of Covid-19 caused complications in the transport of goods, sourcing of raw materials and so on.
Of the 18.87 lakh wholesale establishments, 22.93 per cent suffered from a lack of customers, 17.81 per cent were affected by the economic crisis and 33.66 per cent were directly impacted by the pandemic.
Around 65 to 75 per cent of all wholesale and retail traders suffered from poor business due to a lack of customers, economic crisis and complications of Covid-19 during the height of pandemic in 2020
This is the first survey of its kind conducted by the government to shed light on the woes of wholesale and retail businesses, which collectively employ more than 91 lakh people, during the pandemic.
The report, titled "Wholesale and Retail Trade Survey 2021", was conducted by the Bangladesh Bureau of Statistics last year to obtain up-to-date information on the wholesale and retail sectors.
The survey found that wholesale and retail organisations conducted 100 per cent business activities from July 2019 to February 2020.
It then dropped below 25 per cent between April and May 2020 but recovered up to 75 per cent in June.
Sales of wholesalers and retailers started recovering in earnest from the last quarter of the year as the pandemic situation had started to improve by then.
But from the beginning of 2021, they once again began witnessing sluggish business due to global price hikes that got exacerbated by the ongoing Russia-Ukraine war.
"The price of products increased by 25 to 30 per cent in recent months and sales subsequently fell by 20 to 25 per cent," said Aminul Islam Sahin, president of the Newmarket Dokan Malik Samity.
"So, the path to recovery from the pandemic downturn has become difficult," he added.
He then said the authorities' decision to have stores close their doors by 8:00pm in a bid to save electricity amid rising energy costs has also impacted their business.
Economist Zahid Hussain said there has been a slowdown in business activities ever since the initial countrywide lockdown during the first wave of the pandemic in April-May 2020.
People maintained social distancing even after the lockdown was lifted and that had an effect wholesale and retail businesses as well.
A major cause for the recovery in sales in 2020 was that the e-commerce sector grew immensely when people avoided going outside to purchase their daily essentials.
Besides, the spread of Covid-19 disease was more intense in Dhaka and Chattogram, highly impacting sales in those regions while other places were more or less unhampered, Hussain said.
Regarding the sufferings of small businesses, he said that small retail and wholesale establishments were blindsided by the economic downturn as they had no access to finance.
However, this issue is not limited to the Covid-19 pandemic as the lack of access to finance is a perennial issue for small businesses.
Citing the survey, Hussain said it found that if wholesale and retail traders invest Tk 1, the value addition for this reaches up to Tk 2.67, meaning the returns are high.
But even though the returns are high, their investment is very low.
For example, the investment ratio against capital is 24 per cent at the national level but it is just 0.5 per cent at the wholesale and retail levels.
"This is because they don't get loans from formal banking channels due to a lack of collateral as banks don't consider moveable property as collateral," Hussain added.
In addition, many traders do not even have a trade license, which is a prerequisite for getting bank loans.
This problem will be reduced though as the government is passing the Secured Transactions (Movable Property) Act, allowing movable assets to be considered as collateral for bank loans.
The last Wholesale and Retail Trade Survey was performed in 2009-2010 and after a long hiatus, it was conducted again in 2020.
The fieldwork for updating the list of establishments within sample areas began on January 21 and continued until January 30 in 2020. But due to the pandemic, the survey data collection was delayed until March 15 in 2021 and continued until April 4 the same year.
The survey used the combined frame of Economic Census 2013 and Business Directory 2019 and an updated list of wholesale and retail establishments from 500 areas. There were around 15,800 permanent establishments considered for data collection using CAPI (Computer Assisted Personal Interviewing) between March-April 2021.
Motor vehicle repair establishments under the survey totalled 3.17 lakh while there were 6.84 lakh wholesale organisations and 15.39 lakh retail businesses.
The total number of people engaged in the wholesale and retail sectors sharply increased to 91.95 lakh in 2021 from 52.64 lakh in 2009. Meanwhile, the number of female workers increased to 2.03 lakh from 0.89 lakh at the same time.
The report then said wholesale and retail trade in Bangladesh contributes significantly to employment but there is also a relatively high employment cost in both sectors.
Considering the output of this survey, the total operating cost of the Wholesale and Retail Trade Survey was assessed at Tk 6,688 crore, which is significant for the planners to prepare the development plan for these sectors.
The survey's findings indicate that the average manpower size at each establishment also increased to 3.62 in 2021 from 1.99 in 2009.