Wheat consumption to rise 6pc: USDA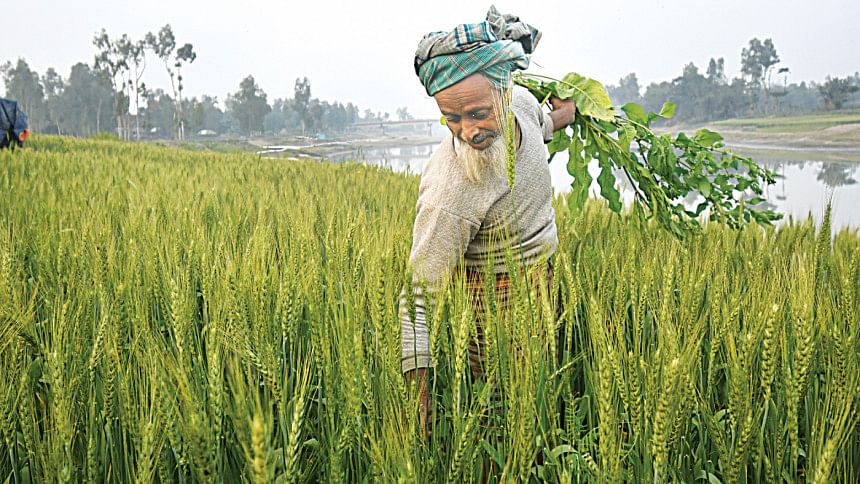 Bangladesh's wheat consumption is forecast to rise 6 per cent to 84 lakh tonnes in the marketing year (MY) beginning from July as demand of households, restaurants and the bakery industry has increased, said the US Department of Agriculture (USDA) in a recent report.
And nearly 88 per cent of the consumption requirement is likely to be met by imports as domestic production is declining owing to farmers switching to growing alternative crops that provide higher economic returns such as potato, vegetables and Boro rice.
"The local production of wheat meets approximately 13 per cent of the total demand," said the agency in its Grain and Feed Update on Bangladesh released at the end of last week.
The USDA said farmers sowed wheat on 4 per cent lesser area year-on-year to 3.20 lakh hectares in MY 2021-22. Growers are likely to harvest 11.3 lakh tonnes of the grain in the current MY ending in coming June.
As a result of falling domestic production, Bangladesh's wheat imports are expected to increase 3 per cent year-on-year to 74 lakh tonnes in MY 2021-22, said the US agency.
The USDA, citing media reports, said the biscuit and cookie industry in Bangladesh consumes a significant amount of wheat-based flour.
More than 4,500 traditional biscuit factories and 110 automated biscuit factories produced 5.10 lakh tonnes of biscuits and cookies worth approximately $824 million in fiscal year 2020-21, it added.
Besides, the cattle feed industry also consumes a large amount of wheat. That use in feed alongside residual use of wheat would rise to 6 lakh tonnes in MY 2021-22, up 20 per cent year-on-year.
The agency said wheat imports in Bangladesh were lower in the July-October period of 2021 for high world wheat prices and increased freight costs, with importers being cautious for apprehensions over incurring losses.
Despite lower imports in the first four months of MY 2021-22, it expects higher imports in the latter eight months of the MY because of growing domestic demand for wheat flour and related products, establishment of new wheat flour mills, availability of Indian wheat, and government-to-government purchases from Russia.
The US agency said the retail price of wheat flour increased sharply due to rising consumer demand and higher prices in the international market since September 2021.
"Depreciation of the Bangladesh taka against the US dollar is also increasing the price of wheat flour, as most wheat is imported," said the USDA.
As of January 2022, the taka rose 1.4 per cent against the dollar since July 2021, it added.
The agency said wheat prices had also been increasing between July and November 2021, though there was a slight decrease in December 2021.
Retail and wholesale prices of wheat in December 2021 were Tk 29.23 per kilogramme and Tk 26.96 per kilogramme respectively, it said.
The recent hike in transport fares due to a fuel price surge is also increasing the prices of both wheat and wheat flour, it added.
The USDA also forecasted increased cultivation of paddy and production of rice in MY 2021-22 beginning with Boro season.
Total rice production is likely to increase 3.6 per cent year-on-year to 3.59 crore tonnes in MY 2021-22.