BSCIC INDUSTRIAL ESTATE
Units in Nilphamari flourish despite inadequacies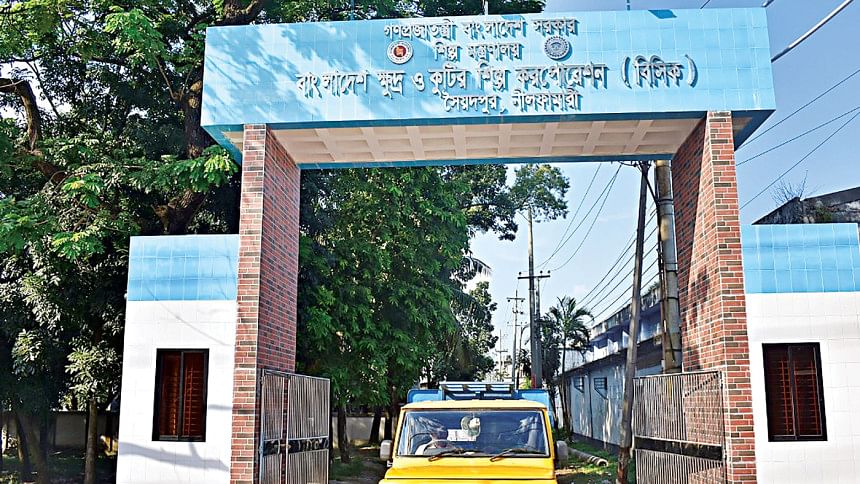 Although many industrial estates under the Bangladesh Small and Cottage Industries Corporation (BSCIC) seem to be in shambles, the one in Nilphamari paints a picture of success.
According to BSCIC officials and industry owners, some units export their products while others that produce spare parts for agricultural machinery and food items dominate local markets in eight northern districts of Rangpur.
Messers Poddar Agro and Selim Agro produce sacks, rope and more items out of jute for export.
And in the face of increasing demand from entrepreneurs for the allocation of new plots, the BSCIC has taken measures to expand the industrial area either on khas or private land through acquisition.
Moshiur Rahman, acting in charge of the estate, said that soon after it was established in 1986 on 11 acres of land in the Neyamatpur area of Saidpur municipality, the industrial area generated enthusiasm among small and medium entrepreneurs.
As such, the allocation of all 92 plots was completed within the next couple of years with 49 factories currently operating at the estate.
Now, the BSCIC authority is under pressure from young entrepreneurs to allocate plots for setting up new industries, he added.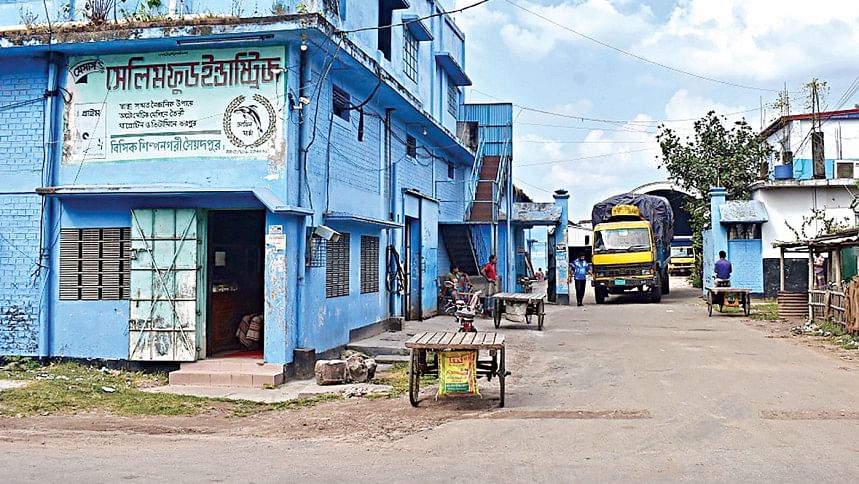 As the estate is located halfway between Rangpur and Dinajpur with easy access to road, rail and air communication while skilled manpower is available as well, it has become a unique example of success, said Shofiqul Alam Dablu Shah, president of the Nilphamari Chamber of Commerce and Industries.
After finishing their shift, skilled employees at the country's largest railway workshop in Saidpur usually go to work at factories in the BSCIC area on a part-time basis while others become regular employees.
"The expertise they have helps produce quality products," he added.
Besides exportable jute goods, other prominent products made at the industrial area include spare parts of textile machinery, boilers of rice husking mills, tube wells, bicycles and three-wheelers, plastic and aluminium utensils, ball bearings for heavy vehicles, fertiliser and more.
Meanwhile, locally manufactured food products that are dominating eight districts of Rangpur include, flour, vermicelli, candy and so on, factory owners said.
Kazi Amanuzzaman, extension officer of the BSCIC in Nilphamari, said they safeguard the interests of small and medium entrepreneurs and never allocate more than 1 to 3 plots for a single party.
As such, they have even turned down requests from big industry owners for large allocations to prevent their domination.
"This facility paves the way for small and medium entrepreneurs to flourish," he added.
However, Aminul Islam, president of the estate's factory owners' association, said that while the BSCIC area is successful, it does have problems such as power disruptions while ditches in internal roads hinder movement.
"And due to the lack of a proper drainage system, wastewater and chemicals remain stagnant everywhere, which becomes worst in the rainy season," he added.
In addition, some factory owners reported theft from a number of industrial units as there is no boundary wall around the facility.
"So, we've asked the authority to address these problems, but the situation has only changed a little as pace of repairing work is slow," Islam said.
Abul Kalam Mintu, general secretary of the factory owners' association, said despite these drawbacks, their relationship with the BSCIC authority is one of cooperation.
Mintu then informed that officials of the environment department often visit their factories and accuse them of violating rules that they were not even aware of.
"This is very embarrassing for us. So, the concerned department should arrange awareness campaigns from time to time to inform us of their rules," he said.
Hosne Ara Khatun, deputy director of the BSCIC office in Nilphamari, said young entrepreneurs in the district already filed more than 100 applications for allocations of industrial plots.
To meet the demand, a proposal is under process for extending the industrial estate on 300 acres of land in the Polashbari area of Nilphamari sadar upazila.
"We do infrastructural development work every year with our limited budget, making us unable to address all these problems at the same time," she said.
"But a new project with adequate funds is in the offing for all industrial estates, including this one. Under it, we can expect a massive development," Khatun added.