Tea growers worried over low prices
They hold protests, demand govt support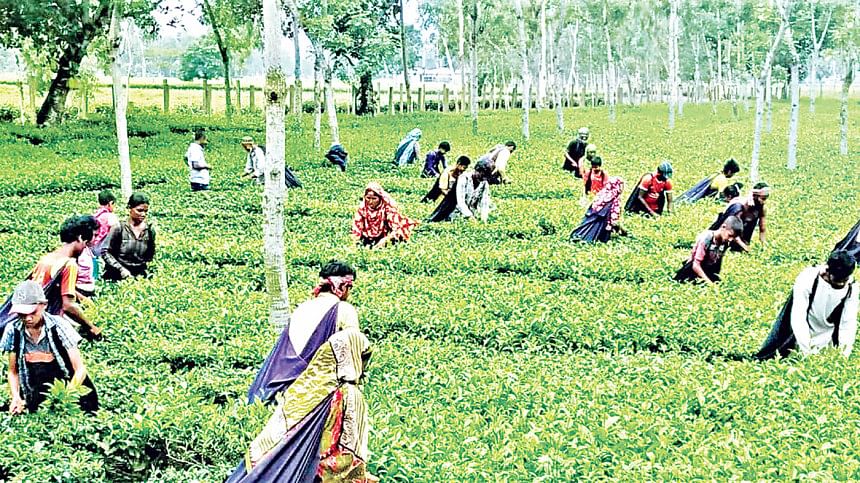 Tea growers of Panchagarh yesterday staged a demonstration at Sher-e-Bangla intersection of the Panchagarh-Dhaka highway, demanding a fair price for raw tea leaves in the ongoing harvesting season.
Jointly organised by the Panchagarh District Tea Garden Owners Association and Panchagarh District Tea Growers' Rights Implementation Committee, speakers at the protest threatened to launch tougher movements if their demand is not met immediately.
The growers alleged they are being deprived of fair prices as a syndicate of tea factory owners have been intentionally dropping the purchasing price of tea leaves during the peak harvesting season, between May and October, for the last two or three years.
As a part of the factory owners' ill motive, they dropped the purchasing price of raw tea leaves to Tk 12-14 per kilogramme (kg) from Tk 22-26 per kg within just two months since the harvest began in March, pushing growers into a tight corner.
On various pretexts, factory owners are also curtailing 15 per cent to 40 per cent of the total weight of the tea leaves being supplied by farmers. As a result, growers are getting less than Tk 10 per kg for their tea leaves, which is much less than the production cost.
The speakers also sought government intervention in setting up a tea auction market and state-owned tea factory in the fast-growing area as it would help local tea growers get fair prices for their produce.
They alleged that the syndicate of factory owners also influenced the tea board authority to refrain from setting up a state-owned factory in Panchagarh while a proposal was submitted primarily in this connection.
Md Sayed Ali, president of the Panchagarh District Tea Growers' Rights Implementation Committee, Md Jahangir Alam, general secretary, and others addressed the event.
Earlier on Wednesday and Thursday, local tea farmers organised processions for the same cause in the Tentulia and Panchagarh towns.
When contacted, Mohammad Shamim Al Mamun, senior scientific officer of the Bangladesh Tea Board's regional office in Panchagarh, said that the price of raw tea leaves has not been fixed yet in the district.
Regarding how factory owners quote less weight that what is being supplied by farmers, Mamun said that the practice is completely unethical.
"They may reject the leaves if they are damp, over matured or for other causes but after receiving the full supply, they cannot curtail a certain percentage from the total weight," he added.
There are 22 tea factories in operation in the country's northern region. Of these factories, 20 are in Panchagarh and one each in Thakurgaon and Lalmonirhat. "The BTB has given permission a total of 41 factories in the region," Mamun said.
Mosharaf Hossain, president of the Tea Factory Owners' Association, told the Daily Star over phone that factory owners deduct weight from the total supply as growers bring wet leaves as the water temporarily adds weight.
Mohammad Jahurul Islam, deputy commissioner of Panchagarh, informed that he will sit with tea farmers, factory owners and other stakeholders at his office on May 18 to fix the price of raw tea leaves.
In response to a query, Mamun said that if tea is cultivated following the instructions of the Tea Board, the production cost for each kilogramme of raw tea leaves would be about Tk 16.
Tea production in the northern region started from last March with a target of producing 18 million kgs of processed tea this year. Last year, a record 14.5 million kgs of tea were produced in the northern plain lands, making it the second largest tea-producing region in the country after Sylhet.
Professional growers can pluck between teal leaves for 32 to 34-day rounds each season. But in Panchagarh, growers usually pluck in just 6 to 8-day rounds in a season with about a 40-day interval in between due to a labour shortage.
"For this, the leaves become older and the quality of tea deteriorates," he added.
According to data of the Bangladesh Tea Board, last year around 72.46 million kgs of tea was produced in the Sylhet region, 14.54 million kgs in the northern region and 9.5 million kgs in Chattogram region.
"Last year, 1263.37 acres of lands was added in tea cultivation in these districts," said Shameem, adding that the region has about 50,000 acres of land suitable for tea cultivation.
Last year, 728 small growers cultivated tea on 1,110.30 acres of land in Thakurgaon, 96 small growers on 168.88 acres in Lalmonirhat, 40 growers on 78.37 acres in Dinajpur and 35 growers on 68.59 acres in Nilphamari, the data showed.
Bangladesh Tea Board has projected around 3-crore kgs of processed tea will be produced from small-scale farming by 2030.
Amirul Haque Khokon, president of the Bangladesh Small Tea Growers Association, told this correspondent that the tea industry is flourishing in the northern region, especially in Panchagarh and Thakurgaon.
"The industry will expand even faster if the government takes the initiative to set up a state-owned tea factory and third auction centre in Panchagarh to ensure fair prices," he added.
There are currently two auction centres -- one at Sreemangal and the other at Chattogram -- in the country.
Khokon said a third auction centre in Panchagarh would greatly reduce the transport cost for farmers in the northern region.
However, the slow pace of setting up the auction centre has left growers frustrated at the moment.