Small export-oriented garment units struggling to survive
Small export-oriented garment factories in Saidpur of Nilphamari are struggling to recover from setbacks faced during the Covid-19 pandemic, when orders from abroad took a steep dive owing to lower demand amid economic uncertainty.
And although the government tried to revitalise the industry using stimulus funds, from which businesses could borrow between Tk 10-50 lakh with 4 per cent interest, only 20 to 25 large-scale operations were given the facility.
Now, those entrepreneurs who were deprived are trying to manage enough capital to reopen by any means necessary.
Khaja Garib-e-Newaz, who owns a small export-oriented garment factory in Saidpur, said most units like his were closed down due to the decline in work orders.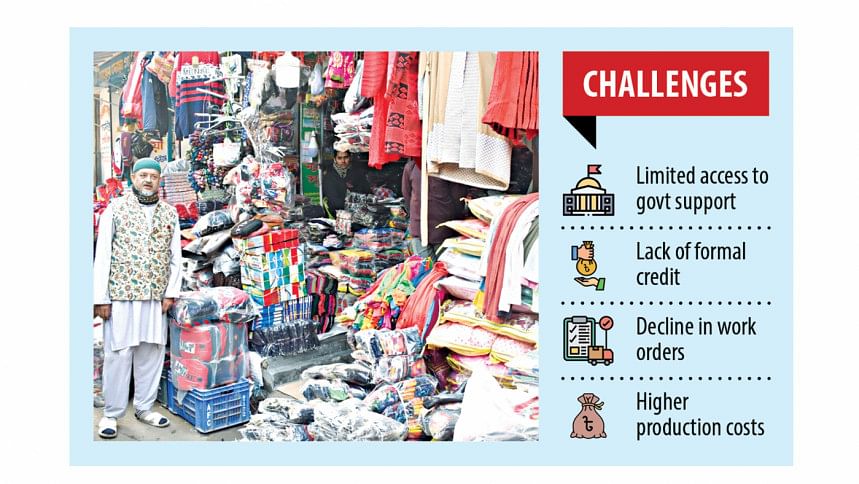 Besides, the lack of work forced many skilled employees to leave the profession in search of an income.
Newaz then said small-and-medium (SME) entrepreneurs like himself have little access to formal credit as banks worry about being able to recover loans from businesses such as theirs.
Shahedur Rahman, the owner of another small garment factory in the area, said he asked his friends and relatives for loans in a bid to make up the Tk 10 lakh needed to reopen his unit as no other options are available.
"But whether they will be able to provide me sufficient amounts is uncertain," he added.
Ershad Alam Pappu, the owner of Rup-Milon Garments, said he used to export 1.40 lakh pieces of garment to India each month before the pandemic.
However, he then turned to domestic markets across eight northern districts in order to survive following the coronavirus outbreak.
"Now, we are eying some southern districts as well," added Pappu, who is also vice-president of the Exportable Small Garments Factory Owners Association (ESGFOA) in Saidpur.
Md Dulu, the owner of MR Garments, told a similar tale as he used to export garments to India worth $5 lakh annually but now, sales hardly reach even $3 lakh.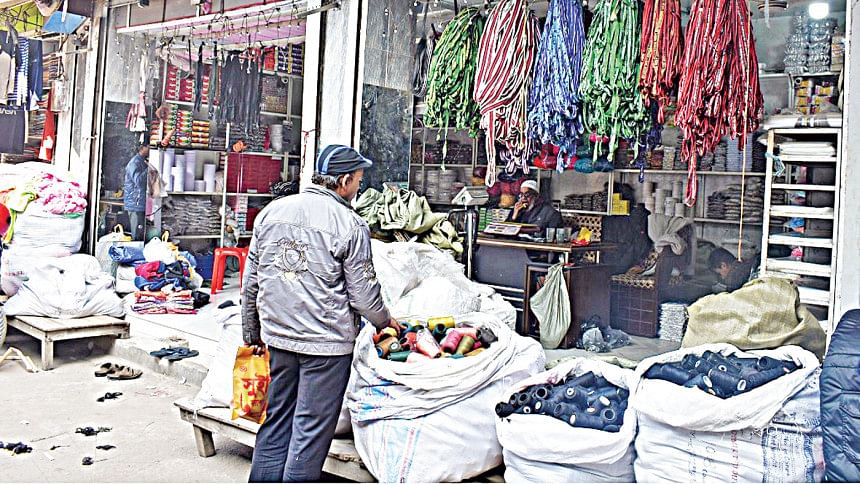 The garments made in Saidpur come with a story of their own as the industry took its first steps just a few years ago, when innovative producers started making fashionable but cheap attire, such as jackets, jeans and shorts.
Other than being crafted on traditional sewing machines, the speciality of these garments is that they are made using discarded scraps of cloth collected from large-scale garment factories.
The garments quickly gained popularity among the region's poor and middle-income households and then spread to the surrounding areas before eventually making it to the export market.
This came as a blessing for low-income people in Saidpur as they could set up their own production unit at home with just two to three sewing machines.
Exports began when a few visitors from India involved in the clothing business found the garments made in Saidpur to be suitable for their country's market.
Seeing the growing popularity of these cheap garments abroad, many more traders from India and Bhutan started placing work orders.
Anwar Hossain, general secretary of the ESGFOA, said they have 55 regular members and around 500 associate members that employ 6,000 workers in Saidpur.
In addition, Saidpur's convenient location near Bhutan and India has also helped increase garment exports from the region's Burimari land port.
Factory owners informed that they purchase the discarded cloth from middlemen in Dhaka. The materials required for making blazers and jackets can cost up to Tk 150 per kilogramme (kg) while the amount varies between Tk 80 and Tk 150 for denimwear and so on.
If the middlemen are taken out of the equation, then production costs would be much lower, they say.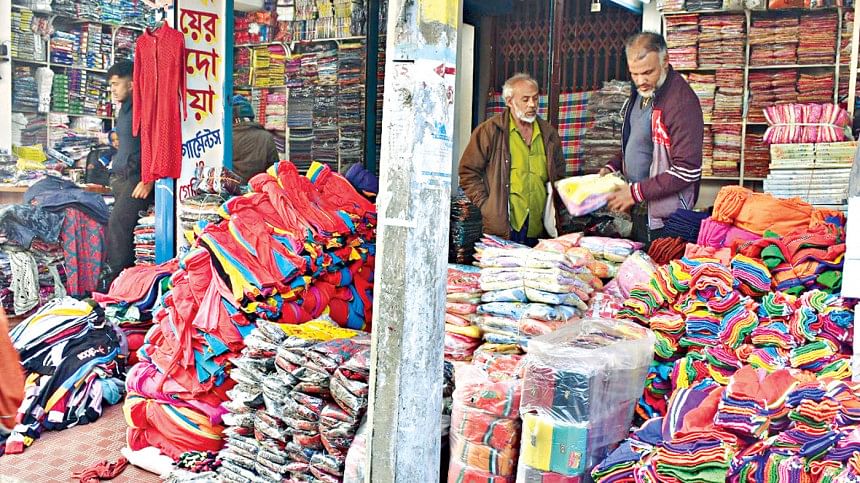 At present, a children's clothing such as jackets are selling at TK 150 per piece at wholesale while it was Tk 100 previously. Similarly, apparels made for adults can cost up to Tk 500 while it was Tk 350 before.
When asked about how the owners of some small garment units allege that they are being deprived of cheap loans, Muhammad Anisur Rahman, senior vice-president of the Islami Bank branch in Saidpur, said they are providing funds to "genuine borrowers".
"We do not consider providing the loan to those who are defaulters," he added.
Akhtar Hossain Khan, president of the ESGFOA, said the industry could earn Tk 100 crore this year if all roadblocks are removed.
"The government should establish a small garments village in Saidpur to accommodate all local factories for increasing their productivity as they contribute to national economy," said Shafiqul Alam Dablu Shah, president of the Nilphamari Chamber of Commerce and Industry.