Six inland container depots taking up 60% of cargo volume
An intense competition is ongoing among private inland container depots (ICDs) to see who can handle the most import and export cargoes, which is helping ease congestion at Chittagong Port by facilitating the quick clearance of shipments.
At present, there are 19 private ICDs located in and around Chittagong city.
Among these, six ICDs have remained in the top position for handling both export and import containers in the last five years.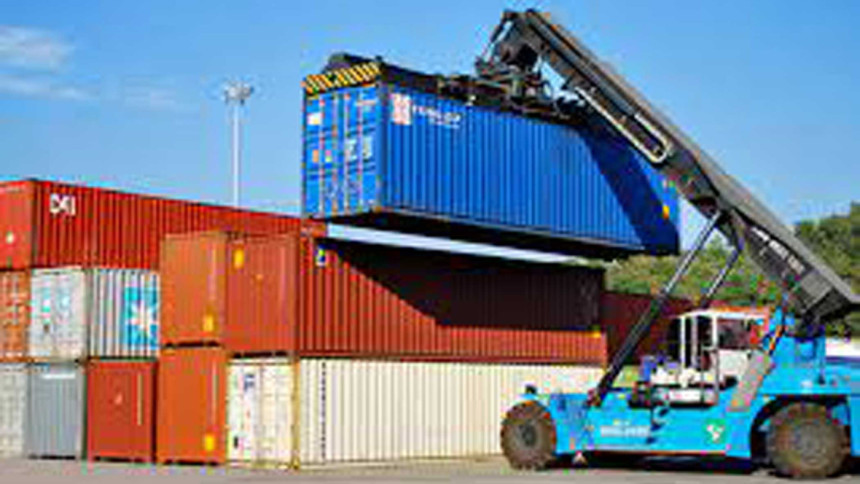 Around 10.12 lakh TEUs (twenty-feet equivalent units) of import and export containers were handled by the 19 ICDs in the just concluded calendar year. However, the six leading ICDs jointly handled around 60 per cent of the total volume.
The six ICDs are: KDS Logistics Ltd, Portlink Logistics Centre Ltd, two units of Summit Alliance Port Ltd (East and West), Esack Brothers Industries Ltd, and Incontrade Ltd.
In total, the 19 ICDs handled about 7.2 lakh TEUs of export containers last year while the six leading ICDs jointly handled 3.95 lakh TEUs, equivalent to 55.81 per cent of the total volume.
The 19 depots handled some 3.03 lakh TEUs of import containers altogether while the same six leading ICDs handled 2.03 lakh TEUs, or 66.97 per cent, of the total volume.
KDS Logistics has maintained top position in handling export containers for the last five years while it also maintained second position in handling import containers for the last two years.
Portlink Logistics has been in top position in handling import containers for the last two years while KDS held this rank in 2019 and 2018.
These two ICDs have been seen engaged in an intense competition to clinch the top position in handling cargo containers since 2016.
Md Jahangir Alam, deputy general manager of KDS Logistics, said clients always prioritise quality of service.
"Since we are maintaining all the international standards in delivering our services, reputed international buyers who always prefer compliance nominate our depot," Alam said.
The depot has more than 90 container carrying vehicles of its own that remain in operation round the clock. It also has the heavy equipment required to handle container movement as smoothly as possible, he added.
Ruhul Amin Sikder, secretary of the Bangladesh Inland Container Depot Association, said the six leading ICDs are handling a major portion of containers mainly for their comparatively larger storage capacities.
All 19 ICDs are playing an important  role in facilitating Bangladesh's foreign trade by handling a huge portion of the total export and import cargoes that are transported through Chittagong Port.
The private ICDs handled 93 per cent of the total export containers transported through the port while they handled around 23 per cent of the total imports in 2021.
"We have long been demanding to increase the number of import items to be handled in the private ICDs," Sikder said.
Currently, only 38 types of import goods are sent to private ICDs from the port for delivery to consignees.
Mentioning that in most global container ports almost all the import containers are delivered outside the port yards, Sikder said if more types of import goods are allowed to be delivered by the ICDs, the efficiency of Chittagong Port would be enhanced.