Rubber production grows on local demand, rising exports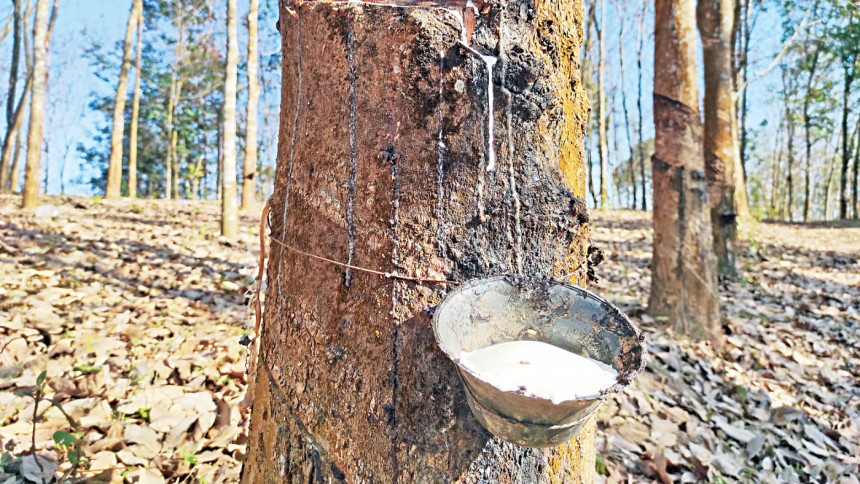 Rubber production is growing in Bangladesh, buoyed by increased domestic use and surging exports, particularly to neighbouring India.
Export earnings from rubber shot up 57 per cent year-on-year to $28 million in the July-January period of the current fiscal year, from $18.3 million during the same period a year ago.
The latest export figure beat earnings data of the past years except for the last fiscal year when overall earnings stood at $34 million, the highest in a decade.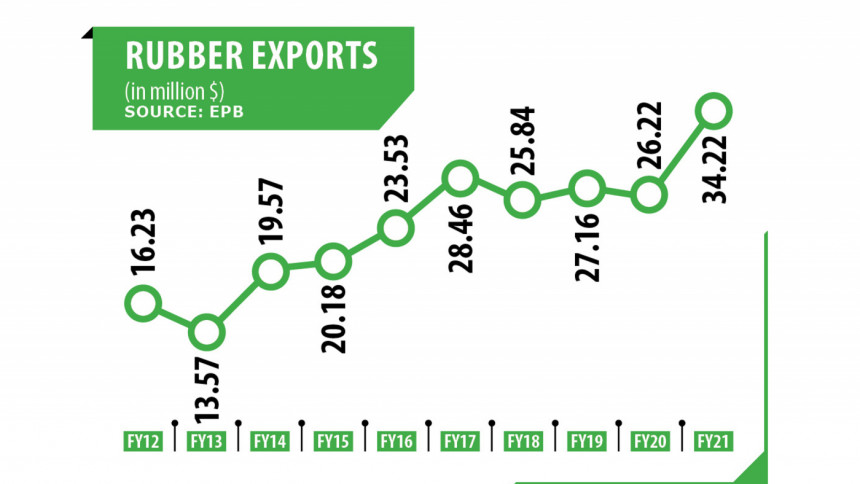 Apart from shipment, domestic demand for rubber from tyre makers, footwear and medical gloves in Bangladesh is on the rise.
"Rubber has good prospects. Production declined for the Covid-19 pandemic but recovered last year," said Syeda Sarwar Jahan, chairman of the Bangladesh Rubber Board (BRB).
Currently, rubber is being grown on 100,000 acres of land with private operators running 1,304 gardens and state agencies operating 28 gardens. Most of the gardens are in the Chatttogram region.
Rubber trees, which consume a lot of carbon, are grown in Mymensingh, Tangail and Sherpur, according to the board.
Mohammad Kamal Uddin, the immediate past president of the Bangladesh Rubber Garden Owners' Association, says rubber production was around 20,000 tonnes a couple of years ago and it rose to 43,000 tonnes last year.
"We see very good prospects for rubber. Its demand will continue to rise as consumption will grow thanks to the economic development in the country."
Rubber cultivation in Bangladesh was started by the British in the early 20th century.
In 1952, the forest department experimentally planted some trees in Tangail and Chattogram with rubber seeds and a few thousand of rubber saplings from Malaysia and Sri Lanka.
Some 32,550 acres of land in Bandarban have been leased out to 1,302 individuals and organisations. The Chittagong Hill Tracts Development Board has planted rubber trees on 3,300 acres of land, according to the BRB.
Kamal said domestic production can meet a good portion of demand from local industries. And in order to meet rising consumption, rubber production capacity has soared several times over the past decade.
The annual production capacity is 86,000 tonnes.
Arfanul Hoque, head of retail of Bata Shoe Company (Bangladesh), says locally produced rubbers provide at least 80 per cent of the ingredient needed to make sandals.
A small amount of rubber is imported from India, Malaysia and Myanmar.
"Entrepreneurs have realised that rubber garden is a profitable business as it a one-time investment," said BRB Deputy Director Bihurshi Sombodhi Chakma.
Samir Datta Chakma, president of the Indigenous Rubber Garden Owners Association in Khagrachhari, says rubber gardening in the district is getting popular as it requires low investment but gives long-term return.
According to him, local investors have established rubber gardens on around 3,500 acres of land in the last 10 years.
Tarun Kanti Chakma, a rubber gardener, says the export opportunity is a reason for gardening in addition to meeting demand in the local market.
Luthful Bari, director for operations at Meghna Group, one of the rubber exporters, says Bangladesh mainly exports rubber to India as consumption of rubber is increasing in the country thanks to the development of the automobile industry that needs a huge number of tyres.
Meghna Innova Rubber Co. Ltd is a concern of the group that exports bicycle tyres and tubes. It ships rubber in finished form as the tyre of cycles.
Md Shahidul Islam, chairman of the Bangladesh Forest Industries Development Corporation, says the government agency exports rubber to India directly as the shipment yields higher prices than the domestic market.
BRB Chairman Sarwar Jahan said locally produced rubbers face unequal competition with imported ones.
The overall tax, including 15 per cent value-added tax, stands at 24 per cent for the locally produced rubbers whereas importers can bring the item by paying a 5 per cent tariff, she said.
"That is why a section of importers import rubber," she said, adding that production would grow if the discrepancy is removed.