Recovery of vermicelli makers stunted by high input costs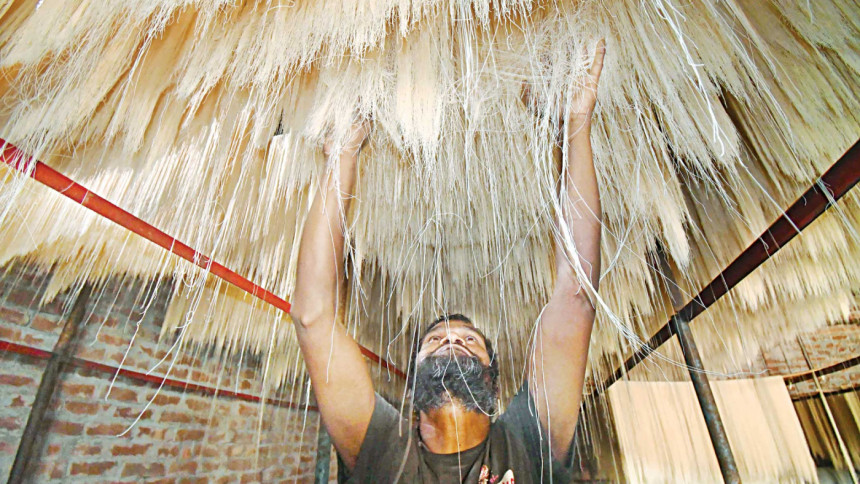 Makers of shemai, a type of roasted vermicelli used in traditional desserts, are struggling to recover from two years of strife caused by decreased demand amid the Covid-19 pandemic coupled with higher raw material costs.
Vermicelli is consumed year-round but demand is particularly high during the two Eid festivals.
However, the coronavirus pandemic made it near impossible for people to celebrate any occasion as the government imposed various restrictions in a bid to tame the spiralling infection rate.
To make matters worse, the price of key cooking ingredients such as oil rose from Tk 25,000 to Tk 32,000 per drum while the cost of butter went from Tk 900 to Tk 1,100 per carton in the past two years, according to Hasan Ali Alal, proprietor of Akboria Limited.
Similarly, the price of flour doubled from Tk 800 per sack to Tk 1,200 for the same amount, he added.
Akboria produces five to seven varieties of vermicelli  worth about Tk 4-5 crore each year with most sales coming during the Eid seasons.
"Most of the vermicelli  made in northern districts comes from Bogura but this year traders are producing less due to the rise in input costs," he said.
"Last year, we sold 500 gram packets of premium quality vermicelli  for Tk 900 but this year we are compelled to sell at Tk 1,100 per packet considering the higher production cost, which increased by around 25-30 per cent," Alal added.
Echoing the same, Abdur Rashid, a resident of Shajahanpur upazila who has been in the business for around 36 years, said many traders started producing vermicelli  just one or two months ahead of the upcoming Eid-ul-Fitr as customers are now less inclined to buy the product at higher prices.
"I made just 150 sacks of vermicelli  weighing 37 kilogrammes each targeting Eid sales this year," he added.
Fine vermicelli  was first introduced in the region around 50 to 60 years ago in Naogaon district, where people made the product by hand.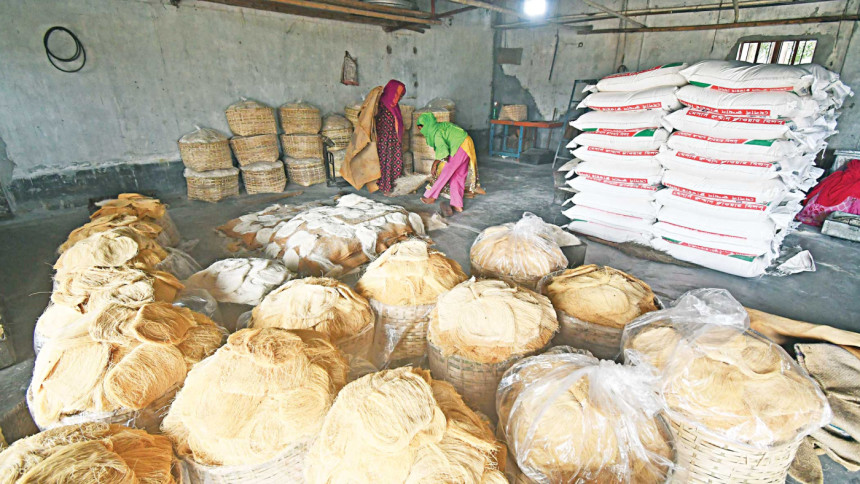 "After the process became automated about 30 years ago, I started producing vermicelli  by machine," said Afsar Uddin, proprietor of Janata Foods.
Uddin now has six machines at his factory that can produce more than 1,000 sacks of shemai annually.
"But I am producing only 500 sacks this year due to the increased price of raw materials," he added.
Shahidul Islam, a resident of Bogura's Jahurul Nagar area who bought seven kilogrammes of shemai yesterday, said eating the dish during Eid has become tradition.
However, people like Rezaul Karim, a resident of Bogura's Tinmatha area, bought less shemai this year in the face of unreasonably high prices.
"Chikon shemai used to cost just Tk 36 per kilogramme before but now the same amount costs Tk 50," Karim said.
Mahfujul Islam Raj, vice-president of the Bogura Chamber of Commerce and Industry, said there are now more than 200 shemai factories in the region that employ some 4,000 workers, most of whom are women.
"The producers make different types of shemai worth over Tk 200 crore a year," he said.
There are more than 50 factories in Bogura that are dedicated to making chikon shemai, which is the most popular variety of the dish.
"Bogura's chikon Simai is gaining popularity across the country day by day as it's become a traditional ingredient for Eid-ul-Fitr," Raj added.