Pvt container depots face acute pressure of export cargoes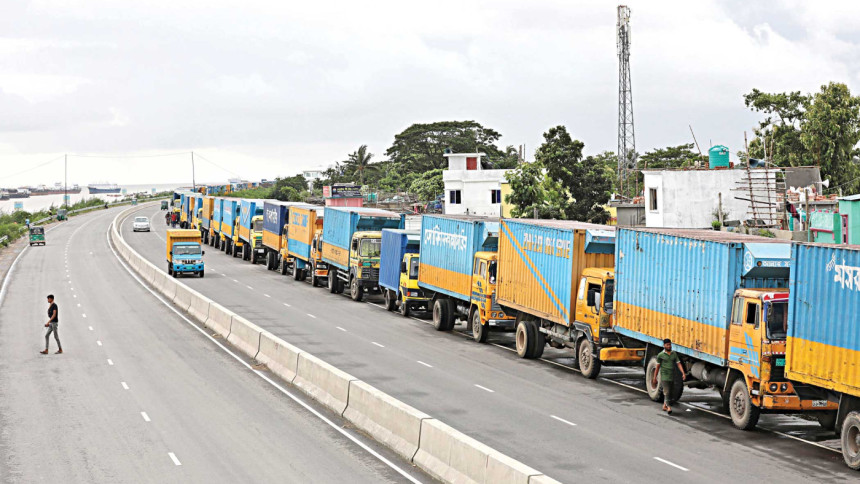 Shinest Apparels, a Dhaka-based garment factory, sent eight truckloads of export cargo to a private inland container depot (ICD) in Chattogram eight days ago for shipment through the country's premier port.   
Two of those trucks were still waiting to enter yesterday due to a long queue of such trucks and covered vans outside the ICD.
At least 20 trucks and covered vans carrying export goods from the same garment factory have been similarly stranded before different ICDs for the last couple of days.
There are long queues of trucks and covered vans outside many of the 19 ICDs in the port city and its outskirt in Sitakunda.
The ICDs have been facing an acute congestion of export containers within their premises for a few weeks now.
Exporters are already suffering from a crisis of vehicles and exorbitantly high truck fares due to the stalemate.
They apprehend missing shipments of many export consignments if their cargoes cannot be unloaded from the trucks, stuffed into containers and sent to the port for loading onto ships.
Truck owners are charging double or triple the usual fares taking advantage of the situation, they said.
Informing of the crisis, Sajib Hossen, shipping in-charge of Shinest Apparels, said they had to hire trucks at Tk 60,000 to Tk 65,000 for sending their cargoes from Dhaka to the ICDs.
The fare is usually around Tk 15,000 to Tk 20,000, he said.
"The truckers are also charging demurrage of Tk 5,000 or more for each day of additional stay while many truck drivers and helpers who are waiting for days are expressing unwillingness to stay further as Eid was nearing," he said.
Drivers and helpers of many of these vehicles are the worst sufferers as they are facing acute troubles in availing meals and baths as they cannot leave the vehicles out on the streets.
Mohammad Yusuf, one of the truck drivers who brought cargo of Shinest Apparel, said he had arrived on Saturday and was yet to enter Ispahani Summit Alliance Terminal at Dhaka Trunk Road till yesterday afternoon.
"I had to spend Tk 50 each time to go to the washroom or to have meals by rickshaw leaving the helper with the vehicle for the past 5 days now," he said.
It is becoming intolerable as the two have to spend the hot nights inside the vehicle, he said.
Leaders of Bangladesh Inland Container Depots Association (BICDA) said the situation worsened as most of the ICDs have been facing a huge pressure of export cargo for the last couple of weeks.
As the ICDs are already overloaded with export laden containers inside, they are forced to delay accepting fresh cargo, they said.
As of yesterday afternoon, a total of 13,500 TEUs (twenty-foot equivalent units) of export laden containers were stocked inside the 19 ICDs.
These ICDs usually handle 5,000 to 6,000 TEUs a day.
BICDA Secretary Md Ruhul Amin Sikder held three reasons behind the accumulation.
He said ahead of Eid every year, exporters, mainly garment factory owners, remain in a rush to send over export cargoes in advance as the factories go into a week-long vacation.
That is why the pressure rises, he said.
But this year, due to the closure of a big ICD, BM Container Depot, for the June 4 devastating fire, an unusual pressure is being faced by the remaining ICDs, he said.
Moreover, the ICDs have been experiencing a growth in export cargo by around 19 per cent in the last six months till June, said Sikder.
Leaders of the Bangladesh Garment Manufacturers and Exporters Association (BGMEA), however, blamed the ICDs for a lack of infrastructure and efficiency as well as a shortage of workers which was delaying the handling of export cargoes.
BGMEA First Vice President Syed Nazrul Islam, in a letter to the Chattogram port authority chairman yesterday, urged passing a directive on the ICDs for quick handling of the export cargoes to ensure that shipments were made on time.
He told The Daily Star that exporters were incurring losses as truckers were charging excessively high fares while there was possibility of cancellation of export orders for shipment delays.