Plastic product shipment climbs 41%
Orders surge on post-pandemic recovery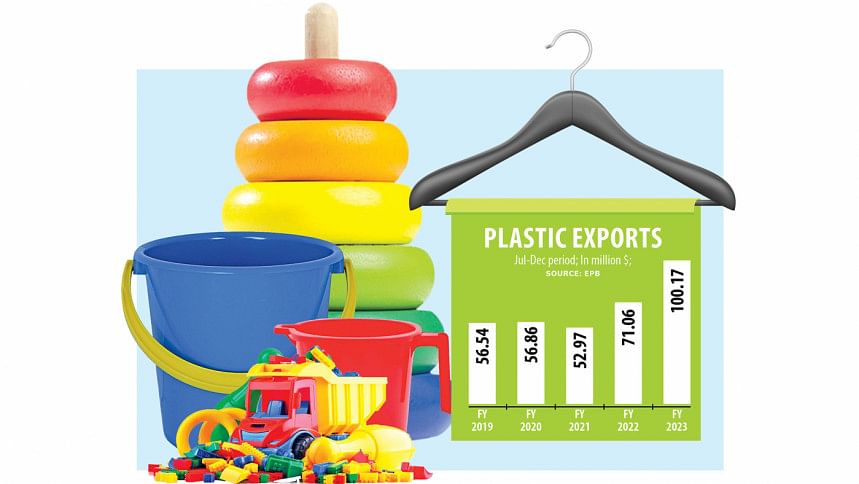 The shipment of plastic products rose 41 per cent year-on-year to $100.17 million in the first six months of the current financial year as orders surged following the post-pandemic recovery and manufacturers made a foray into new export destinations, official figures showed.
The earnings compared to $71.06 million in the July-December half of a year earlier.
Of the receipts, PVC (polyvinyl chloride) bags fetched $16.66 million in July-December, up 37.23 per cent year-on-year, according to the Export Promotion Bureau (EPB). 
Plastic wastes brought home $11.09 million, an increase of 37.25 per cent from a year earlier, while the shipment of other items, including household products, surged 42.45 per cent to $72.42 million.
The main raw material for producing plastic goods is polyolefin, which is derived during the refining of crude oil and cracking or distillation of natural gas liquids.
Despite having no polyolefin manufacturing facility, Bangladesh currently produces 142 types of plastic items and exports intermediate products such as film plastic, household items, and garment accessories.
Riad Mahmud, managing director of National Polymer Group, a major plastic product exporter, says Europe and other countries are reducing dependency on China and shifting to countries like Bangladesh.
"This shift has been beneficial for us and has driven up our plastic exports."
Mahmud believes the export volume of the plastic sector would increase in the second half of the current fiscal year, which began in July, as buyers are placing more orders than previously.
Sales in the domestic market reached Tk 40,000 crore in the last fiscal year, up from Tk 35,000 crore in the previous three years, according to industry people. 
KM Iqbal Hossain, chairman of Thai Delux Plastic Industries, says there are a lot of opportunities to raise the export of plastic goods as orders are relocating to Bangladesh from China. But the sector is not able to tap the full potential owing to the present dollar crunch crisis and non-cooperation from the customs department.
He alleges that entrepreneurs have to suffer in various ways and have to spend a considerable amount of time to have their raw materials released from the ports.
"This causes delays in delivering products to buyers," he said.
Businesses have to wait 11 days and six hours to have their cargo released after their arrival at seaports, according to the Time Release Study 2022 of the National Board of Revenue.
"The export volume would double in a year if the customs department releases the raw materials and capital machinery on time," Hossain said.
The Russia-Ukraine war has sent the prices of commodities higher. As a result, the international currency reserves of Bangladesh have declined since the country has to pay more to buy essentials from external sources. Thus, banks don't have enough US dollars so they can't open letters of credit in line with the demand, hurting importers.
The plastic industry is directly contributing to multiple export-oriented sectors of Bangladesh.
Plastics export is rising for two reasons: competitive prices and a pickup in orders following the post-pandemic recovery, said Shamim Ahmed, president of the Bangladesh Plastic Goods Manufacturers and Exporters Association.
"The exports of plastic items declined during the pandemic as demand slumped in the western economies. The situation is improving gradually as buyers prefer Bangladeshi products owing to competitive prices."
According to Ahmed, European buyers used to place more orders with Chinese manufacturers, but now they are importing products from Bangladesh.
Riad Mahmud urged the government to support the potential sector and sought more liquidity from banks.
Plastic exports brought home $166.25 million in the last fiscal year, up 44.21 per cent year-on-year, EPB data showed.
The government has set a target to earn $200 million from the exports of plastic products. 
Global sales for exported items made from plastic from all countries were $103.4 billion in 2021, according to www.worldstopexports.com. Top exporting nations include China, Germany, the United States, Italy, France, Poland, the Netherlands, Japan, and Mexico.