Paying same, taking home less
Superstores attest to effect of high inflation on people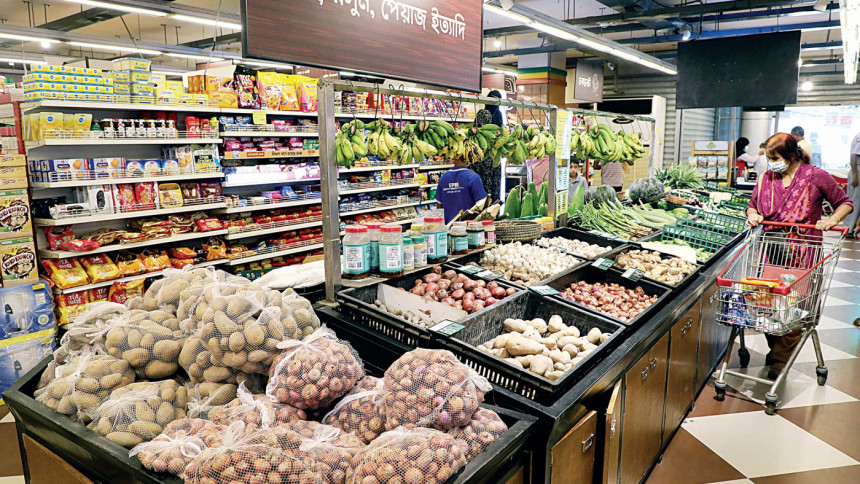 That high inflationary pressure has been taking a toll on people over the last couple of months is apparently evident in supermarkets, where the same amount of money is being spent albeit for the purchase of a lower number and volume of goods. 
While the sale of essential commodities has not been impacted by that much of an extent, consumption of luxury products has dropped, according to top officials of several retail supermarket chains.
This correspondent went to several superstores, managers of most of which confirmed that per head purchases had comparatively dropped and people were more sensitive about prices.
Consumers are now sensitive to prices when making purchases due to the high inflationary pressure, said Sabbir Hasan Nasir, executive director of ACI Logistics, which runs superstore chain Shwapno.
"We have seen that consumers' purchase basket has shrunk by 10 per cent to 20 per cent over the last three months, particularly from July," he said.
A surge in consumer price was reflected by the high food inflation, which stood at 8.19 per cent in July, slightly down from a multi-year high of 8.37 per cent in the month before, according to the Bangladesh Bureau of Statistics (BBS).
Meanwhile, non-food inflation rose six basis points to 6.39 per cent.
Demand for essential commoditiesamong consumers has continued to grow while that for luxury products dropped, said Nasir.
"However, our year-on-year sales growth is good as inflation raises prices of goods, thus the amount in sales," he said.
Sales in terms of volume was also higher as Shwapno has continued to focus on expanding and new customers were added to its books, he said.
On the other hand, the superstores can deal with suppliers efficiently, so people still believe that prices in superstores are rational, he said.
"We are struggling in the meat and fish segment as high inflation was seen in the segment," he added.
A drop in purchase per head indicates that people of the middle-income segment have started to make compromises on their consumption, said Sharmind Neelormi, an associate professor of economics at Jahangirnagar University.
So, people with low incomes who do not come to superstores are certainly having to make do with inadequate nutrition amidst the high inflationary pressure, she said.
The whole economy might be impacted with the lower consumption of people, so the government should take steps to safeguard marginalised people and raise the consumption level of the country, she added.
Shaheen Khan, CEO of Meena Bazar, said the sale of luxury products, especially imported products, has been impacted over the last couple of months due to their high prices.
Prices of imported products rose as a ripple effect of rates prevailing in the world market and continuous devaluation of the local currency against the greenback, he said.
The price of each US dollar jumped to Tk 120 in the open market a few days ago due to volatility in the country's foreign exchange market.
"However, demand for essential commoditieslike rice, bean and edible oil, was not that much impacted," said Khan.
"It is true that most of our customers' income level is comparatively higher so the massive impact was not seen in superstores," he said.
On the other hand, price movements in superstores are rational, so many consumers prefer superstores over the open market where fluctuations are unregulated and uncontrolled, he said.
So, customers feel better in superstores now, said Khan, adding that consumption of the middle-income segment of society has been impacted.
"We are focusing on essential commodities so that we can offer lucrative prices for people and give them comfort," he said.
Meena Bazar has a budget on promotions and it will be spent on essential commodities excluding luxury products, he added.
"Our sales volume dropped by 10 to 15 per cent in the current year even though the period included the main sale generating events of Eid-ul-Azha and Eid-ul-Fitr," said Mehedi Sajjad, head of brand and communications of Unimart, a concern of United Group.
Sales in terms of value was not much impacted as prices of products rose, he told The Daily Star yesterday.
Many people came to make purchases near the closing hours when going home from work, so last-hour sales were quite high in Unimart, he said.
However, such sales dried up due to supermarkets having to close early abiding by government orders, he said.
On June 17, 2022, the government ordered authorities to ensure that shopping malls, stores and kitchen markets closed by 8:00pm every night to reduce electricity consumption amidst rising energy prices worldwide following the Russia-Ukraine war.
"We have observed that consumers are focusing on essential commodities compared to luxury products amidst this high inflationary period," said Sajjad.
Due to global supply chain disruptions, the superstore was not able to offer some imported products in recent times though the demand was there, he added.
Daily Shopping, a chain of grocery stores operated by PRAN-RFL, saw no impact of the high inflation as of yet, as it mainly sells the conglomerate's own products, said Kamruzzaman Kamal, marketing director of PRAN-RFL Group.