BSCIC estate in Lalmonirhat: Only plastic processing centres thrive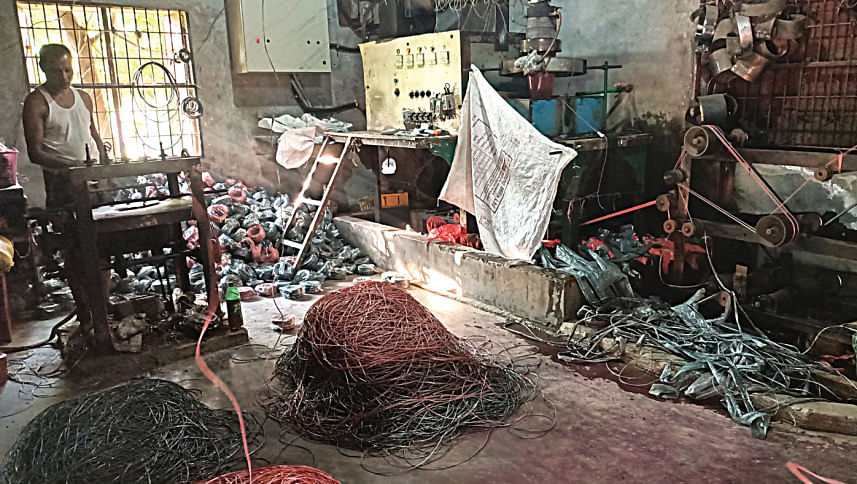 Commercial activities at an industrial estate of the Bangladesh Small and Cottage Industries Corporation (BSCIC) in Lalmonirhat are gradually winding down as it lacks a business-friendly atmosphere, according to entrepreneurs.
Having started operations in 1990, the 15-acre BSCIC estate once housed 36 factories, of which just 11 remain as the relevant authorities are not taking necessary measures to make it industry-friendly, they said.
The remaining units are made up of flour, wooden furniture and cotton factories while there are also two plastic processing centres, a few warehouses and a cold storage.
However, only the plastic processing centres are enjoying brisk business as the demand for polyethene yarn made from recycled plastic is growing in local markets as an alternative to jute fibre.
With each decimal of land in the industrial area priced at Tk 60,000, the available plots are divided into three categories. The "A" category plots have an area of 10 decimals while "B" category plots have 5 decimals and "C" category have 3 decimals.
BSCIC officials say that 90 plots have been sold to various entrepreneurs so far but only 61 are being used for business activities.
Shahidul Islam, who owns one of the plastic processing units, said his factory produces an average of about 2 tonnes of polyethene yarn per month with each kilogramme of the material selling for Tk 65-70.
Islam then informed that he wants to expand his unit but is unable due to the lack of financial support.
"I have appealed to the BSCIC authorities for a loan several times, but they refused to give it on grounds that plastic processing centres cannot avail such funds," he added.
Although the two plastic processing units are the only businesses that are thriving in the BSCIC estate, they are largely responsible for making the area almost inhabitable for other factories.
Saifur Rahman, who operates a small factory that makes a savoury snack called chanachur, said that piles of plastic are strewn about everywhere in the BSCIC compound.
As a result, it has become very difficult to operate in such an unhealthy environment as BSCIC authorities do not take any action to address the issue, he added.
Rahman went on to say that most entrepreneurs that set up units at the estate have lost their capital and so, the BSCIC authorities should take the necessary steps to facilitate a business-friendly atmosphere by taking care of their various needs, including finances.
Afzal Hossain, who owns a small unit that makes steel nails for construction, said he established a factory on an "A" category plot six years ago.
However, he was unable to achieve adequate sales due to the availability of substitute products from China and eventually shuttered his unit a year ago.
"I cannot start a new business now due to the loss of capital," Hossain added, citing how he wanted to shift to plastic yarn manufacturing after seeing the success of existing units.
Hossain then said he tried to get a loan for this purpose from the BSCIC, which utterly refused his request.
"Now, I am prepared to surrender my plots as the industrial area is not business-friendly due to the lack of sufficient support and poor attitude of BSCIC officials," he added.
Similarly, entrepreneur Tanvir Islam had set up a small charcoal factory on an "A" category plot but could not sustain the business due to a lack of capital.
And after he too failed to avail a loan facility from the BSCIC, his unit was ultimately closed with the authorities eventually cancelling his plot allotment.
"If I had enough capital, I would have restarted the business and expanded," Tanvir added.
Abu Hossain, an industrial officer of the Lalmonirhat BSCIC, said many plots remain unsold or unused as entrepreneurs lack enthusiasm to start businesses in the area.
Besides, the existing businesses do not really fall under the category of small and cottage industries, he added.
In addition, most entrepreneurs do not accept the terms and conditions of the BSCIC.
As such, most plots still have outstanding payments amounting to more than Tk 90 lakh.
"Still, we are trying our best to generate interest from industrialists to set up units in the estate," Abu said.
Ehsanul Hoque, deputy manager of the BSCIC office in Lalmonirhat, said certain entrepreneurs are being given loan facilities as they set up businesses without following the terms and conditions.
"No one can be given a loan if the conditions of the BSCIC are not fulfilled," he said, adding that several of these entrepreneurs are having their plot allocations cancelled for breaching contract.
Hoque went on to say small unit owners at the estate do not understand the business model and are unable to succeed because they lack capital.
"But if anyone sets up an industrial unit as per the conditions of BSCIC, we will definitely give them loans on easy terms," ​​he said.
Hoque then informed that BSCIC officials have been meeting with trade bodies in Lalmonirhat to encourage the establishment of factories in the industrial area.
"Some trade bodies have assured the authorities in this regard and so, we hope some new some factories will be set up next year," he added.