TEXTILE INDUSTRIES
No solution yet to gas crisis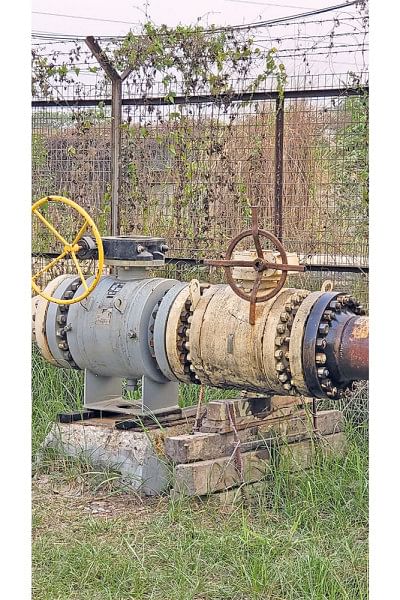 No solution has come about over a shortage of gas supply turning captive power plants inoperative, effectively shutting down production at textile mills in some areas in Savar, Narayanganj, Dhamrai, Manikganj, Gazipur and Chattogram.
The gas supply pressure has fallen to 1.5 pounds per square inch (psi) from the 10 psi or more required for running the mills.
This has forced a reduction in the utilisation of 70 per cent of the production capacity, said Mohammad Ali Khokon, president of Bangladesh Textile Mills Association (BTMA), at a press conference at Lakeshore Hotel Gulshan yesterday.
Khokon also said the solution to a previous gas crisis came from government high-ups but this time around the government cannot assure supplies of adequate pressure.
As a result, the $10 billion sector, which is mainly supplying yarn and fabrics to the local and export-oriented garment factories, is in a deep crisis, he added.
The reduction of production in the textile mills will also affect garment exports as the millers will not be able to supply yarn and fabrics, he said.
Khokon also said the crisis of yarn in the garment sector would be deepened further if the spinning mills cannot operate smoothly due to a lack of gas.
The Titas Gas Transmission and Distribution Company Limited (TGTDCL) only gave him verbal assurances of supplying gas at adequate pressures but it was yet to materialise.
The BTMA, a platform of the primary textile sector comprising spinning, weaving and dyeing establishments, has sent a letter to Tawfiq-e-Elahi Chowdhury, energy adviser to the prime minister, on Wednesday.
It sought a solution for gas to be supplied at a higher pressure to run their industrial units.
On Wednesday, Ali Iqbal Md Nurullah, managing director of the TGTDCL, said any improvement in gas supply was dependent on the availability of gas in the pipelines.
"However, it is expected that the situation of gas supply will improve soon as we are working on the issue," he said.
The sufferers should also contact officials of Petrobangla so that the state-owned gas exploration and production company can also be aware about the gas crisis in the country, he said.
Currently, some 450 spinning mills have been catering to 80 per cent of the demand for yarn of the local knitwear factories. They are the main consumers of the gas.
Khokon, in the letter, said the local garment exporters may lose work orders from international retailers and brands if the spinners and weavers cannot supply yarn and fabrics on time.
Moreover, investments worth $10 billion in the primary textile sector will fall in trouble if the gas supply cannot be improved as soon as possible, said the industry people.