'Natural' potato storage the new rage in north
Provides potato farmers a cheap way to keep their crops for later sale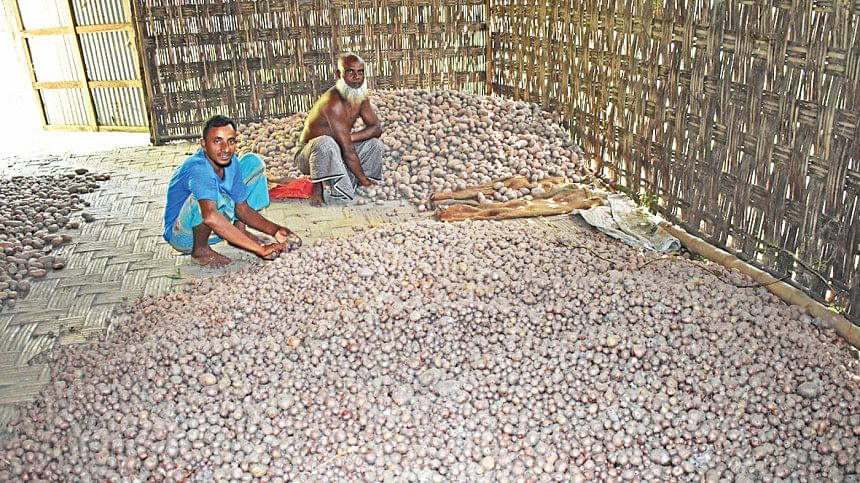 Amidst substantial amounts of potato production and subsequent space constraints in cold storages, a new method of stowing the spuds that does not require freezing has come as a blessing for farmers in the country's northern districts.
With this new method, farmers will be able to ensure good profits by selling the stored potatoes over time as they would be otherwise forced to sell them at throwaway prices just after harvests.
During a recent visit to Rangpur and Nilphamari districts, this correspondent found that there were now many "natural" storages for potatoes grown in the region.
On an average, the storehouses are about 25 feet long and 15 feet wide with roofs made of corrugated iron sheets while the floors and walls are comprised of bamboo slats to facilitate air flow.
In addition, herbs locally known as "biskutuli" are spread on the floors to protect the potatoes from pest infestations. About 30 tonnes to 32 tonnes of the tuber crop can be kept for up to four months without expense in each of these storage facilities.
The Department of Agricultural Marketing had initiated a project, styled "Potato preservation, processing and marketing at homesteads", in fiscal year 2015-18 to build 40 of these storages in the region.
Motivated by its success, the department has undertaken a new project to construct another 450 of these storages in different areas at a proposed cost of Tk 41 crore.
The project plans are currently at the planning commission for recommendations, according to relevant sources.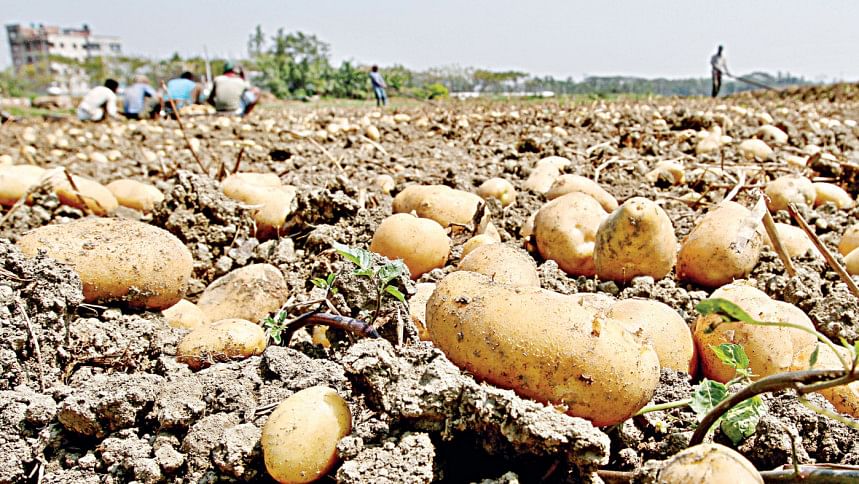 "Natural potato storages have proven effective and so, many will be built in 16 districts of Rangpur and Rajshahi along with Munshiganj, Cumilla and Chadpur," said Anwarul Huque, deputy director of the department for the Rangpur region.
At present, there are some 41 natural storages that can accommodate about 1,500 tonnes of potato.
After conducting intensive surveys, Bangladesh Agricultural Research Council conveyed its observation that by using the natural storages, farmers can increase their profit by up to Tk 6 per kilogramme (kg) of the crop.
In eight northern districts of Rangpur division, potato production amounted to 40 lakh tonnes this year but the region's 102 cold storages can accommodate only 9.5 lakh tonnes, showed data from the Department of Agricultural Extension.
The cost of preserving a 50-kg bag of potato in cold storages is about Tk 260, which is too high for most farmers to bear.
A local Farmers Marketing Group (FMG), comprising 30 to 35 members, maintains the procedure of preserving and selling potatoes from storages in due time and also sharing profits proportionately.
Md Abiul Islam, leader of an FMG wing in Uttor Motukpur village, said potatoes kept in cold storages remain intact from March to June and by this time, prices rise to their benefit.
This year though, they were compelled to sell large amounts of potatoes early on at a lower profit as untimely rainfall during the harvest season threated to ruin the crops.
"But the spuds kept in cold storage lose their natural taste, which is disliked by consumers," said Moklesur Rahman, a farmer of the same village.
On the other hand, this does not occur for the potatoes kept in natural storages as their taste remains the same, he added.
Abdur Rouf, an FMG leader who manages a natural potato storage in Mithapukur upazila of Rangpur, said they had to sell potatoes at throwaway prices from fields just after harvest for the past two years.
"Now though, we have attained more bargaining power to ensure fair prices," he added.
However, some farmers say the existing natural storages should be updated and the FMG members provided further training on collective management as a few influential FMG leaders sporadically use those as their personal storage space, hampering the overall objective of the programme.
"We've strengthened monitoring to ensure proper management to run the storages smoothly by removing drawbacks," said ATM Ershad Alam Khan, agricultural marketing officer of Nilphamari.
Shahin Ahmed, an agricultural marketing officer of Rangpur, said the success of existing non-freezing models of potato storage has inspired people to build such facilities on their own for either personal or communal use.