Mung bean cultivation expanding in Patuakhali
Availability of milling machines changing farmers' fortunes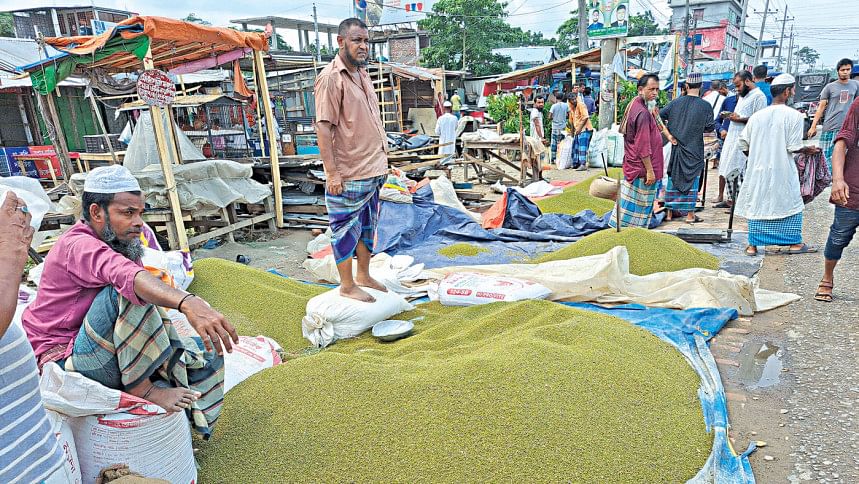 Idris Ali, a farmer of Kartikpasha village in Patuakhali's Dumki upazila, has been cultivating mung beans after harvesting Aman paddy for about 20 years now.
At first, he would grow mung beans, known as moong daal in Bangladesh, simply to meet the needs of his own family. But after seeing that yields were good, Ali sensed an opportunity to profit from the crop.
He then gradually increased cultivation and eventually sold some raw mung beans at a local market for Tk 40 to Tk 50 per kilogramme (kg).
However, he could have made as much as Tk 130 per kg by supplying processed mung beans instead but was unable to as there were no milling machines nearby at the time.
Now though, a milling machine is available in the Thanabridge area of Dumki town.
"So, I no longer sell raw moong daal in the market. I get double the price by milling the beans before selling it in the market," Ali said, adding that he will cultivate the crop on one acre of land this year.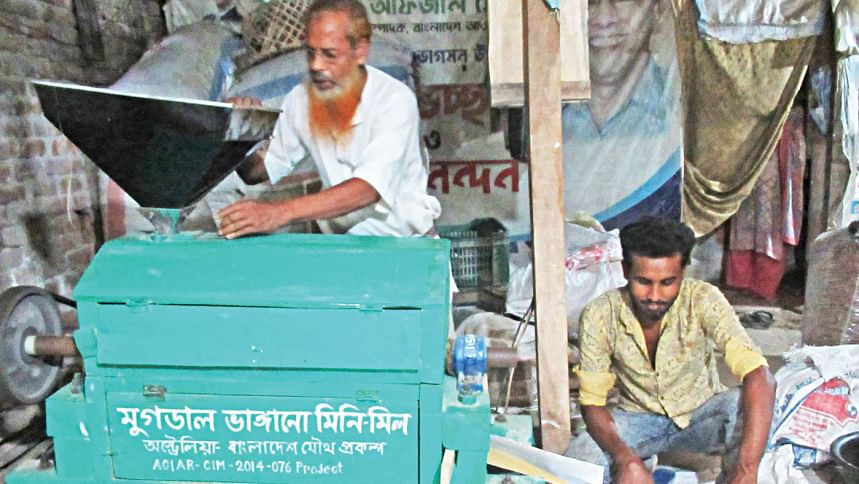 Similarly, Harun Or Rashid, a farmer of Barguna sadar upazila, recently processed 10 kgs of mung beans at a local market called Kewrabunia Bazar.
Having kept two kgs for himself, Rashid sold the remaining eight kgs for at least Tk 120 per kg.
"I grew mung beans on 70 decimals land last year but considering the good prices at present, I plan to increase cultivation," he said.
Like Ali and Rashid, many other farmers in the region are expanding mung bean cultivation as the availability of miniature processing mills has brought a big change in their fortunes.
KM Nasiruddin, who owns the milling machine in the Thanabridge area, said the equipment was set up through a private initiative last January.
Now, many locals come to mill mung beans, rice, wheat and spices at a cost of about Tk 10 per kg, he added.
Abdul Awal, deputy assistant agriculture officer of Patuakhali sadar upazila, said Aman paddy is the main crop of the region.
After harvesting Aman paddy in January, farmers plant different types of crops fit for the spring season between January and March.
Watermelon is the most highly- cultivated crop while mung bean comes in second. That scenario may soon change though as after milling machines were brought to the area, farmers are planning to expand cultivation of the legume crop.
This is because other than being highly profitable, mung bean roots increase soil fertility, saving on the use of urea fertiliser for the subsequent cultivation of Aman paddy in the same field, he added.
Patuakhali Shaukat Hossain, an official of the Department of Agricultural Extension (DAE) in Patuakhali, said the availability of milling machines is encouraging more farmers to grow mung beans, which produce good yields in the region due to its favourable soil and climate conditions.
As such, at least 600 kgs of mung beans are produced per acre, making it more profitable compared to other crops.
Md Nazrul Islam, deputy director of the Patuakhali DAE, about 86,000 hectares of land in the region were used to cultivate mung bean last year.
"But due to the growing interest among farmers, a target has been set to use 88,000 hectares of land for mung bean cultivation this year," he added.
Islam went on to say that the mung beans grown in the region are being exported to Japan for their high quality.
In 2012, an agreement was signed for the export of mung bean on a limited scale. The crop is brought from local markets and sent to Ishwardi upazila for processing before being exported.
The Bangladesh Agricultural Research Institute and the Bangladesh Wheat Research Institute helped set up the mini-mills for breaking mung beans with the help of the Australian Centre for International Agricultural Research, which is a project of Australia's government.
Since January 2021, 11 mini-mills have been installed in Patuakhali, 10 in Barguna and 1 in Barishal.
Dr Mrinmoy Guha Neogi, deputy project leader, said through this joint project, they were able to refine the process of lentil breaking with the help of local craftsmen after five years of research to this end.
Through the research, special types of rollers and power transmission were developed and installed at the miniature mills.
Besides, spare parts for these machines are readily available in local markets, Neogi added.