Minimum price of tea leaves set for northern region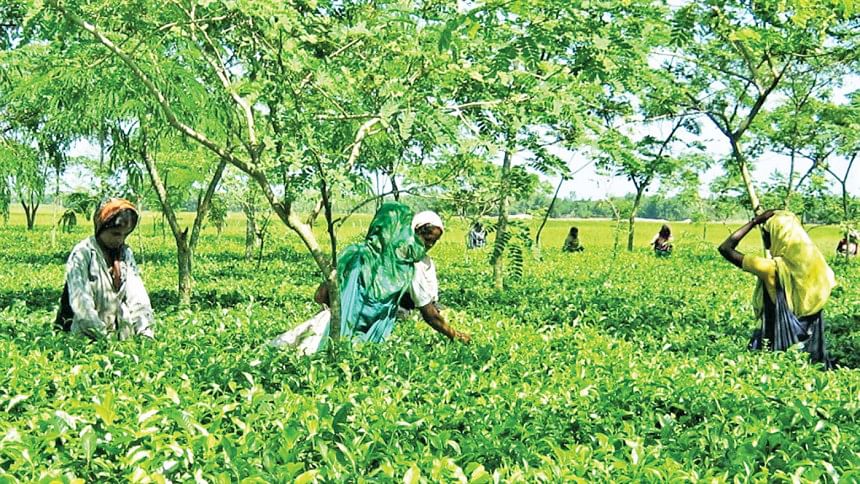 The minimum price for raw tea leaves grown in Panchagarh was fixed at Tk 18 per kilogramme (kg) on Wednesday following recent demonstrations by local farmers demanding a fair value for their produce.
Tea farmers in the district had gathered at the Sher-e-Bangla intersection of the Panchagarh-Dhaka highway last Sunday in protest of the low prices being paid by processing companies amid the ongoing harvest season.
They also alleged that the companies curtail the weight of tea being supplied by between 15 per cent and 40 per cent in order to save on purchases.
With this backdrop, Md Jahurul Islam, the deputy commissioner of Panchagarh, called all relevant stakeholders to a meeting at his office on Wednesday in order set a price for raw tea leaves. Islam presided over the meeting, dubbed the Panchagarh District Tea Leaves Price Fixation Committee.
Amirul Haque Khokon, president of the Bangladesh Small Tea Growers Association, Dr Mohammad Shameem Al Mamun, senior scientific officer of the Bangladesh Tea Board's regional office in Panchagarh, leaders of the local tea factory owners' association, various public representatives and journalists were present.
Mamun said the tea production season is considered as the period between March and December.
About 20 tea processing factory owners in Panchagarh and one each in Thakurgaon and Lalmonirhat started purchasing raw tea leaves from March 1 at prices between Tk 22 and Tk 26 per kg.
But the price dropped drastically to Tk 12-14 per kg just two months after harvesting began, pushing growers into a tight corner in the process.
Factory owners curtailed 15 to 40 per cent from the total weight of the tea leaves being supplied by farmers on various pretexts and as a result, growers were getting less than Tk 10 per kg for their produce, which was much less than the production cost.  
Finding no alternative, small tea growers took to the streets to attain fair prices and subsequently submitted a plea in this regard to the district deputy commissioner.
The price of tea leaves is usually fixed based on the average price it receives at 15 auctions but as only three auctions were held in the current season, the price of raw tea leaves was fixed at Tk 18 per kg this year considering the average rate of the 45 auctions held last year, Mamun said.
Tea growers supply leaves as per the requirements of tea factories, which cannot curtail the weight after receiving the leaves supplied by growers.
However, factory owners can curtail the weight by up to 10 per cent if the leaves are wet, he added.
Replying to a query, Mamun said that since there is no committee for fixing the price of raw tea leaves in other northern districts, the factory owners in adjacent regions will follow the same price as Panchagarh.
Tea production in the northern region started from March with a target of producing 18 million kgs of processed tea this year. Last year, a record 14.5 million kgs of tea were produced in the northern plain lands, making it the second largest tea-producing region in the country after Sylhet.
 In 2021, 1,263.37 acres of land were brought under tea cultivation in five northern districts, according to Mamun. Of the total cultivation area of Panchagarh, 8 registered and 20 unregistered tea estate owners have cultivated tea on 2,464.21 acres of land while 7,168 small and marginal growers are farming the plant on 7,283.59 acres of land. In Thakurgaon, tea was planted on 260 acres of land under a tea estate while 728 small growers have separately cultivated the plant on 1,110.30 acres.   Similarly, 96 small growers have cultivated tea on 168.88 acres of land in Lalmonirhat, 40 growers on 78.37 acres in Dinajpur and 35 growers on 68.59 acres in Nilphamari.