Milk prices rise but farmers see little benefit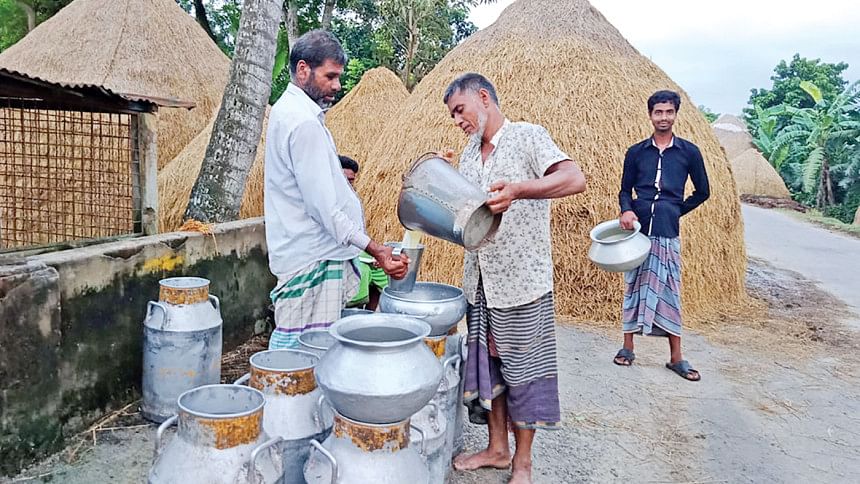 Although processed milk prices are rising at the retail level, farmers are yet to see any benefit as there is no sign of an increase on their end.
The higher cost of feed and other inputs, including transportation, has inflated liquid milk prices in different areas in the Dhaka city. On average, half-litre packets of the dairy product are now being sold for Tk 45 while a one-litre packet costs Tk 80, up by Tk 7 and Tk 10, respectively.
According to consumers, the rising costs of all essential commodities coupled with the new price of milk have put extra pressure on them at a time when most are still recovering from the pandemic fallout.
Shopkeepers say that two companies raised the price of liquid milk about a week ago while the sales representatives of all remaining major processors said they would soon follow suit.
Aarong Dairy currently sells each litre of pasteurised milk at Tk 80 while it was Tk 70 previously. Likewise, the price of the company's half-litre packs rose to Tk 45 from Tk 38, said Ratan Mia, owner of Jewel General Store in the Rupnagar area of Mirpur in the capital.
Pran Dairy, a concern of Pran-RFL Group, increased the price of its one-litre UHT milk packets to Tk 80 from Tk 70 while the half-litre packs of the product now cost Tk 45 instead of the previous Tk 40.
The retail price of Milk Vita and Farm Fresh liquid milk products has remained unchanged, but some retailers have warned that they would too increase the prices soon.
Kamruzzaman Kamal, marketing director of Pran-RFL Group, said the production cost of producing milk has risen considerably due to the increase in feed, labour and other costs.
"Under this backdrop, it will not be possible for the business to survive by selling milk at the previous rates."
Feed prices have gone up by 50 per cent to 100 per cent in the last six months as the cost of soybean meal and maize rose by 30 per cent to 40 per cent, said Mohammad Shah Emran, general secretary of the Bangladesh Dairy Farmers Association.
But although milk prices have increased at the retail level, the prices have seen little change at the farm level, where producers are earning just an additional Tk 1-2 per litre sold.
Rajab Ali, a dairy farmer on the Zoo Road in Mirpur, sells milk sourced directly from his own farm comprising 25 cows. He said the prices would be revised upwards soon.
The price of salt, crushed rice and other cattle feed ingredients has gone up by 50 to 70 per cent. Besides, workers could previously be employed for about Tk 8,000 per month but even Tk 15,000 is too less for them now, he added.
Md Rafiqul Islam, managing director of the Bangladesh Milk Producers' Co-operative Union Ltd (Milk Vita), says although it has not increased prices yet, different calculations to this end are underway.
"We are working on how to reduce the production cost. If we can't reduce the production cost and if we are compelled to raise it, we will keep the increase reasonable."
Akbar Ali, a resident of Kalyanpur in the capital, gets a salary of Tk 25,000 as a private employee.
Before the recent price increase of essentials, he could manage two eggs and 250 grammes of milk for each of his two kids, respectively three and one year old, every day. Now, they get just one egg daily while milk comes only every other day.
"They will suffer from malnutrition if this goes on but what can I do?" Ali asked.
Traders also say the price of powdered milk went up by Tk 60-70 per kilogramme last week, depending on the supplying company. The price will go up further, they added.
MILK COMPANIES DEPRIVE FARMERS OF FAIR PRICES
Md Al Amin, a milk producer in the Faridpur municipality, said Pran Dairy buys his milk for between Tk 43 and Tk 50 per litre.
"But even though production costs have increased in the last two months, the price we receive has remained the same," he added.
Amin supplies 80 to 100 litres of milk to Pran Dairy's collection centre every day.
Echoing the same, Saiful Islam, secretary of the Pabna District Milk Producers Association, said milk producers are not getting the expected prices.
"Dairy farming has gotten costly as feed prices have soared up to Tk 200 per bag in the last one month, while the cost of grass has also increased as it has started raining," he added.
Md Shariful Islam, in-charge of the Pran milk collection centre in Baghabari area under Shahzadpur upazila of Sirajganj, said since the supply is smooth, they currently have no plans to increase the prices at the farmers' end.