Liquidity stress at banks fuels call money rate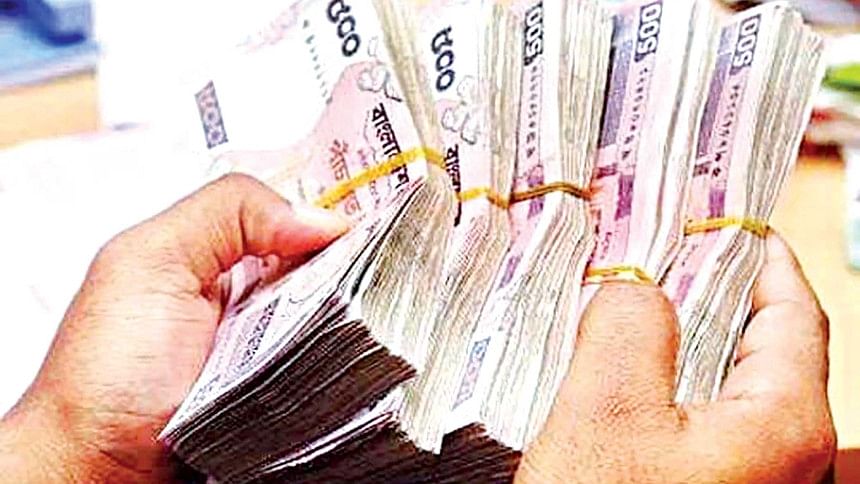 The ongoing strain on Bangladesh's foreign exchange market and the growing demand for cash ahead of Eid-ul-Azha sent the inter-bank call money rate to at least a six-year high yesterday. 
The weighted average rate in the inter-bank call money market, where banks borrow from each other on an overnight basis, stood at 5.26 per cent in contrast to 5.01 per cent a month ago, and 2.44 per cent a year prior, data from the central bank showed.
Yesterday's rate is the highest since 2016, the latest for which data is available.
A BB official, tasked with monitoring the money market, says that the banking sector is now under liquidity stress as many lenders are buying US dollars from the central bank to settle import bills.
The central bank injected a record $7.62 billion into the market in the fiscal year that ended on June 30, meaning an equivalent local currency amount has moved in the other direction, intensifying the liquidity crunch.
Excess liquidity at banks stood at Tk 189,183 crore as of May, down 11 per cent year-on-year.
Bangladesh's foreign exchange market has come under stress in recent months due to higher import payments, driven by escalated commodity prices in international markets.
Imports surged to $75.40 billion between July and May, up 39 per cent year-on-year.
The government's borrowing from the banking sector had also increased significantly in the last fiscal year, amid weak revenue generation, putting additional pressure on the liquidity position of banks, according to a treasury head of a commercial bank.
The government borrowed Tk 64,755 crore from the banking system in FY2021-22 in contrast to Tk 26,078 crore the year before.
In order to squeeze the money supply further to contain the soaring inflation, the central bank has taken a contractionary monetary policy for the current fiscal year.
It hiked its policy rate twice within a month to address the price instability.
The policy rate, which is followed by banks to fix their interest rates on both loans and deposits, was raised by 50 basis points to 5.50 per cent on June 30.
Another banker says that there is little possibility for the call money rate to go down any time soon owing to the spike in the policy rate.
Clients are also withdrawing a significant amount of funds from banks on the occasion of Eid-ul-Azha to meet the expenses for buying sacrificial animals and other expenditures.
"This has also tightened the liquidity condition," said Syed Mahbubur Rahman, managing director of Mutual Trust Bank.
Banks usually face liquidity pressure during Eid festivals in Bangladesh.
"The call money rate might stabilise after Eid," said Emranul Huq, managing director of Dhaka Bank.