Internet banking transactions double in July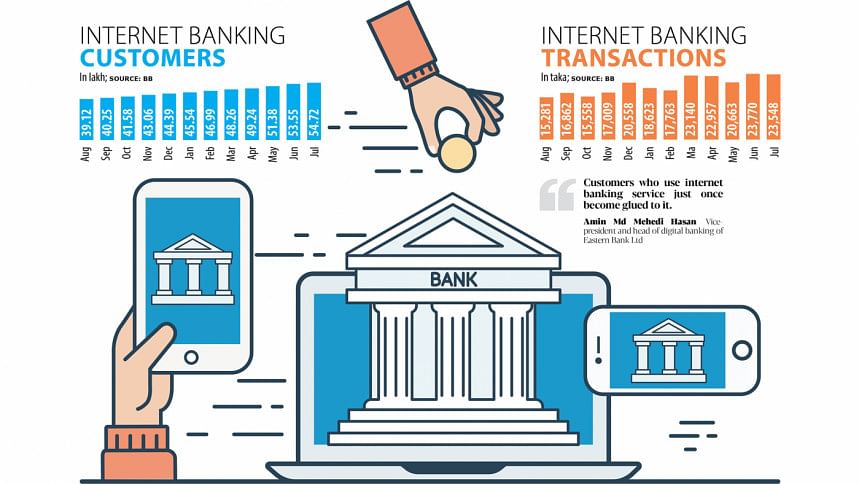 Internet banking transactions nearly doubled to Tk 23,548 crore in July compared to a year earlier, central bank figures showed as more people in Bangladesh are using computers and mobile apps to access various financial services.  
It stood at Tk 12,768 crore in the same month in 2021. July's internet banking transactions amount, however, were slightly lower than Tk 23,770 crore in June, according to the Bangladesh Bank.
Internet banking, popularly known as online banking, allows users to conduct financial transactions via internet and offers customers almost every service traditionally available through a local branch including deposits, transfers, and online bill payments.
Introduced in Bangladesh by Standard Chartered two decades ago, internet banking has grown at a faster clip in the country since then.
The pace has been accelerated by the coronavirus pandemic since consumers were compelled to turn to internet to access finances from the conveniences of their homes in a bid to avoid catching the deadly virus.
The number of customers using internet banking to carry out transactions digitally rose more than 43 per cent year-on-year to 54.72 lakh in July, as more consumers embrace technologies to buy financial services thanks to convenience and efficiency.
It was 38.22 lakh in July last year and 53.55 lakh in June this year. 
The pace has been accelerated by the coronavirus pandemic since consumers were compelled to turn to internet to access finances from the conveniences of their homes
"Customers who use internet banking service just once become glued to it," said Amin Md Mehedi Hasan, vice-president and head of digital banking of Eastern Bank Ltd.
"Internet banking has exponentially grown since the pandemic struck the world."
He cited that customer migration from the traditional banking channel to online banking saw a 600 per cent increase at EBL in 2020 and 2021. And 91 per cent of transactions take place online at the private commercial bank while the rest through branches.
Md Mezbaul Haque, director of the Payment Systems Department of the central bank, recalled that when he joined the Payment Systems Department in 2016, only Tk 2 crore to Tk 3 crore used to be transferred through interbank online banking daily.
"Now it has surged to Tk 150 crore to Tk 200 crore daily."
Haque thinks online banking is the future of banking as technologies advance and people's approach to banking goes through a major shift.
"Not many people will be interested in visiting branches. This is happening all over the world," he said.
According to Haque, internet banking is also cost-effective for banks as well as it allows them to use technologies to provide the financial services that a brick-and-mortar branch is currently providing.
This means that if banking takes place online and over the phone, banks would be able to cut the huge operating expenses needed to cater services in the traditional form.
"This is the only way for banks to minimise costs and ensure efficiency," said Haque.
For individuals, the maximum value of each transaction is Tk 3 lakh through internet banking. The frequency is a maximum of 10 times a day and not more than Tk 10 lakh per day, according to the BB.
For corporate, the limit has been set at Tk 5 lakh per transaction. The maximum frequency is 20 times while a total of Tk 25 lakh could be transacted per day.
In July, fund transfers through the Bangladesh Electronic Fund Transfer Network (BEFTN) rose to Tk 40,488 crore, up nearly 23 per cent from Tk 32,986 crore in the same month last year. It was, however, lower than June's Tk 45,369 crore, data from the central bank showed.
Rolled out in 2011, the BEFTN was the country's first paperless electronic inter-bank funds transfer system. It facilitates both credit and debit transactions, as a lead over the cheque-clearing system.
It can handle credit transfers such as payroll, foreign and domestic remittances, social security payments, company dividends, bill payments, corporate payments, government tax payments, social security payments, and person-to-person payments.
Besides, it accommodates payments such as insurance premiums, club/association subscription fees, and equated monthly instalments.
Transactions through the Bangladesh Real Time Gross Settlement (BD-RTGS), which has been executing high-value and time-critical payments since 2015, nearly tripled to Tk 415,052 crore in July from Tk 144,410 crore a year earlier.
But the settlement was nearly 24 per cent lower than June's Tk 543,956 crore.
Whereas the transactions through the RTGS are real-time, those routed through the BEFTN are not. Besides, the central bank does not allow the use of RTGS to transfer an amount that is lower than Tk 1 lakh. 
Internet banking was a fund transfer and mobile recharge tool in the past. Now, it has become a part of daily lifestyle, EBL's Hasan said.
"The petty cash support a person needs every day is being catered to by almost all banks in Bangladesh. Internet banking has transformed from a value-added service into a requirement in a span of five years."