Inflation falls for 4th month
Yet consumers forced to curtail costs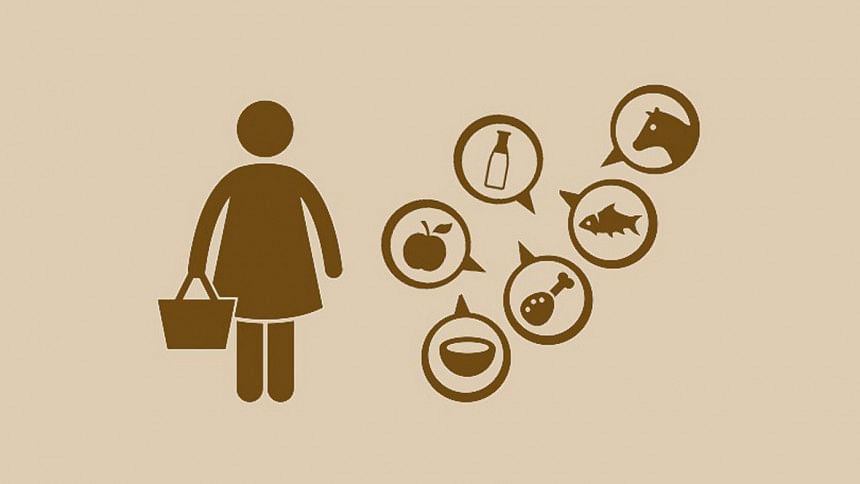 Although the inflation rate in Bangladesh has maintained a downward trend for the past four months, it is still high enough to affect those living in the middle-income category and below, experts say. 
Inflation stood at 8.71 per cent in December last year, down 14 basis points from the month before, according to data from the Bangladesh Bureau of Statistics (BBS) released yesterday.
Besides, non-food inflation in rural areas fell slightly to 10.29 per cent from 10.31 per cent at the same time to remain in double digits for the second month in a row.
Overall inflation in the country had come down to 8.85 per cent last November after surging to a 10-year high of 9.52 per cent earlier in August.
With December, monthly wage growth has remained below the inflation rate for 11 consecutive months, indicating a worsening poverty situation as many people are being forced to reduce consumption in the face of falling real income.
Last month, the wages of unskilled workers grew 7.03 per cent, which was 1.68 percentage points below the average inflation rate at the time.
And even though food inflation declined to 7.91 per cent in December from 8.14 per cent the previous month, consumers still had to spend more on buying non-food items.
Non-food inflation dropped 2 basis points to 9.96 per cent in December from 9.98 per cent the previous month, the BBS data shows.
Ghulam Rahman, president of the Consumers Association of Bangladesh, yesterday said inflation rates have fallen consistently since August but prices of daily essentials have been higher than government estimates.
"Inflation has come down, but there is no relief in terms of wage growth. Although the cost of living has increased, wages have not increased at the same rate," he added.
Rahman then said the wage growth rate was 7.03 per cent in December, when the cost of living had risen by 9.5 per cent.
"People are not being able to keep up with rising costs as their purchasing power is declining. So, they are not able to buy as many products as before," he added.
Professor Selim Rahman, executive director of the South Asian Network on Economic Modeling (Sanem), said the decrease in inflation was marginal at best.
"Although the prices of a few food items, such as eggplant, chicken and eggs, have come down, rice prices are still high," he added.
The executive director of Sanem then suggested the government increase its monitoring of the commodities market to ensure that prices remain stable.
Mohammad Rahmatullah Al Mujahid, a resident of Mirpur in the capital, said the prices of all essential commodities ‍and non-essential items in the market have increased.
"So how does inflation come down?" he questioned.
As per data from the Trading Corporation of Bangladesh, the prices of coarse and fine varieties of rice rose by 4.72 per cent and 4.26 per cent respectively over the past year.
Meanwhile, the cost of loose and packaged wheat flour jumped 66 per cent and 40 per cent respectively, salt 23.08 per cent, coarse lentils 19.51 per cent, sugar 45.16 per cent, bottled soybean oil 23.17 per cent and loose soybean oil 24.82 per cent.
Regarding the high inflation rate, Towfiqul Islam Khan, senior research fellow of the Centre for Policy Dialogue, said Bangladesh was not still getting the benefits of a cooldown in global commodity prices.
"Although the prices of some essential goods are falling in the global market, the benefits are not fully available in the local market due to the US dollar shortage and some other reasons," he added.
Khan went on to say that the government should expand its Open Market Sales programme as well as other facilities for low-income people considering the current situation.