Inflation falling, but not for rural people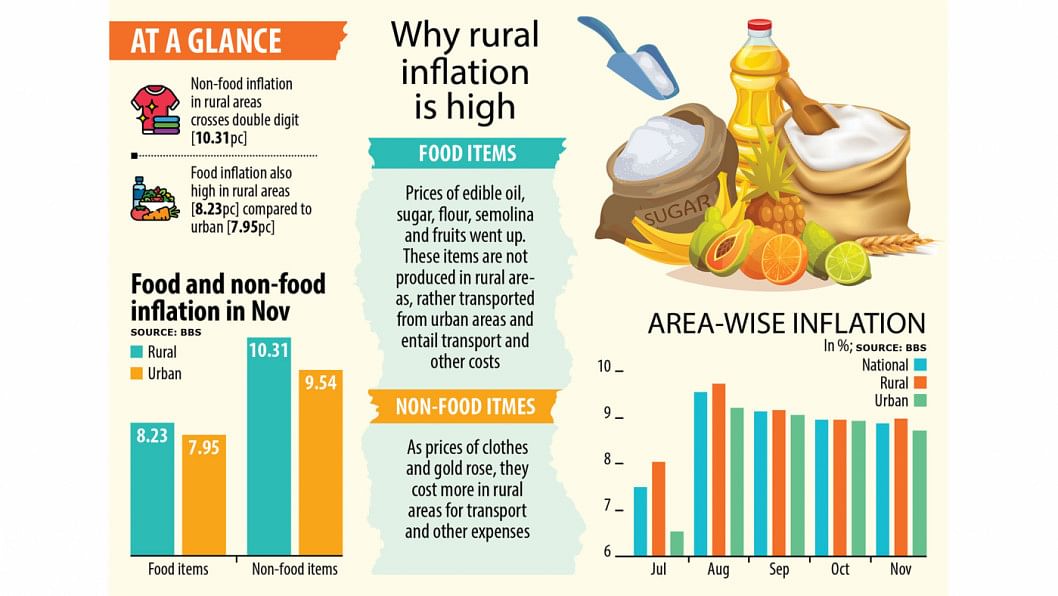 Though inflation continued to undergo a downward trend for a third consecutive month in November, non-food inflation in rural areas entered into double digits last month for the first time in recent times. 
Even after the decreases, inflation still remains near 9 per cent, which is much higher than recent trends, inflicting blows on the financially insolvent and those falling in the middle-income category.
Sharing monthly inflation data at a press briefing yesterday, Planning Minister MA Mannan said the situation people in the middle-income segment were in was not a major concern for the government for now.
On initiatives for this segment of society, he said the government was currently not in a condition to focus on them.
If the overall economy improves, they will get its benefit, he said, adding, "Our target is for the low-income people and it is for human and practical reasons or you may say for political reason since a major part of the population is still in that level."
Inflation eased down further to 8.85 per cent in November as prices of most food items remained steady last month, showed data from the Bangladesh Bureau of Statistics (BBS) yesterday.
Overall inflation was at 8.91 per cent in October.
November was the third consecutive month consumer prices underwent a downward trend. Inflation surged to a 10-year high of 9.52 per cent in August.
Addressing the media briefing, Mannan said inflation decreased in November while the wage rate grew which was a good thing.
The decrease in the inflation rate is slight but it is highly significant in economic terms, he opined.
The minister said it was a matter of joy that inflation had decreased globally except for a few economies during the same period.
"In each of the last three months I predicted that inflation would come down and it happened," he said.
The wage rate has also gone up at the same time, said the minister, informing that the wage rate, which was 6.91 per cent in October, rose to 6.98 per cent in November.
Terming inflation going downward as good news for the economy, the minister said he believed inflation would surely come down further in December.
Mannan also mentioned that food production, including of rice and vegetables, had been satisfactory.
Stating that prices of oil and gas are coming down in the global markets, the minister said fuel prices may come down in the country too.
"Considering all these, I think not only the inflation or wage rate, but also the overall growth rate will reach the expected 7 per cent in the current fiscal," Mannan said.
He hoped for the country's economy to attain positive trends next fiscal year as it had been prior to the pandemic, even if the current condition of the Russia-Ukraine war prevailed.
A five basis points decrease in headline inflation, at best, indicates a pause in the increasing trend seen through September earlier, Zahid Hussain, former lead economist at the World Bank's Dhaka office.
"This has been possible due to a decrease in food inflation as winter crops have begun to enter the domestic food markets and there has been no further uptick in food import prices," he said.
According to the BBS data, food inflation declined to 8.14 per cent in November from 8.5 per cent the previous month.
However, consumers had to spend more to buy non-food items. Non-food inflation rose to 9.98 per cent in November from 9.58 per cent the previous month, showed the data.
"Non-food inflation has continued to increase, reaching almost 10 per cent in November," said Hussain.
"This shows that domestic demand containment measures have not yet made any visible impact in counteracting the knock-on effects of supply side forces such as diesel price increases and exchange rate depreciation," he said.
"This is not at all surprising because the demand containment measures have been limited to intended austerity in government development expenditures," he added.
"There is hardly any up-to-date data on the extent of compliance and the realized size of austerity," he said.
"Both food and nonfood inflation remain very high in the rural areas, in particular where the vast majority of Bangladesh's poor live. Urban inflation is not too far behind," said Hussain.
"Managing livelihood for the rural and urban poor continues to be an uphill struggle given that the growth in nominal wage for unskilled labour in all sectors is well short of food and non-food inflation," he added.
Non-food inflation in the rural areas reached 10.31 per cent in November, up from 9.98 per cent in the previous month.
Food inflation in rural areas stood at 8.23 per cent in November, higher than the 7.95 per cent in urban areas.
BBS National Accounting Wing Director Ziauddin Ahmed, at the briefing, said rice and vegetable prices were cheaper at the rural areas.
However, prices of a number of non-food and food items like sugar, edible oil and salt which are not produced there remain higher than that in urban areas due to transport costs, he said.