Improve Chilahati rail station to facilitate trade
Businesses urge government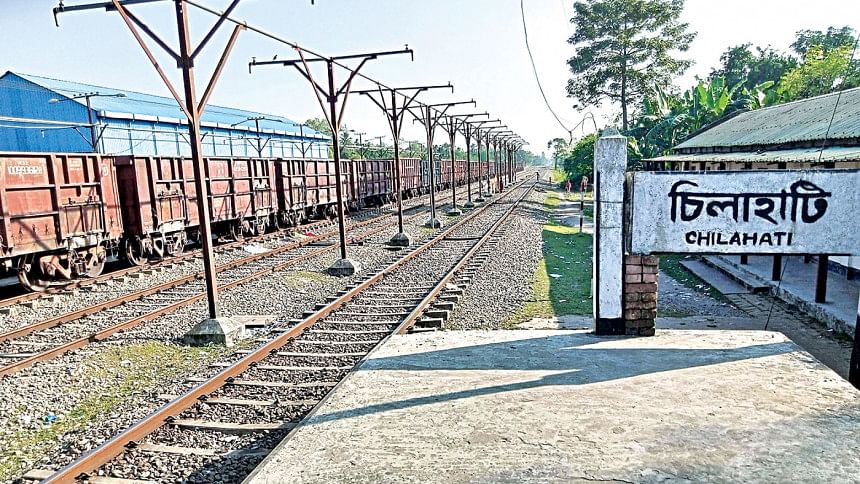 Trade between Bangladesh and India through the Haldibari-Chilahati rail link resumed on August 1 after a 56-year hiatus but infrastructure of Chilahati rail station in Nilphamari district has remained inadequate.
The revival of the rail link, which was snapped by the India-Pakistan war in 1965, is a part of efforts by Bangladesh and India to promote connectivity for greater trade and people-to-people contact.
But the construction of four loop lines stretching 2.46 kilometres (km) to accommodate additional shipments and passenger trains remains incomplete even though the initiative was included in a Bangladesh Railway project initiated in 2019.
The project, styled "Construction of broad gauge rail line between Chilahati and Chilahati border for connectivity with India", was estimated to cost Tk 80 crore.
But sources at Bangladesh Railway, which is implementing the project, informed that Bangladesh Railway had later tabled a project increasing the estimated cost to Tk 140 crore. It was now under the consideration of the planning commission.
Under the existing project, seven km of rail tracks, seven small bridges, two level crossings, a 1.1 km approach road, telecommunication systems and other infrastructure have already been built.
There is still a long way to go for the project. 
Moreover, the train station has no separate buildings for immigration or customs complete with weighing scales, scanners and sufficient manpower in Chilahati, said sources.
Various vital infrastructures need to be built without delay as import-export activities are back at full swing throughout the country.
Since August 1, at least 11 consignments of Indian goods have travelled from the neighbouring nation into different parts of Bangladesh through Chilahati.
According to various sources, a proposal to convert Chilahati Railway Station into a two-storey facility featuring modern amenities is awaiting recommendations.
Idris Ali, president of Saidpur Bonic Samity (Saidpur Merchants Association), said an Indian train carrying 59 wagons of wheat and stone was supposed to go through Chilahati Railway Station on August 1.
But due to the current lack of logistics, 17 of these wagons were left behind at Haldibari in India, which were brought later.
"So, this situation should be addressed soon to minimise the amount of time, energy and money spent by all concerned," he added.
Abdur Rahim, project director and also divisional engineer of Bangladesh Railway's west zone, admitted that these delays in construction should be immediately resolved.
"We can receive more imports by extending the length of the loop lines at Chilahati Rail Station and other additional works," he said.
"To construct the loop lines on a priority basis, we asked the relevant authorities to grant a proposal to acquire land," said Hafizur Rahman Chowdhury, deputy commissioner of Nilphamari.
Babul Iqbal, deputy commissioner of customs, exercise and VAT division in Nilphamari, said, "We've written to the authority over the issue."
"We managed the situation with limited manpower, tools and extra effort to collect customs duty of more than Tk 3 crore from imports since August 1," he added.
Farhanul Huque, vice president of the Nilphamari Chamber of Commerce and Industry, said the Chilahati-Haldibari rail link opened trade opportunities, not only with the Seven Sisters or seven Indian states but also with Bhutan, Nepal and China.
"We suggest the government make Chilahati Rail Station well equipped to facilitate smooth international trade and commerce," he added.