Ice cream market sees good growth
Awareness campaigns boost sales amid pandemic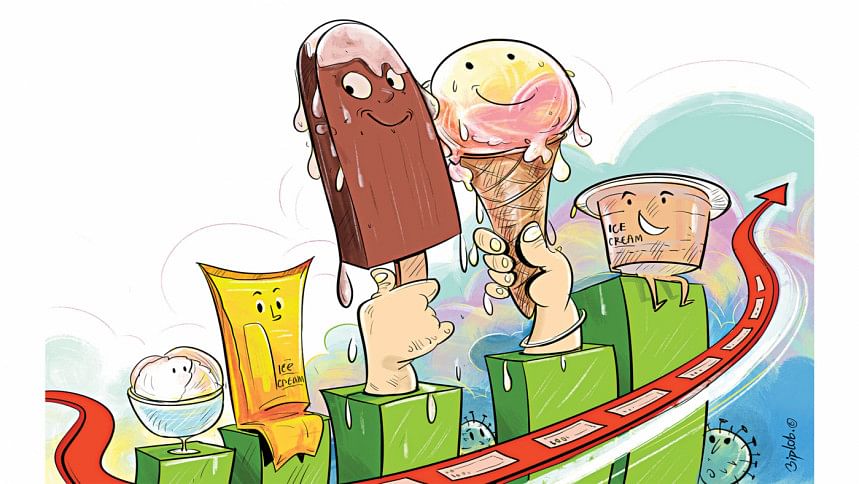 Ice cream manufacturers are enjoying robust sales after launching awareness campaigns on how consuming the sweetened frozen food does not increase the risk of contracting a serious case of Covid-19.
The market size for ice cream reached at least Tk 1,410 crore in 2021, up by about 93 per cent  year-on-year from Tk 730 crore.
Considering the current rising trend, the industry's market value could reach as much as Tk 2,600 crore by 2025.
But before the advent of Covid-19, the market size for ice cream was valued at Tk 1,240 crore in 2019.
"The sector achieved robust growth with the slow return to normalcy as people understood that ice cream does not spread coronavirus," said Shamim Ahmed, chief operating officer of Igloo, a popular local ice cream brand.
Besides, market players want to expand their businesses to recover losses incurred due to Covid-19 ," he added.
The market is also growing since consumption increased in recent years in line with the peoples' growing spending capacity, urbanisation, and access to the power grid in rural areas.
"Shopkeepers now keep ice cream in stock even in remote villages," he said.
So, there is  huge potential in Bangladesh's ice cream industry, where at least Tk 3,000 crore has already been invested, creating more than 10,000 opportunities for both direct and indirect employment, Ahmed added.
Seven companies, namely Igloo, Polar, Lovello, Kwality, Za n Zee, Bloop, and Savoy are available in the market, catering to a domestic demand of about six crore litres per year.
Igloo is the market leader with a 38 per cent share followed by Polar with 27 per cent, Lovello with 14 per cent, and Kwality 9 per cent.
The remaining market share is divided between other companies, according to industry insiders.
There is no credible data regarding total investment in the sector but it is believed to be no less than Tk 3,000 crore.
Before the pandemic hit, the industry had achieved total growth of about 15 per cent in the past few years, Ahmed said.
However, the per capita consumption is still just 333 millilitres per year, he added.
Ice cream companies collectively offer around 40 variants, including sticks, cups, cones, sorbets, tubs, cakes, and more.
Among these variants, vanilla flavoured ones are the most highly consumed in Bangladesh.
The industry is mainly import dependent for raw materials like milk, milk fat, vegetable fat, and sugar that come from Europe, Australia and New Zealand.
Saiful Islam, general manager of Kwality Ice Cream, said sales increased significantly with the slowing coronavirus infection rate but profit margins fell due to higher ingredient and transport costs.
According to him, unhealthy competition among market players is also affecting business.
AKM Zakaria Hossain, company secretary of Taufika Foods and Lovello Ice-cream, said since the country was not severely hit by Covid-19, the industry was able to quickly recover.
He now hopes the disease will not resurge as it has in the past and the robust sales growth will continue as Ice cream is becoming more popular among all ages.
Besides, ice cream is a favoured product among retailers as it is easy to store and make good profit.
"This is helping the market grow rapidly," Hossain said.
Nirmal Chandra Sardar, company secretary of Golden Harvest Ice-Cream Ltd (Bloop), said ice cream manufacturers witnessed better sales in 2021 compared to previous years despite having had one of the worst periods the year before.