Higher yield, prices bring cheer to jute growers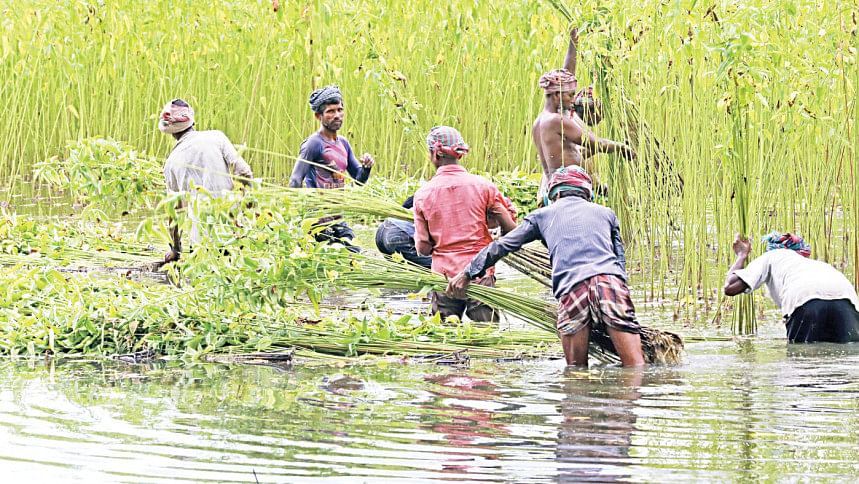 Jute growers are overjoyed as they took home good crops, which will allow them to make more profit because of the current higher prices of the golden fibre.
Bumper jute was harvested in the district this season on the back of favourable weather conditions. Also, there was no problem rotting the plants as local water bodies were filled with water on time, farmers and agriculture officials say.
This led the production to exceed the target set by the agriculture department.
Jute was cultivated on 15,815 hectares of land in Tangail last year, and the production was 162,312 bales, according to Nargis Akter, a sub-assistant agriculture officer at the Department of Agricultural Extension (DAE) in Tangail.
Jute production rose about 5 per cent year-on-year to 169,989 bales this year. The fibre was cultivated on 16,088 hectares.
During a recent visit to different places in Sadar upazila, farmers were found busy harvesting the crop, rotting, separating, washing and drying the fibres.
Farmers expressed their satisfaction over the yield and the current market price of the fibre and jute sticks.
Farmers spent Tk 5,000 to Tk 6,000 to cultivate jute on per bigha land (33 decimals), and have received five to six maunds of the crop from each bigha.
Good quality jute is selling for Tk 4,000 to Tk 4,200 per maund.
Besides, about 400 bundles of jute sticks can be produced from each bigha of land, with the price per 100 bundles standing at Tk 800 to Tk 1,000.
"As a result, farmers are making more profit from jute cultivation than other crops," said a farmer.
Anwar Hossain, of Mogra in Tangail Sadar upazila, cultivated the golden crop on four bighas after harvesting the IRRI paddies.
"I have got good yield this year due to the lower amount of rains and the late arrival of floods," he said.
Romesa Akter in Aynapur village in the same upazila said she cultivated jute on two bighas and got around 10 maunds of fibres.
The price of the fibre was Tk 2,000 to Tk 2,500 per maund last year. But local traders have already offered her Tk 3,800, she said.
Roksana Khatun, who was drying fibres and sticks on a bridge near her house at Kuizebari, says she expects more than Tk 4,000 per maund as the quality and colour are better.
"I am very happy as the prices of jute sticks are also better."
Ziaur Rahman, upazila agriculture officer in Tangail Sadar, says the interest among the farmers to produce jute has received a boost because of higher yield and prices.
Ahsanul Bashar, deputy director of the DAE in the district, said the high-yielding varieties were cultivated the most in the district this season than local varieties. As a result, the yield was better.
Local farmers had been supplied with good quality seeds this season after talking to the Bangladesh Agriculture Development Corporation and private seed traders, he said.