Hallmark scam hangs heavy over Sonali Bank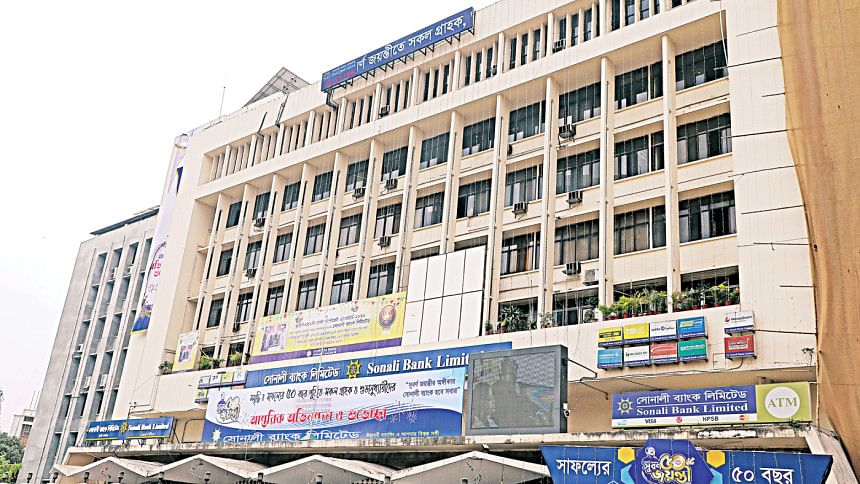 Sonali Bank is yet to be free of hesitation over its ability to smoothly disburse loans following the Hallmark Group loan scam, one of the worst financial scandals perpetrated in the country between 2011 and 2012.
The bank should strengthen its financial health by further reducing its default loan rate, analysts said at a conference organised by the lender to mark its 50th anniversary at the Bangabandhu International Conference Centre in Dhaka yesterday.
Fazle Kabir, governor of Bangladesh Bank, said many officials of the state-run lender are still afraid of disbursing loans in the aftermath of the Hallmark Group scam.
"But there is no reason for unpleasant emotion if the process of loan disbursement is followed with due diligence," he added.
Bangladesh Bank unearthed the more than Tk 3,500 crore loan scam at Sonali Bank's Ruposhi Bangla Hotel branch in May 2012. Of the sum, Hallmark alone took Tk 2,686 crore using forged documents in connivance with some bank officials.
The loan-deposit ratio of the country's largest lender is not at a satisfactory level, which is why the bank should speed up its loan disbursement, Kabir said.
For instance, deposits in the bank, which was established in 1972, stood at Tk 135,016 crore as of December last year, when it disbursed loans amounting to Tk 69,012 crore.
"Bankers cannot have shining careers if they shy away from disbursing loans," he said.
"On top of that, the bank's loan processing system also faces weaknesses. The lender should disburse loans at a faster pace," added Kabir, who was chairman of Sonali Bank before taking up his current position.
He suggested the lender give out more loans to the cottage, micro, small and medium enterprises.
Although the bank is providing different types of government services dedicated to commoners, the bank should be more client-friendly, Kabir said.
Abdur Rouf Talukder, senior secretary of the finance ministry, said reducing the ratio of non-performing loans in Sonali Bank was not good enough as it should also reduce the volume of bad assets.
As of December last year, default loans at the bank stood at Tk 10,351 crore, which is 19 per cent of its outstanding loans, central bank data showed.
"The state-run lender is yet to enrich its automation process in keeping with the times," he said before going on to say that the bank would not be able to compete with other lenders if it fails to offer its services digitally.
"We have to keep in mind that the common people will not go to banks to get financial services after five years due to the ongoing digitalisation programmes," Talukder added.
Finance Minister AHM Mustafa Kamal said many businesses would have been abolished during the pandemic had the government not set the 9 per cent interest cap on lending.
Borrowers had earlier counted interest rates of between 18 and 19 per cent, which was rare across the globe.
Local businesses subsequently might have faced a crisis to compete with foreign firms on a global scale due to the high price of products, Kamal said.
The high-interest rate pushed up production costs and ultimately eroded their competitive capacity in the global market, which is commonplace for every business.
"It is a good thing that the government was not required to refinance state-run lenders in recent years to address their capital shortfall," Kamal said.
All state banks now enjoy profit, which is a sign of the good financial health enjoyed by them, he added.
Ataur Rahman Prodhan, managing director of Sonali Bank, said foreign investors do not usually show interest in banks that face a capital shortfall.
But Sonali Bank can become one of the top lenders if it manages the problem of capital shortfall efficiently.
In addition, the bank also faces extra costs to open letters of credit due to the shortfall, he said.
"We have applied to the finance ministry by mentioning some proposals in order to resolve the problem," Prodhan added.
Sonali Bank faced a capital shortfall of Tk 3,639 crore as of December last year.
Atiur Rahman, a former governor of the central bank, said Sonali Bank has an impressive track record of expediting financial inclusion in the country.
Ziaul Hasan Siddiqui, chairman of Sonali Bank, presided over the meeting.