Govt should allow duty-free import of gold
Economist Ahsan H Mansur says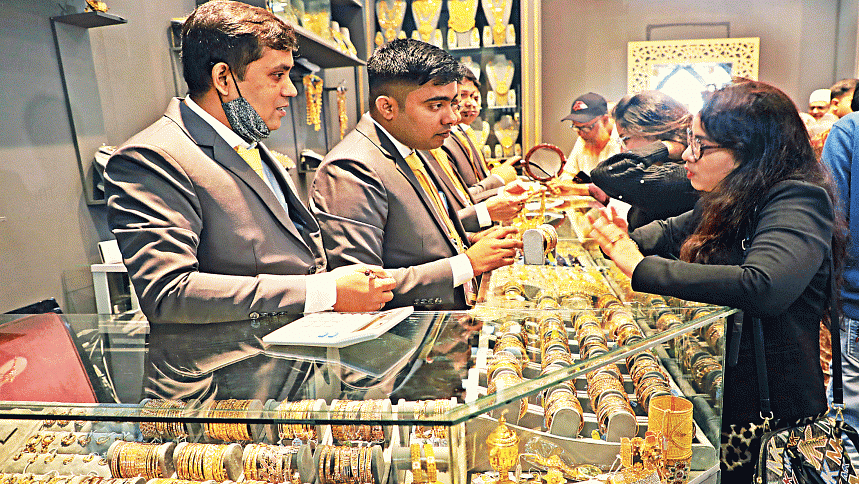 The government should facilitate the gold sector's growth by allowing duty free imports through private sector entrepreneurs, said noted economist Ahsan H Mansur yesterday. 
The growth never came about for preconceptions prevailing for long of gold being associated with smuggling and being meant only for the rich, he said.
Drives of customs intelligence unit on illegal inflows yield little revenue, said Mansur, also executive director of Policy Research Institute (PRI).
Sometimes these drives, in which the media tag along, seem like gold traders are being tried even before anything reaches courts, he said.
To generate a bigger amount of revenue, the government could instead charge value added tax of 3 percent to 5 percent on sales following the duty-free imports, he said.
Moreover, the gold policy needs to be in tune with present times, he added.
Mansur was addressing a debate at Bangladesh Films Development Corporation in Dhaka over whether only private sector entrepreneurs could develop the jewellery industry.
India and China have turned into the biggest gold markets, with their jewellers exploring global designs and crafting ornaments for consumers all over the world, he pointed out.
India exports $14 billion-worth diamond jewellery a year while China has a dedicated economic zone where 20,000 small, medium and large-scale jewellers are running operations, he said.
Bangladesh could not utilise similar potentials with the very skilled goldsmiths here opting for local consumers rather than showcasing their designs and fashion at the international level, missing out on generating international products, he said.
Local jewellers should start focusing on finding ways to grab international markets, he added.
On another note, the economist said the outbreak of the Russia-Ukraine war prompted the taka's devaluation in one go, although it was bound to happen as the local currency was wrongly kept overvalued artificially for the past 12 years.
So International Monetary Fund made the correct prediction that the local GDP will lose $40 billion this year only for the taka's devaluation against the US dollar, he said.
Regarding printing of money to meet budgetary allocations, Mansur said it was reproachable as the government could instead borrow from the banking sector.
However, with the banking sector not doing well for different reasons, it was unable to lend more money to the government, he said.
For every Tk 100 spent, the government used to locally borrow Tk 22 in 2013 and this went up to Tk 37 last year, he said.
The jewellery industry can also contribute like the garment sector as it has a lot of potential, said Hassan Ahmed Chowdhury Kiron, chairman of the Debate for Democracy, which organised the debate.
However, nearly 90 percent of the imported gold arrives through illegal channels, for which the sector could not formally take shape as an industry yet, he said.
Debaters of Dhaka College won the competition while those of the BGMEA University of Fashion and Technology became runners-up.