Farmers in Lalmonirhat losing interest in tea cultivation
They blame a lack of processing facilities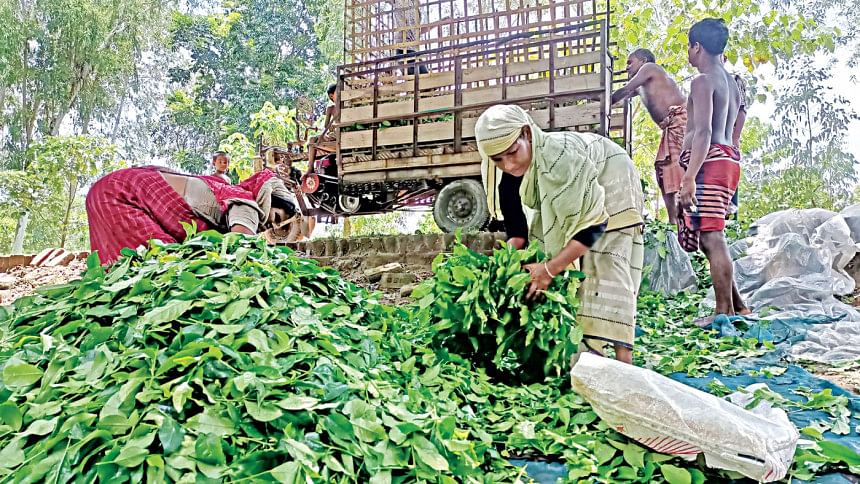 Farmers in Lalmonirhat are losing interest in tea cultivation as a lack of processing facilities in the area is preventing them from raising enough capital to sustain the business, according to growers and traders.
As such, some farmers are saying they will cut down their tea trees and go back to cultivating maize and other crops.
The closest place to sell tea leaves grown in Lalmonirhat lies about 150 to 160 kilometres away in Panchagarh. It costs about Tk 3 per kilogramme (kg) to transport the tea leaves, which are already being sold to tea companies at a discount rate of Tk 11 per kg on the pretext that they deteriorate in quality during the journey.
However, tea growers in Panchagarh are getting Tk 14 per kg as their close proximity to processing units ensures that the leaves stay fresh until delivered.
Nur Sheikh, a farmer of Dahagram village in Patgram upazila of Lalmonirhat, said he started cultivating tea on one acre of land five years ago with encouragement and support from the Bangladesh Tea Board.
Sheikh sold his tea leaves for Tk 22 to TK 30 per kg last year to turn a decent profit. This year though, the leaves are being sold for less than half that value and so, he is struggling to raise capital.
"We don't have any tea processing company in Lalmonirhat and for this reason the leaves have to be sold in Panchagarh but the long travel distance results in the loss of quality," he said.
"So, we have to accept discount rates that leave us with a profit of just Tk 4 per kg after paying labour and transport costs," Sheikh added.
He went on to say the recent inflation has pushed up production costs to Tk 10-12 per kg considering the higher price of diesel, fertiliser, pesticide and labour.
"We [tea growers] are not able to raise enough capital because of this and so, I have decided to cut down the tea trees and start cultivating maize as it is more profitable," Sheikh said.
Taibur Rahman, a tea grower at Nabinagar village of Patgram upazila, said if they had a tea processing company in the area, they would not have to spend so much on transportation while quality would also be ensured.
"We have to spend Tk 6 per kg to transport tea leaves and cover the discount," he said.
"If the current market price persists, I will cut down two acres of my tea trees and cultivate maize and other crops in their place," Rahman added.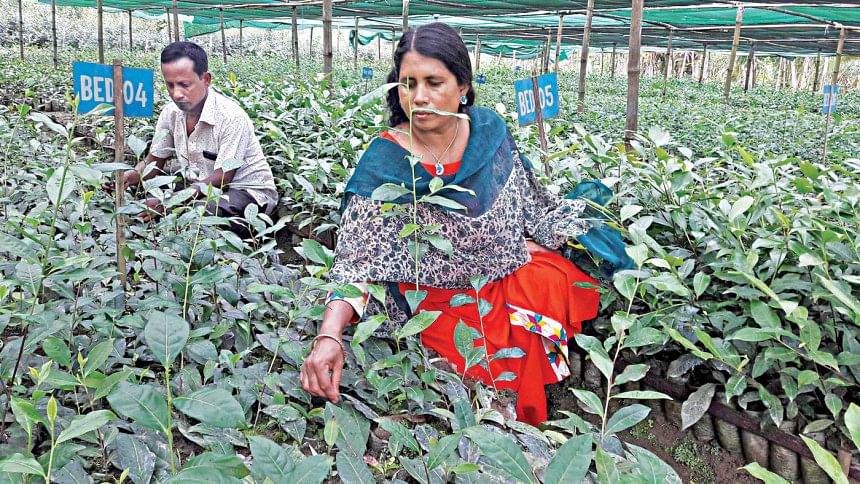 Freedom fighter Kafur Uddin, a tea grower at Kisamat Nijjama village of the same upazila, said he started cultivating tea on three acres of land five years ago.
Uddin, who once had big dreams for his farm, then said that he is now losing interest in tea cultivation considering the poor market prices on offer.
"Likewise, other farmers in the village who were once keen on tea cultivation are losing interest after seeing my plight," he added.
Officials of the Bangladesh Tea Board's regional office in Lalmonirhat said that 116 farmers are currently cultivating tea on 210 acres of land in the district, which produced 6.50 lakh kgs of leaves last year.
This year, they aim to produce 7.50 lakh kgs of leaves, around 4 lakhs of which have already been harvested and sold as of August 15.
Arif Khan, project director of the Bangladesh Tea Board office in the district, said local tea growers are being unable to secure their expected profit as they have to bear higher transport costs and still sell their leaves at a discount.
"As the quality of the leaves deteriorates during the 150 to 160-kilometre journey to Panchagarh, they have to be sold at a discount rate. So, the process has been initiated to set up a private tea processing company in Lalmonirhat," he added.