Dhaka to get four more 5-star hotels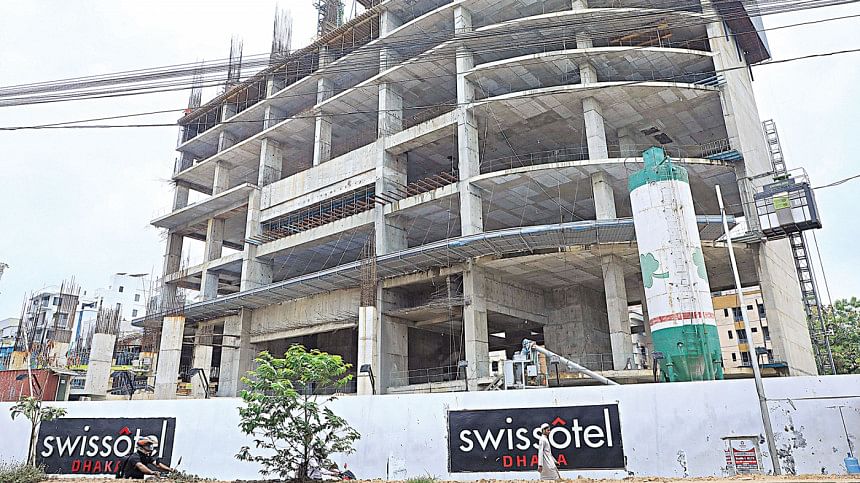 Dhaka is set to welcome four new five-star rated hotels over the next three years as the growing influx of travellers has heightened the demand for luxury accommodation in Bangladesh.
This is a positive development for the hospitality industry as it indicates that the country is becoming a popular destination for business and leisure travellers, according to M Iblul Parvez, manager (admin) at Bengal Hotels and Resorts, a concern of Bengal Group of Industries.
Bengal Group had signed an agreement with Swissôtel Hotels & Resorts, a brand of multinational hospitality company Accor, for constructing a world-class luxury hotel in Dhaka back in December 2015.
The roughly Tk 600 crore project was slated for completion by 2021 but faced delays in implementation due to the Covid-19 pandemic and ongoing Russia-Ukraine crisis, which will increase total costs..
This is a positive development for the hospitality industry as it indicates that the country is becoming a popular destination for business and leisure travellers.
The property, called "Swissôtel Dhaka", will be managed by Zurich-based Swissôtel while Bengal Hotels and Resorts will oversee its day-to-day operations.
Located in the capital's Gulshan, Swissôtel Dhaka will enhance the city's reputation as a desirable destination for international events, including business conferences and meetings, Parvez said.
"It will attract high-profile guests, dignitaries, and business professionals, thereby promoting Dhaka's image as a vibrant and cosmopolitan city," he added.
Parvez then informed that they now aim to launch the hotel by 2026.
Similarly, Borak Real Estate Ltd (BREL), a concern of Unique Group, inked a hotel management agreement with Indian Hotels Company Ltd (IHCL) on April 17 earlier this year.
As per the agreement, BREL will operate IHCL's Taj and Vivanta branded hotels in Dhaka's Gulshan.
BREL is spending more than Tk 2,000 crore, including the land price, to complete the hotels, said Hamayet Hossain Rasel, the company's general manager for project management.
And although construction has ended, the hotels will open to the public only after internal decorations are complete after another 36 months.
Inside the Taj hotel, a Taj Club will accommodate 60 signature shops and restaurants, where internationally branded products will be available for consumers.
Sources at the Bangladesh International Hotel Association (BIHA) said the Hilton Dhaka, a concern of Hilton Worldwide, will launch in 2025 with construction currently ongoing in the capital's Gulshan.
The 250-room hotel is located on Gulshan Avenue, the central business district of Dhaka city and home to most embassies, high commissions and key multinational companies in the country.
Hilton Worldwide had signed a management contract with Premier Hotels & Resorts for managing the property back in 2012.
At present, there are nine five-star rated hotels in Dhaka, namely Westin, Le Meridien, Sheraton, Radisson, Pan Pacific, Intercontinental, Renaissance, Hotel Sarina and Amari.
According to industry insiders, Dhaka city is now capable of providing luxury accommodation to just 2,200 guests, which have been growing in number over the past decade in line with the country's economic development.
HM Hakim Ali, president of the BIHA, said business travels will increase after the third terminal of Hazrat Shahjalal International Airport is launched, further fuelling the demand for luxury accommodation in Dhaka.
With this backdrop, entrepreneurs are investing in establishing five-star hotels in the city, he added.
Ali went on to say at least Tk 5,000 crore will be spent to complete these hotels, which will generate some 1,400 opportunities for direct employment.
However, there is still a lack of skilled professionals for hotel and hospitality management, forcing owners to hire foreigners in capacities such as general manager and chef to operate the hotel.
Ali believes the sector will continue developing day by day as the country's economy is growing despite the Covid-19 fallout and ongoing Russia-Ukraine crisis.