Construction of state economic zones taking too long
Industrialisation ambition risks going off track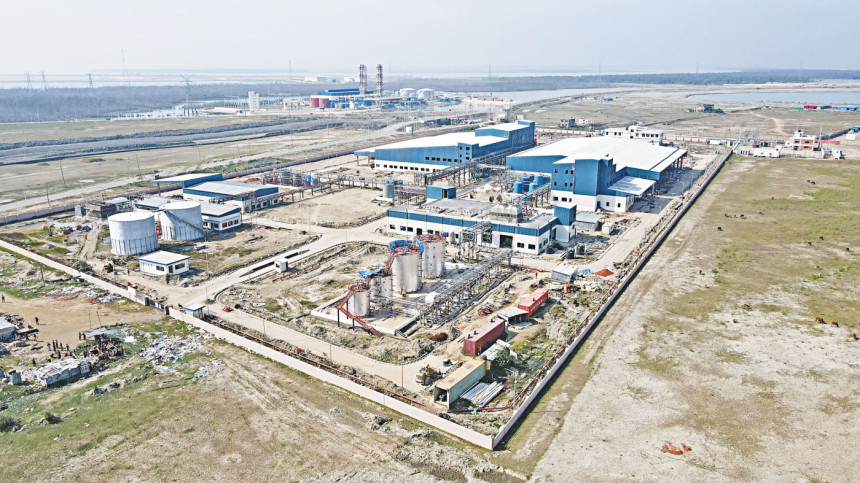 The implementation of the government's plan to bring about large-scale industrialisation is in the slow lane as only two state-run economic zones are currently ready for setting up factories although Bangladesh set out nearly seven years ago to establish them.
In 2015, the government set an ambitious target of setting up 100 economic zones in the next 15 years with a view to creating one crore jobs and exporting $40 billion worth of goods and services from the enclaves.
Accordingly, the Bangladesh Economic Zones Authority (Beza) has approved setting up of 97 economic zones so far, comprising 68 government and 29 private.
The two zones where the government is now encouraging investment are the Bangabandhu Sheikh Mujib Shilpa Nagar (BSMSN) in Mirsharai upazila of Chattogram and the Shreehatta Economic Zone in Maulvibazar.
Seven zones, including the Moheshkhali Economic Zone and the Jamalpur Economic Zone, are partly ready or under construction. The sites have been developed and utility connections are available. The physical progress is 60 per cent to 70 per cent.
So far, the state agency has allocated around 7,295 acres of land to 196 industries in the nine zones.
The Beza has received investment proposals amounting to $24.47 billion. Of the sum, $1.4 billion came from the investors in the countries, such as India, China, Japan, Thailand, South Korea and Singapore.
Shaikh Yusuf Harun, executive chairman of the Beza, says there are various components of projects at various zones, so it is really tough to find out the gross progress in percentage.
In some cases, earth-filling, utility connection, and infrastructure development have been completed while in some cases, earth-filling is underway, he said.
"There would have been more progress and more investors would have set up industries had the pandemic had not hit Bangladesh in 2020."
Three of the nine are special economic zones that are being developed under government-to-government arrangements. Of them, two are for Indian companies and one for Japanese investors.
Two tourism parks – Sabrang in Cox's Bazar's Teknaf upazila and Sonadia in Moheshkhali upazila – are also being developed.
Unlike state-run economic zones, entrepreneurs have set up 10 zones on their own in a quick manner. What is more, a number of companies are exporting products from there.
BANGABANDHU SHEIKH MUJIB SHILPA NAGAR
The BSMSN is the first economic zone in the country that has seen a company, McDonald Steel Building Products, start trial operations.
The Beza is developing 30,000 acres of land in three upazilas of Chattogram and Feni districts and aims to generate 15 lakh jobs in the industrial hub by 2030.
It has invested Tk 4,000 crore to develop the enclave while the development works involving Tk 6,000 crore were ongoing.
Seven industrial units, including that of Asian Paints Bangladesh, Nippon and McDonald Steel, are set to go into production by December, Abdullah Al Mahmud Faruk, project director of the BSMSN, told The Daily Star.
"It is now a matter of time that some factories start commercial operation at the BSMSN."
The Beza has allocated 6,256 acres of land against 153 investment proposals at the industrial hub where around 9 lakh jobs will be created.
Large-scale industries aimed at manufacturing products such as steel, painting, and automobile are being set up in the city. Businesses from home and abroad have proposed to invest $20.13 billion.
Sarwar Kamal, managing director of McDonald Steel, says the official inauguration of the factory will be held as soon as possible.
SHREEHATTA ECONOMIC ZONE
The zone is ready to set up factories as the site development has almost been completed and the utility connection has been set up.
The Beza has received about $1.5 billion investment proposals from domestic investors.
Six companies have been allotted 231 acres of land, and 43,000 employments are due to be created in the planned factories.
DBL Group is going to invest $650 million to establish 10 factories to manufacture textiles, ceramic and sanitary items in the estate.
DEVELOPMENT OF FOREIGN ECONOMIC ZONES
Land development at two Indian economic zones in the BSMSN and Mongla, and the Japanese Special Economic Zone in Araihazar of Narayanganj has started.
The Beza is expecting multibillion-dollar foreign direct investment in the zones.
Saleh Ahmed, project director of the Japanese Economic Zone, says already 160 acres of land have been handed over to the Japanese authority to set up factories. Ten companies have shown their interest to invest in the zone so far.
Japanese investors plan to invest in automobile, manmade fibre, home appliance, electronics and toy sectors.
Ahmed is expecting to finish the development work by the middle of 2022 and start the commercial operation by March 2023.
"At least 100 Japanese companies will be accommodated in the zone."
MOHESHKHALI ECONOMIC ZONE
The zone in Cox's Bazar has already wooed investment proposals worth $2.5 billion.
Super Petrochemical Pvt Ltd, a concern of TK Group, and SK Group of South Korea plan to invest $2.5 billion jointly to establish a petrochemical complex and an LPG terminal in the zone.
They have begun setting up the factories on around 450 acres of land. The plants will create 20,000 jobs, directly and indirectly.
JAMALPUR ECONOMIC ZONE
In the zone, 88 acres have been allocated and 11 investors have placed investment proposals involving $42.47 million. Foreign companies have placed proposals to invest $11.76 million.
According to the Beza, all utility connections have been set up and the Beza has invested Tk 300 crore to prepare the zone for setting up factories.
TOURISM PARKS
Road development has been completed and electricity infrastructure has been put in place at the proposed park at Sabrang in Teknaf at a cost of Tk 80 crore. Land development works and the construction of embankment are continuing to protect the future tourist destination.
Already 118 investors have offered to put in $303 million, including $98.78 million from international investors.
The Beza is working to establish a world-class tourism city on 10,000 acres of land in the Sonadia Island of Moheshkhali.
The agency has constructed the connecting road, bridge, safe water supple line, power sub-station, and administration building at an expenditure of Tk 50 crore.
It penned deals with four investors. Factories are being set up. The authorities hope to create 25,000 jobs in the zone.